WASHINGTON ― Sen. Marco Rubio (R-Fla.) said he is not willing to commit to voting for former Exxon Mobil chief executive Rex Tillerson as secretary of state.
"I'm prepared to do what's right," Rubio told reporters Wednesday, after Tillerson's confirmation hearing before the Senate Foreign Relations Committee.
But he still hasn't made up his mind, Rubio said.
The senator, who has criticized the Obama administration for not taking a more aggressive posture toward Russia, has expressed doubts about Tillerson, who developed close ties with the Kremlin during his time at Exxon Mobil.
Rubio's support is critical. With the help of one Republican defector on the committee, Democrats could at least force the panel to report out the nomination unfavorably.
On the Senate floor, Democrats would need three Republicans to vote against Tillerson. In addition to Rubio, Sens. John McCain (R-Ariz.) and Lindsey Graham (R-S.C.), who have also expressed concern about Tillerson's Russia ties, are the most likely defectors.
Tillerson gave a "real fuzzy answer" on how he would respfirstond to Russia's alleged role in election-related hacking, Graham told reporters after the first day of hearings. "If he doesn't clear that up it will be a problem."
"I don't think he grew the vote today," Graham added.
Tillerson dodged a series of questions from Rubio about his foreign policy agenda with respect to Russia.
Asked whether he would advise President-elect Donald Trump to enforce sanctions against Moscow for its alleged role in cyberattacks aimed at interfering with the U.S. election, the secretary of state nominee demurred.
Confronted with Russian President Vladimir Putin's actions in Ukraine and Syria, and against domestic political enemies, Tillerson said he would need more information before agreeing with Rubio's description of the Russian leader as a "war criminal."
Because he has never served in public office, little is known about Tillerson's worldview, with the exception of what can be gleaned from his business dealings with other countries. Earning profits as an oilman requires a very different set of relationships than serving as the nation's top diplomat.
In his opening statement on Wednesday, Tillerson attempted to allay those concerns. He told committee members that he recognized Russia "poses a danger" ― but suggested this danger was due to the "absence of American leadership" under the Obama administration.
When lawmakers pressed him on what a stronger U.S. posture toward Russia would look like, Tillerson gave evasive answers. He wouldn't commit to upholding sanctions against Moscow that the Obama administration has put in place or to supporting the new sanctions legislation introduced by a bipartisan group of senators on Tuesday.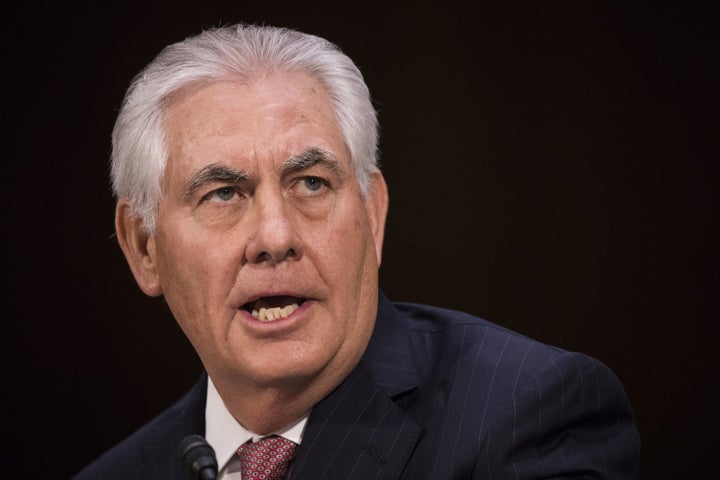 Rubio, a co-sponsor of the Senate's new sanctions legislation, asked Tillerson if he would advise Trump to sign the bill. Tillerson said he would need to examine "all four corners of that."
The senator then summarized the bill. "We would sanction the people who are involved in cyberattacks against the United States and interfering in our elections," Rubio said. The legislation also codifies the Obama administration's executive orders related to Russia's actions in Ukraine and mandates new economic punishments in response to its interference in Ukraine and Syria.
Tillerson gave a lengthy non-answer. "The threat of cyberattacks is a broad issue, and those are coming from many, many corners of the world," he said. "Certainly this most recent manifestation, and I think the new threat posed in terms of how Russia has used this as a tool, that introduces even another element of threat, but cyberattacks are occurring from many nations."
Rubio pressed him. "No matter where they come from," the senator said, "If they come from Belgium, if they come from France, if someone is conducting cyberattacks against the United States and we pass a law that authorizes the president to sanction them ― or actually imposes these sanctions as mandatory ― would you advise the president to sign it?"
Tillerson said it was the "mandatory" part of the sanctions legislation that was giving him pause. He preferred to give the executive branch "flexibility" to deal with cyberthreats.
"It is important that those are dealt with on a country-by-country basis, taking all other elements into consideration in the relationships," he said. "Giving the executive the tool is one thing; requiring the executive to use it, without any other considerations, I would have concerns about." (Like most congressionally mandated sanctions, the legislation introduced Tuesday includes provisions that allow the president to waive implementation of sanctions if there is a national security motive.)
That was all Rubio needed to hear. "You want ... to be able to take other things into account ― like, for example, the desire to perhaps improve relations with that country. And therefore, the president maybe doesn't want to sanction them even though they're attacking us," he charged, referring to Trump's desire to improve relations with the Kremlin and his efforts to downplay Moscow's role in hacks that the intelligence community says were aimed at helping Trump win the election.
"The president maybe doesn't want to sanction them even though they're attacking us."
Last month, the Obama administration issued an executive order imposing sanctions on Russian intelligence services in response to the election-related hacking. Top Trump adviser Kellyanne Conway called those sanctions "disproportionate" and "punitive," leading to speculation that the president-elect would reverse the executive order. When Rubio asked if Tillerson would advise his boss to repeal the sanctions, he again avoided a direct answer.
"What's really required is a comprehensive assessment of our cyberthreat and cybersecurity policies," Tillerson said.
"That is separate from the question of whether people that have already conducted attacks should be sanctioned," Rubio said, before repeating his question.
Tillerson left the question unanswered. "I would want to examine it," he said.
Rubio then shifted to an tough line of question about Putin's actions in Syria.
"Is Vladimir Putin a war criminal?" Rubio asked Tillerson.
"I would not use that term," Tillerson said.
Rubio proceeded to outline Putin's assistance to Syrian President Bashar Assad, who has overseen the slaughter of civilians in his country during its civil war.
"The videos and pictures are there," continued Rubio, who has accused the Obama administration of abandoning Syrian opposition groups in their fight against Assad. "It should not be hard to say that Vladimir Putin's military has conducted war crimes in Aleppo."
"I find it discouraging, your inability to cite that, which I think is globally accepted," Rubio said.
Asked if he believed Putin ordered the killing of "dissidents, journalists and political opponents" in Russia, Tillerson said he lacked "sufficient information to make that claim."
"None of this is classified," Rubio shot back. "These people are dead."
Laura Barron-Lopez contributed reporting.
This article has been updated to reflect that Tillerson's confirmation questioning will not continue on Thursday.
Support HuffPost
The Stakes Have Never Been Higher
Before You Go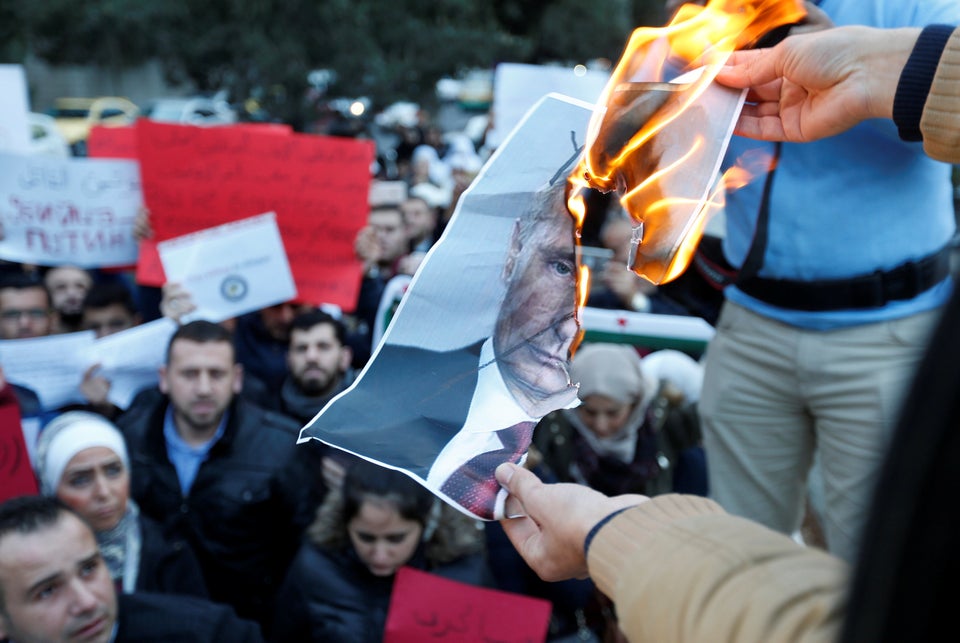 People Around The World Protest Russia's Role In Aleppo Killings
Popular in the Community