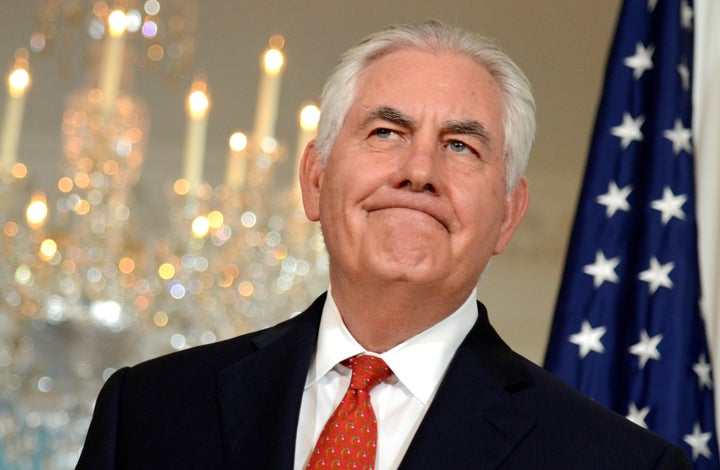 Secretary of State Rex Tillerson keeps steering clear of explicitly denying that he called President Donald Trump a "moron" this summer.
"As I indicated earlier when I was asked about that, I'm not going to deal with that kind of petty stuff," Tillerson said on CNN's "State of the Union" on Sunday about the alleged comment, which was earlier reported by NBC News. "This is a town that seems to relish gossip, rumor, innuendo, and they feed on it. They feed on one another in a very destructive way. I don't work that way, I don't deal that way, and I'm just not going to dignify the question. I call the president 'Mr. President.'"
Tillerson described his relationship with Trump as "open, frank and candid."
It's also involved some public damage control, following NBC's report depicting Tillerson as furious and "on the verge of resigning." The secretary of state held an unscheduled news conference to tell reporters that he didn't plan to resign and that he believed Trump was, in fact, "smart." But during that appearance, he didn't explicitly deny that he'd earlier disparaged the president's intelligence.
Tillerson shot down another suggestion of disharmony with Trump, dismissing Sen. Bob Corker's (R-Tenn.) comments that the president had "publicly castrate[d]" Tillerson on foreign policy.
"I checked," Tillerson said. "I'm fully intact."
UN Ambassador Nikki Haley tried to downplay any White House tensions, saying on Sunday that the president had full confidence in Tillerson.
"You know, I'm not going to get into the drama of the he-said-he-said situation. What I will tell you is what I have witnessed is the president and Secretary Tillerson work very well together. I've been in the room with them many times," she said on NBC's "Meet the Press." "They continue to work strongly together. ... And so everything that I have witnessed, all was fine. And if there's a problem, that's really a question for Secretary Tillerson. That's not anything for the rest of us to answer."
REAL LIFE. REAL NEWS. REAL VOICES.
Help us tell more of the stories that matter from voices that too often remain unheard.