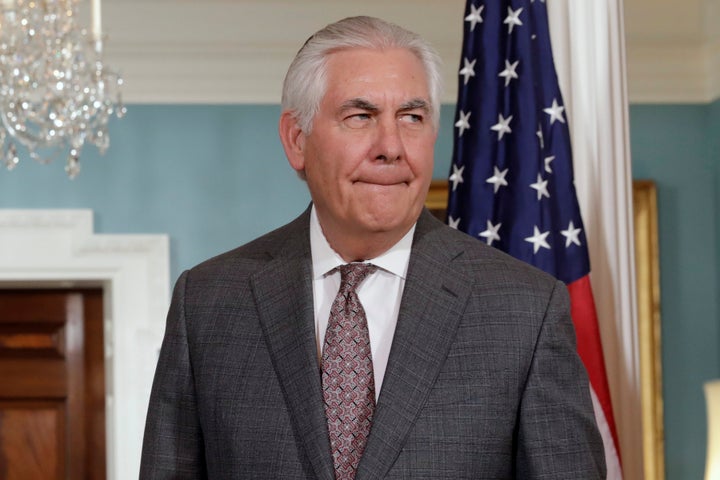 Secretary of State Rex Tillerson said Monday that transgender people should not be discriminated against ― a view in direct contradiction to several policies proposed under the Trump administration.
Tillerson's comment was part of a statement issued to acknowledge Transgender Day of Remembrance, an annual observance held Nov. 20 to honor the memory of those killed by anti-trans violence.
"Transgender persons should not be subjected to violence or discrimination," he said, "and the human rights they share with all persons should be respected."
"On this Transgender Day of Remembrance, the United States remains committed to advancing the human rights and fundamental freedoms of all persons," the statement continued.
The State Department opinion aside, the Trump administration has tried to dismantle policies created to protect transgender rights.
In July, President Donald Trump surprised many people, including top military officials, by announcing plans to ban trans people from serving in the armed forces. He claimed the presence of trans people in the military was costly and created "disruption" ― ideas that have been thoroughly debunked by military experts and LGBTQ advocates.
A federal judge blocked the enforcement of that proposed ban in October, holding that the reasons the Trump administration gave for it "do not appear to be supported by any facts."
Attorney General Jeff Sessions issued a directive in October that reversed workplace protections for trans people, stating that the Justice Department would roll back 2014 guidance on the interpretation of Title VII, which prohibits employment discrimination based on race, color, religion, sex and national origin.
"Title VII's prohibition on sex discrimination encompasses discrimination between men and women," Sessions said in the memo, "but does not encompass discrimination based on gender identity per se, including transgender status."
"There is still so much to be done to combat transphobia across our country and around the world," the report says. "Nowhere is that more evident than at the doorstep of the White House, where Donald Trump and Mike Pence have made discrimination against LGBTQ people, as well as so many others, a top priority."
It's unclear if Trump's White House will acknowledge Transgender Day of Remembrance this year, although President Barack Obama did. A representative for the White House did not immediately return HuffPost's request for comment.
Popular in the Community