President Donald Trump ousted Secretary of State Rex Tillerson on Tuesday, marking Tillerson's long-anticipated departure as America's top diplomat. CIA Director Mike Pompeo will replace him.
Tillerson, 65, allegedly threatened to quit more than once, but had stayed in the job since Trump nominated him in December 2016. He reportedly found out he was fired the same way everyone else did ― via one of Trump's tweets on Tuesday about Pompeo taking over the role.
Here's a look back at Tillerson's troubled time and legacy at the State Department: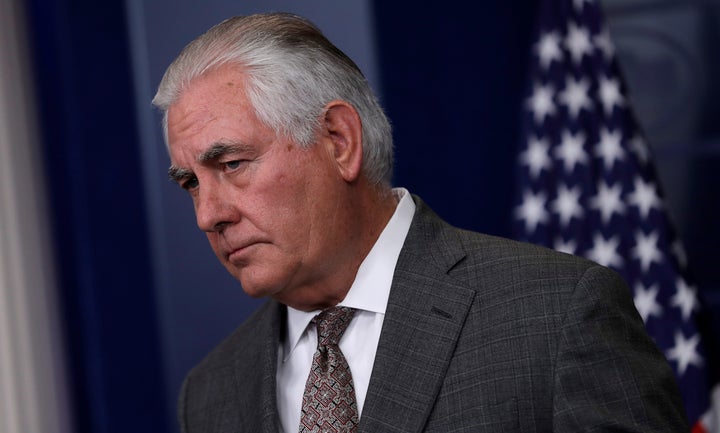 Tillerson 'Didn't Want This Job'
Tillerson's short-lived political career was tarnished by controversy before it began.
Trump nominated him after a drawn-out public selection that featured foreign policy hawks like former New York Mayor Rudy Giuliani and U.N. Ambassador John Bolton, as well as former Republican presidential candidate Mitt Romney.
During the confirmation process, Tillerson's ties to Russia sparked bipartisan concern. Tillerson's former company, energy giant Exxon Mobil, conducted contentious business operations in Russia under his decade-long leadership as CEO.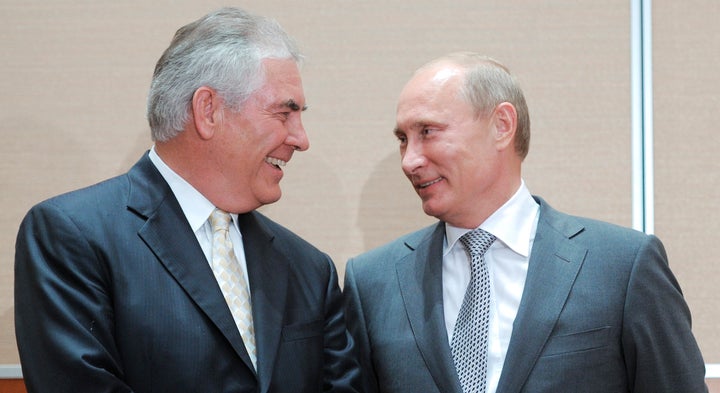 Prior to being tapped by Trump, Tillerson had strongly opposed U.S. sanctions on Russia and had developed a relationship with Russian President Vladimir Putin, who awarded him Russia's Order of Friendship medal in 2013.
Several members of Trump's administration have been haunted by allegations of collusion with the Kremlin to influence America's 2016 presidential election, making Tillerson's previous links to Moscow particularly sensitive.
Tillerson was sworn in as the president's chief foreign affairs adviser on Feb. 1, embarking on what would be a brief but chaotic tenure ― apparently one he had little interest in pursuing in the first place.
"I was supposed to retire ... I was going to go to the ranch to be with my grandkids."
"I didn't want this job. I didn't seek this job," Tillerson admitted to the Independent Journal Review last March, less than two months after starting the job.
He said his wife had convinced him to accept the position, noting he was "supposed to retire ... I was going to go to the ranch to be with my grandkids."
Addressing rumors that had surfaced of his desire to resign, Tillerson told reporters in July that he would continue to serve "as long as the president lets me."
"I'm not going anywhere," he said.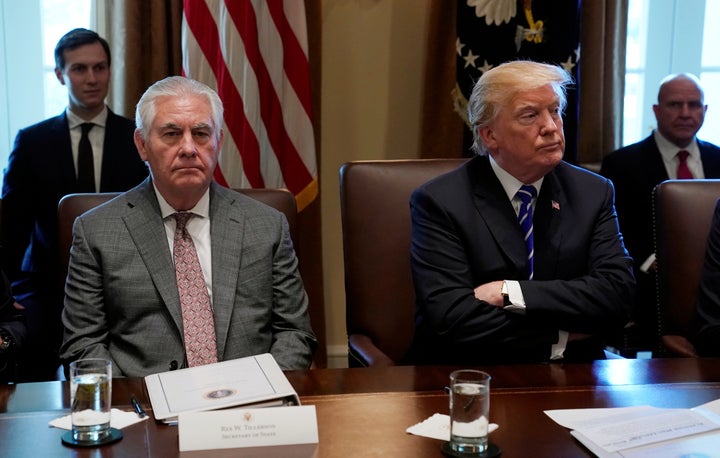 Clashing With Trump
Perhaps the most memorable element of Tillerson's time at the State Department was his relationship with Trump, which soured almost immediately.
Trump repeatedly and aggressively undermined Tillerson's diplomatic efforts, rendering his credibility as America's top foreign affairs representative essentially defunct in the eyes of the international community.
They publicly contradicted each other on issues including the denuclearization of North Korea and the fate of the multinational Iran nuclear deal, as well as on Washington's commitment to NATO and its official view of Qatar.
Tillerson appeared to distance himself from the president in August, after Trump seemingly sympathized with participants of a violent white supremacist rally in Charlottesville, Virginia, that turned deadly. There were "very fine people" on both sides, Trump asserted, triggering bipartisan outrage and condemnation.
When confronted about his boss's comments, Tillerson told Fox News simply: "The president speaks for himself."
Tensions boiled over in October, when NBC claimed that Tillerson had previously referred to Trump as a "fucking moron." Tillerson responded to the reports by saying the president was "smart," but he did not deny calling him a moron.
Trump dismissed the alleged insult as "fake news," then challenged Tillerson to an IQ test, saying: "I can tell you who is going to win."
In November, The New York Times reported that the White House had a plan to oust Tillerson from his job amid the ongoing disagreements between him and Trump. As Tillerson neared his first anniversary as secretary of state, however, he remained in his position and continued to insist that he was staying put.
"I intend to be here for the whole year," Tillerson told CNN in January.
Tillerson kept a fairly low profile in 2018, visiting Latin America and the Middle East but having little visible influence over policy outcomes in either region.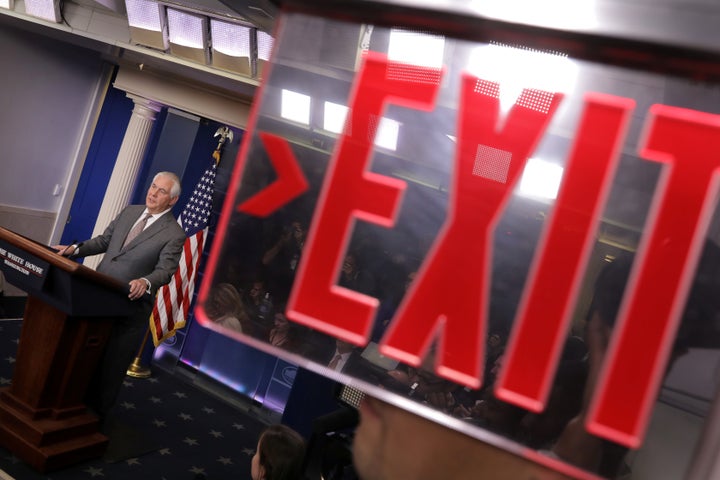 State Department Exodus
Tillerson's exit follows an all-too-familiar trend at the State Department (and, more broadly, across Trump's administration).
Under his leadership, the agency has seen a stunning exodus of senior officials, including droves of lawyers and diplomats who have resigned or been forced out in the wake of Trump's election.
Tillerson launched an ill-fated "redesign" campaign, which has dismantled the department at an alarming pace. Maliz Beams, the counselor he named to oversee the process, resigned Nov. 27 after just three months on the job.
The agency's internal disarray comes at a time when the country faces extraordinary international challenges, including a massive foreign hacking operation and the looming threat of nuclear war ― underscoring the vital need for a unified, high-functioning State Department.
Democrats on the House Foreign Affairs Committee expressed such concerns in a letter to Tillerson in November, telling him they were dismayed by the departure of more than 100 foreign service officers since January.
"The number of minister counselors in the State Department has decreased by 15 percent, career ministers by 42 percent, and career ambassadors by an astounding 60 percent," they wrote. "The amount of talent leaving the State Department endangers the institution and undermines American leadership, security and interests around the world."
Now among the expansive ranks of former State Department staffers, Tillerson is finally free to pursue his long-postponed retirement plans.
Nick Robins-Early contributed reporting.
Support HuffPost
The Stakes Have Never Been Higher
Popular in the Community