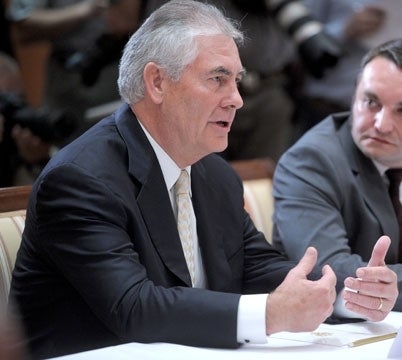 On Tuesday I posed a couple questions to Secretary of State nominee Rex Tillerson on his approach to democracy. He answered one of them; though not as I'd hoped he would.
Senator Chris Coons (D-DE) posed a version of the question, asking Mr. Tillerson what "strategy [he] would follow to prevent partners like Turkey, Egypt, the Philippines and others from sliding further away from… democracy and human rights?"
His answer was troubling.
Like many, many other responses on the day, it came back to stability and national security for Mr. Tillerson. As Foreign Affairs so aptly put it, "[given] the long investment horizons and huge amounts of capital that characterize deal-making in the oil business, Exxon has long favored political stability", even if it meant dealing with (and undoubtedly extending the rule of) autocratic regimes. Several times during the hearing Mr. Tillerson hid behind 'national security' (notably a term that was mentioned 44 times during the hearing vs. 22 times for 'democracy'); his answer to the above question was no exception.
Mr. Tillerson told Senator Coons that principles of democracy and human rights "are only going to be trumped, so to speak, when there are serious national security concerns." He went on to say that "it may not be in our interest to condition our national security pursuits on a country making certain commitments around oppression and human rights."
It appears that his worldview of stability above all else (even democracy and human rights) has remained intact beyond the boardroom.
Coming from someone who also said during Wednesday's hearing that "diplomacy will be ineffective if not backed up by the threat of force" and that he "[serves] no one's interest, but that of the American people in advancing our national security", I can't help but feel that we are entering a new era where it will be increasingly easy for the next administration to hide behind 'serious national security concerns' instead of standing up for democracy, freedom, and human rights around the world. Even if I were to agree with this sweeping, nebulous and undoubtedly malleable rationalization for the existence of autocracy (spoiler alert: I don't), exactly what serious U.S. national security concerns are there in the Philippines?
In his opening statement, Mr. Tillerson talked about the need for 'moral clarity' in our foreign policy. Needless to say, given his answers during the hearing, I fail to see how these are more than just pretty words on paper.
Which leads me to Senator Marco Rubio (R-FL), who (surprisingly to some given his recent history of contradictory convictions) emerged as democracy's most vociferous defender. Pushing Mr. Tillerson to label Vladimir Putin as a war criminal for Russia's involvement in Syria (which he did not), China and Saudi Arabia as human rights abusers (which he did not), and the Filipino government as orchestrating the killing of alleged criminals (which he did not), Senator Rubio was obviously not impressed with non-answers, feeble convictions and polished platitudes.
"We can't achieve moral clarity with rhetorical ambiguity" Senator Rubio exasperated at Mr. Tillerson's non-responses to his questions which he (rightly) noted "did not require access to... special information". He concluded by saying "[we] need a Secretary of State that will fight for [the] principles of freedom and democracy"; more statement than question. I could not agree more, Senator Rubio.
I am no expert in the inner workings of the Senate Foreign Relations Committee (SFRC) nor the confirmation process for that matter. But, after watching hour after hour of Mr. Tillerson's SFRC hearing, I would be very surprised if - despite potential objections from Ranking Member Senator Ben Cardin (whose fierce defense of democracy kicked off the hearing) and Senators Coons, Rubio, and others - the oil man from Wichita Falls, TX doesn't end up as CEO of Foggy Bottom.
This does not mean that we, as citizens, shouldn't ask Mr. Tillerson and all our leaders tough questions now and into the future. We can. We did. And we will.
The ball is in your court for now though, Mr. Tillerson. The world will be watching.
Videos and transcripts from the hearing can be found here. For other great reflections on the hearing and beyond, check out Idealists Research - a group of dedicated volunteers fighting for American leadership in global development, human rights, democratic governance, and humanitarian response.
REAL LIFE. REAL NEWS. REAL VOICES.
Help us tell more of the stories that matter from voices that too often remain unheard.
BEFORE YOU GO