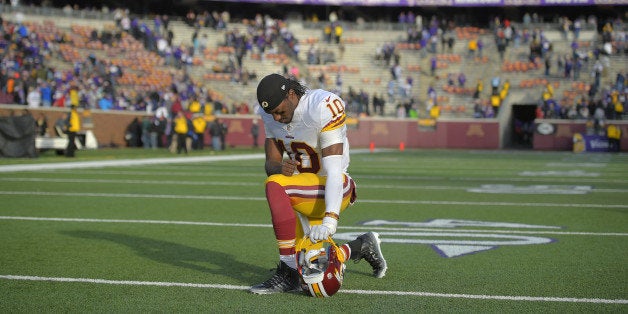 Few people can boast the kind of resume that Robert Griffin III has compiled. He's won the Heisman, rocks a fierce sock game, and even made having Subway for lunch seem like a reasonable option. Above and beyond that though, he put up one of the most dynamic rookie seasons ever seen in the NFL - and just as quickly, his time in Washington, and perhaps as a starter in the league, are likely over just a year and a half later.
Let's start in 2012, and let's begin with the numbers: 3,200 passing yards, 815 rushing yards, a 20-5 touchdown-to-interception ratio, and about 100 different ridiculous highlight plays. His NEP - or Net Expected Points, a Moneyball-ish stat that truly compares players apples to apples - had him an absurd +162.92, meaning that if you replaced RG3 with an average quarterback, they'd have scored 23 fewer touchdowns.
For a franchise that hasn't had a flagship QB since Mark Rypien - and even that is stretching the definition - things were looking quite good in Washington.
And then, in Week 14, Griffin sprained his LCL, a ligament in his knee. Despite some protestation from Dr. James Andrews - the pre-eminent sports doctor of his generation - Griffin came back just two weeks later, and then re-injured the same knee in the playoffs, tearing his ACL in the process.
What happened after that? In 2013, he scored a NEP of +28.48, which was about three touchdowns worse than Alex Smith. It was worse than Andy Dalton, Jay Cutler and Josh McCown. The biggest hit was to his rushing-specific NEP, which in 2012 accounted for 47 percent of his overall NEP, compared to only 26 percent in 2013.
And now, in 2014, he was benched for Kirk Cousins when he suffered another injury, and yesterday, a final indignity to it all, lost 27-7 to the NFL's most inefficient defense (Tampa Bay), throwing his team under the bus during the post-game interviews in the process. It's probably clear from the tone of the article so far where I'm going with this, but I may as well make it concise: it's over for Robert Griffin III.
I'm not just saying that because of what I see on the field though; I'm saying that because of what the numbers say. numberFire is a sports analytics platform that uses mathematical modeling to analyze and predict sports performance for everything from fantasy football projections to March Madness bracket help. Using the platform, I found five QBs who fit the profile of Griffin: first-time starting QBs with extremely high efficiency scores who suddenly and precipitously fell off over the span of just two years:
Steve Beuerlein, 1999. Elvis Grbac, 2000. Jay Fiedler, 2001. Tommy Maddox, 2002. Derek Anderson, 2007. David Garrard, 2007.
Do you see another passer on that list who you would say was a career starter in the NFL, or even someone who you would say delivered on the kind of promise that RG3 once showed in abundance?
Sadly, no. None of the comparable QBs ever reached even the top 20 in the league ever again; most were out of the league completely within four years. Heck, Elvis Grbac went from +61.08 to -55.12 NEP in just one year!
To take it even further, when RG3 was done with his rookie season, his statistical comparables included Michael Vick, Cam Newton, and Rich Gannon - all long-time starters in the league, each with multiple top-10 seasons. Now? His comparables are Tony Banks, a washed up Chris Chandler, Tim Hasselbeck, and Chad Henne.
It's fair, however, to note that no comparison is going to be apples to apples. Elvis Grbac didn't have anywhere near the kind of raw athleticism of RG3, and certainly a 34 year-old Steve Beuerlein isn't at the same career trajectory as a still young Griffin. Still, the numbers are quite clear: no quarterback who suffered that bad of a precipitous fall in performance ever recovered.
Does that make it impossible? No. It's just extremely unlikely.
While I can sit here and show you the mathematical likelihood of RG3's continued troubles, one thing I won't do is speculate specifically as to why. Blame - to the extent that it could be laid on any one thing - can be attached to a lot of different things, from the removal of Mike/Kyle Shanahan and their RG3-friendly offense to the lingering effects of the knee injury to the karmic difficulty inherent in playing for the worst owner in sports.
It's likely all of these things, but for the sake of this article, it's moot. Regardless of what the cause was, the effect is obvious and it's rather tragic. It's likely over for Robert Griffin III, and it's a shame because the promise he showed was so bright and so radiant. But as Eagle Eye Cherry, Dontrelle Willis, or Cuba Gooding Jr. might tell you, it's better to have one hit than no hits at all.
Popular in the Community