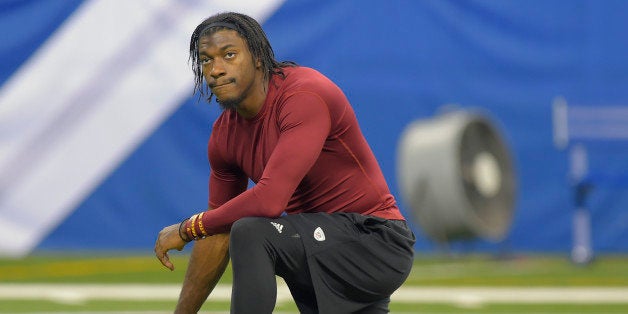 The NFC Wild Card matchup between the Seattle Seahawks and Washington Redskins just under two years ago is probably a game that Redskins quarterback Robert Griffin III regrets. After suffering a grade 1 LCL sprain in his Week 14 game against the Baltimore Ravens in early December, Griffin hopped around practically on one leg for almost a month.
Before his playoff start, renowned sports surgeon Dr. James Andrews, expressed doubt about his ability to play. But he and the Redskins staff went against Andrew's sentiments. Sure enough, Griffin tore his LCL after an errant snap in a 24-14 loss to the Seahawks that day. The Redskins' franchise player and his future hung in the balance.
During the 2012 season, RG3 looked as promising as any rookie could possibly imagine. Griffin set records for the highest passer rating by a rookie quarterback (102.4). He led the team to a seven-game winning streak, their first playoff spot since 2007 and a division championship. Griffin also went on to win the Offensive Rookie of the Year award.
Nonetheless, those are all distant memories. Many believed RG3 rushed his rehab process only to return as a mediocre to even below-average QB. The team finished with a 3-13 record for the 2013 season and for the final three games, Griffin was placed on the inactive list.
This season is taking on the same tone as the 'Skins are just 3-9. He has played in just five games after suffering an ankle injury in Week 2 against Jacksonville -- four of which resulted in a loss.
In the process, he somewhat severed the relationship between him and the D.C. fanbase, stating to a predominately African-American community that "I am an African-American in America. That will never change. But I don't have to be defined by that," per USA Today.
He has been the victim of constant injury and fleeting playing time. Some have even indicated that he has lost the locker room. The love for him in D.C. has gone from "golden child" to only being judged by his initial wishes: football.
Washington D.C. is a historic region in our country deeply rooted in the civil rights movements of the past. But that aside, Washingtonians are very territorial. You can not claim to be from there if you aren't. If you reside directly on the border of D.C. -- most notably areas such as Silver Spring, Md. or Prince Georges County, you still aren't a part of their pack.
They take a great amount of pride in their district and it is only savored for the residents and some chosen few. Only they can really jam to their "Go-go" music and understand it's essence. Others have to stand on the side.
However, RG3 was their selection -- he was one of the "chosen few" who seemed to get a pass and join their illustrious clan. Griffin scoffed at the idea. He defiantly thought he could thrive in isolation. But now, one can see the infrastructure he tried to create isn't sustainable.
As a professional, defining yourself by just the sport you play can be a slippery slope. It requires a level of transcending greatness that RG3 clearly isn't ready for and most likely won't ever achieve. Looking back, one could admit that he bit off more than he could possibly chew. Nonetheless, the franchise hasn't been the biggest help either.
There have been 16 different starting quarterbacks under the Daniel Snyder era that dates back to 1999, along with seven different coaches. They have forced Griffin into a pocket-passer, hoping to save his career -- but have taken away his success of being dominant with his legs in the interim.
Griffin III still has the ability to be a successful starting quarterback in the NFL. He is only 24 and his status as a QB shouldn't be brought into question each week. His future may not be in Washington, but wherever it is you can only hope that he will turn up the Go-go music, listen to the funk. It's not a bad way to groove.
It might not make him a better quarterback, but it does make the bumps and bruises along the way a little bit easier to endure.
REAL LIFE. REAL NEWS. REAL VOICES.
Help us tell more of the stories that matter from voices that too often remain unheard.