This was supposed to be Robert Griffin III's bounce-back year. But instead the 24-year-old quarterback has been sidelined since Week 2, when he was off to a feckless start, with a left ankle injury. He will return this Sunday against lowly Minnesota in yet another effort to reinvigorate his career -- and his fans and detractors both will be watching closely to see if this time, he can live up to his original promise.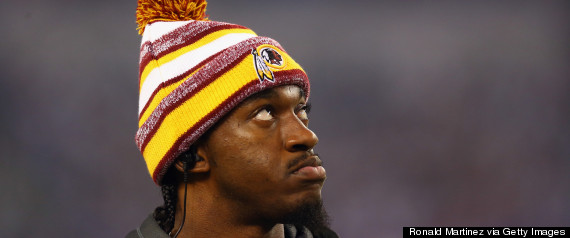 Injuries have long been the story for Griffin, who infamously tore up his knee in the playoffs against Seattle, and missed three games last season while battling through pain when he did play. And as a sophomore at Baylor, he only played three games because of a torn ACL. When HuffPost caught up with him the day before the 2012 NFL Draft, he spoke about injury: "If you play the game because you're afraid to get hurt, you're going to hurt," Griffin said. "So that's the way I look at it. I've already been through a tough injury [torn ACL in 2009], so I know how it feels. It's a hard part of the game but I'm not going to go out there expecting to get hurt."
Owner Daniel Snyder mortgaged much of his team's future to nab the former Heisman Trophy winner second overall in the 2012 draft, which raises the question: Will RG3 will turn out to be one of the biggest draft busts since Ryan Leaf?
In 2012, the Redskins owned the sixth overall pick. To acquire the freewheeling talents of Griffin, they dealt it, along with what turned out to be the second overall pick in 2014, another first-rounder and a second-rounder. It was a massive gamble, only made worse by the fact that Andrew Luck, the top overall selection in 2012, has been nothing short of sensational.
As a rookie, Griffin was outstanding, earning Offensive Rookie of the Year honors and leading Washington to its first postseason appearance in five years. Remember the devastating lethal read-option game? There had not been a better dual-threat quarterback since the early Michael Vick days. The problem now, however, is that the injury woes have made RG3 into a pocket passer, and in turn, taken away his game-breaking ability with his legs. He never had great mechanics as a thrower -- even as a rookie -- but he threw an excellent deep ball and could constantly escape pressure.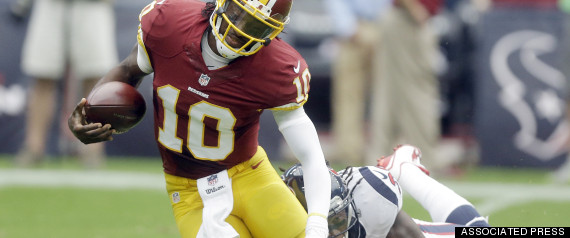 What plagued Vick as a younger quarterback is what I wrote about two years ago because it also plagues Griffin: aborting the pocket too soon with the intention of running. A great quarterback in this league must maintain the steely resolve of staying amid the pocket, stepping up and making throws when he knows a hit is forthcoming. Slowed by his injuries, Griffin doesn't seem to possess that, and the additional hits have piled on in a hurry. The result has become a young man in an older man's body.
What the Redskins hope is that their young quarterback is both healthy and confident enough in his body to resume his brilliance. The confidence is a psychological issue that can often become the biggest roadblock for athletes -- especially an inexperienced quarterback who relies on his athleticism so much -- to be his old self.
Will Robert Griffin ever be truly dynamic again, and will he able to improvise with ease and precision like he used to? He may still have a lot of football left in him -- but it's still to be determined what kind of football that is.
Email me at jordan.schultz@huffingtonpost.com or ask me questions about anything sports-related at @Schultz_Report, and follow me on Instagram @Schultz_Report. Also, be sure to catch my NBC Sports Radio show "Kup and Schultz," which airs Sunday mornings from 9 to 12 EST and 12-1 for fantasy football, right here.
REAL LIFE. REAL NEWS. REAL VOICES.
Help us tell more of the stories that matter from voices that too often remain unheard.