In March 2011, you could say that Robin Thomas was in a bit of a strange place. Little did he know that an unfortunate turn of events would lead to a very big idea: the RGFT Noteboard.
"I had dropped out of Stanford to enlist in the Marine Corps and about four months into that, a little after boot camp, I was diagnosed with major depressive disorder," Thomas said. "It's a dischargeable condition so I had to start thinking of ways to get from Camp Pendelton in California to back home in Ohio. Being an optimistic 20-something I decided I'd hitchhike."
A cardboard sign would get soggy in the rain and Thomas didn't want to worry about the cardboard being cumbersome or eventually ruined. Thinking back to the Marines, Thomas remembered how regular Scotch brand packing tape was used for nearly everything, including scribblings from wet erase markers. He put together some index cards and taped them together with packing tape, attached a dry erase marker to it and had a foldable sign. He would go on to put a few together for his former platoon mates.
A few months later, Thomas was back in Ohio -- without hitchhiking -- and working at a social entrepreneurship firm named Ashoka. Within the first week at the design intensive firm, Thomas gave one of his creations to his boss. She encouraged him to take it farther.
"I thought, 'Sure, why not?'" Thomas recalled. "I ended up getting a $2,000 loan from my parents to manufacture them and then it went to Reddit, where it really blew up. Considering a large part of the Reddit demographic is folks in design, tech and computer science -- who have use for dry erase boards -- it was great free market research."
Thomas is now selling his creation as the RGFT ("Really Great Fancy Things") Noteboard. Unfolded, the creation is the same as 27 3x5 index cards, about 15 inches by 27 inches in total. Folded, it's the size of a stack of 27 index cards, fitting comfortably in a pocket. The Noteboard is eco-friendly, water resistant and can be used for sketching and doodling, storyboards, presentations or simply jotting down a quick series of thoughts. It comes with a black dry erase marker, an eraser and a silicone, glow-in-the-dark band with "Write Now. Worry Later" written on it to keep the Noteboard neatly folded.
For now, Thomas is only doing double orders. "Right now, I'm our only employee and our global headquarters, shipping center and assembly line is the floor of my bedroom," Thomas said. "Ideally, if I could have anything happen, I'd love for some company that already has the client base and a good sense of corporate social responsibility to just come along and buy the idea for however much. Then they can take charge of the marketing and distribution in a way that I just don't have the facility to. I'm really not married to this product. It's so absurdly simple that I just think it's something that should exist and be easily produced worldwide."
In line with Thomas' desire for universal access to the product, he has made Noteboard open source for donors. Donors will have a contract that allows them to develop, manufacture, sell and distribute Noteboards on their own anywhere across the world. You will also be entered into an email list where ideas can be exchanged on how to improve the product. Improvements for the next iteration, as suggested by Reddit users, will include a square inches and centimeters grid on one side of the board. Thomas even offers a list of DIY instructions on his website for how to create your own Noteboard.
"Another thing I'm really hoping for is that this will turn into something that's used widely for people with communications disabilities especially people who are mute or can't hear," Thomas said. "I also think it can be valuable and resourceful in poorer communities and schools where these boards can be used over and over again as opposed to constantly using paper."
RGFT Noteboards are available for $10 each at RGFT.net.
Before You Go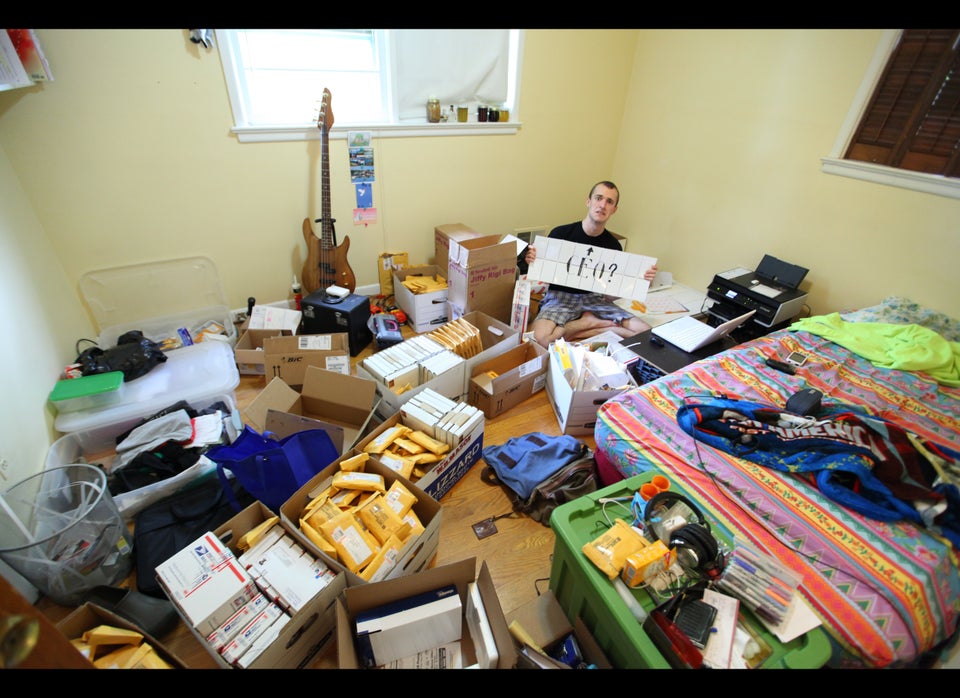 RGFT Noteboard
Popular in the Community