On Wednesday, nine of those states translated words into tangible policy, passing the first major test of how serious they were about taking on the mantle of slashing planet-warming emissions. 
The Regional Greenhouse Gas Initiative, the country's only interstate cap-and-trade market, announced new, stricter targets for reducing climate-altering emissions from power plants. The states in the nonprofit program ― Connecticut, Delaware, Maine, Maryland, Massachusetts, New Hampshire, New York, Rhode Island and Vermont ― agreed to cap emissions at about 75 million tons in 2021, a number which would decline by 2.25 million tons every year until 2030, resulting in a total decline of 30 percent.
Factoring the impact that RGGI ― pronounced "Reggie" ― has already had since it began eight years ago, that would mean a reduction of 65 percent in overall emissions by 2030.
"It's a major victory for the region, given the fact that it has all nine states on board, five of which are Republican governors," said Jackson Morris, the Natural Resources Defense Council's director of Eastern energy. "You couch all that in the lens of the Trump federal situation, and it's a major victory today for acting on climate."
The move comes a month after California voted to renew its own statewide cap-and-trade market.
Cap-and-trade programs ― a conservative policy idea devised by Reagan-era economists ― set a limit on total emissions and then allow companies to buy and sell pollution permits. If the cost per permit exceeds certain levels, RGGI automatically creates more, to prevent the program from rapidly driving up the cost of electricity. New allowances are issued if the price hits $10 per permit in 2017, and that figure rises at a rate of 2.5 percent each year. (That price, for instance, was $4 in 2014.)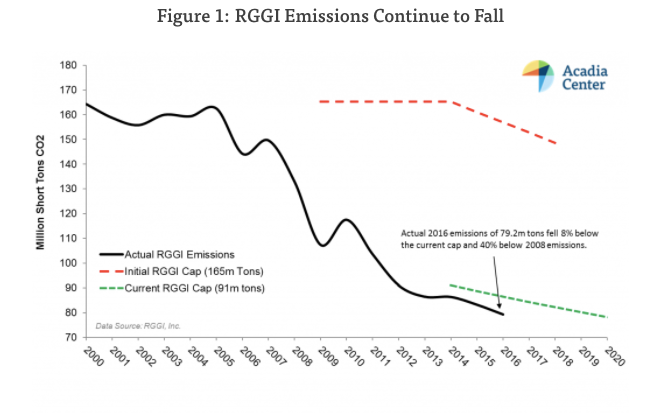 Under the new proposal, the price cap goes up to $13 in 2021, and increases at 7 percent each year. It also calls for RGGI to review the number of allowances available in the market in 2021, and reduce them if needed.
"This is what climate leadership looks like in the wake of the misguided and irresponsible decision to withdraw the U.S. from the Paris agreement," said Peter Shattuck, Massachusetts director at the Boston-based Acadia Center.
In June, Trump announced plans to pull the country out of the 2015 climate accord ― signed by every country except Syria and Nicaragua ― prompting worldwide condemnation and cementing into policy the president's long-held assertion that manmade climate change is "a hoax."
Trump also ordered Environmental Protection Agency chief Scott Pruitt ― a climate change skeptic who previously as Oklahoma's attorney general sued the EPA more than a dozen times to block power plant regulations ― to dismantle the Clean Power Plan, the federal government's cornerstone policy for cutting emissions from the utility sector.
RGGI targets announced on Wednesday don't make up for the loss of a national policy to cut power plant emissions, but they go well beyond the reductions called for in the Clean Power Plan.
"The RGGI states combined would comprise the 6th largest economy in the world," Shattuck said. "It doesn't fill the entire gap left by the U.S. withdrawal, and certainly more progress needs to be made, but it's a significant and important signal."
The proposal comes on the heels of eight public meetings, more than 120 comments from experts, policymakers and organizations, and more than 29,000 personal comments and petition signatures, RGGI said. Still, a public comment period remains open until Sept. 25.
The newest announcement completes a year-long debate between RGGI states over the future of the program.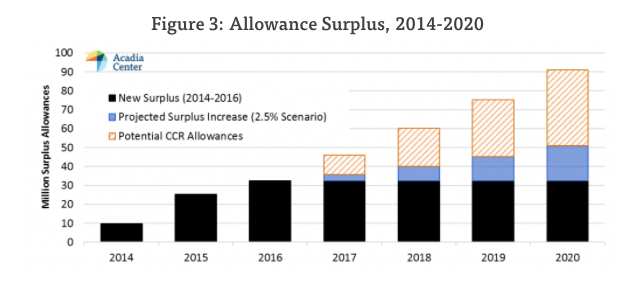 But the states were split over whether to adopt more aggressive targets for cutting emissions, or keep the rate of reduction at about 2.5 percent each year. (The new proposal calls for a rate of reduction close to 3 percent.)
New York and Massachusetts pushed for the most ambitious option, while states such as Maine and New Hampshire wanted the more modest choice. The difference in cost between the most and least ambitious targets came out to less than one-tenth of one penny more per kilowatt hour of electricity over the current standard, yet the impact would be huge. Choosing the most aggressive reduction rate would avoid 99 million short tons of carbon dioxide emissions.
States such as Maryland wanted to keep the rate of reduction low, in part to entice more states in the region to join RGGI.
This is what climate leadership looks like in the wake of the misguided and irresponsible decision to withdraw the U.S. from the Paris agreement.

Peter Shattuck, Massachusetts director at the Acadia Center
New Jersey, a founding member of the group, dropped out in 2011. The move cost the Garden State nearly $300 million in lost proceeds from permit auctions ― a number which could balloon to $489 million by 2020, according to a 2015 estimate from the Acadia Center. Gov. Chris Christie (R) called the program a "failure," and vetoed legislation to reinstate New Jersey's membership three times, most recently last month.  
But the Republican's term limit is up, and both the Democrat and Republican ― Christie's own lieutenant governor ― running to succeed him pledged to rejoin RGGI.  
To do so, the state would need to reassess its carbon emissions, draft new regulations and renegotiate its entry with the nine remaining RGGI states. The process could be completed in a year, meaning New Jersey power plants would be required to start buying pollution permits by March 2019, when the first auction for that year takes place, Morris said.
Virginia could also end up joining RGGI for the first time. In May, Gov. Terry McAuliffe (D) outlined plans for a cap-and-trade system in the state. The program would only be implemented if the Democratic candidate for governor wins in November, but it would lay the groundwork for joining RGGI. 
"Carbon emissions in the power sector have dropped significantly in recent years while the economy has grown, proving that increasing investment in energy efficiency and renewables is not just the right choice for our future – it is smart business right now in this region," Vicki Arroyo, executive director of the Georgetown Climate Center, said in a statement. "Today's announcement demonstrates that despite federal rollbacks, we can expect states and communities to pursue more smart investments, more energy efficiency, more renewable energy, and more clean energy job opportunities."
Despite the progress made, however, some felt that the proposed targets didn't go far enough.
"The states participating in RGGI must create real energy programs that tackle emissions head-on with hard caps on pollution, instead of tinkering around the edges with corporate-friendly pollution credit schemes," Jim Walsh, a policy analyst at Food & Water Watch, said in a statement. "The climate crisis demands bold steps to get off fossil fuels right now. 100 percent clean energy should be our only goal, and RGGI bring us nowhere near that standard."
Calling all HuffPost superfans!
Sign up for membership to become a founding member and help shape HuffPost's next chapter