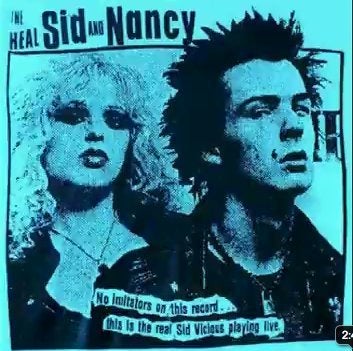 Excitement surrounding the reclusive North Korean punk rock legend Rhee has intensified in Seoul this past month. As with all legends, specific information about Rhee's turbulent and lonely life is hard to come by. We do know that Rhee was raised by a wealthy family in a big apartment overlooking the Pyongyang skyline. He is thought to be a member of the "orange race," a Korean expression referring to wild young people whose parents are rich so they don't have to work.
The legend of Rhee is made up of fragments. He suffered from a mysterious illness when he was young which was cured by soaking in the Mt. Pal-bo hot spring. He spent time studying in Leningrad. At some point Rhee went crazy and retreated to the mountains. He was arrested in North Korea and convicted of possessing and distributing South Korean cultural trash: magazines, toys, videos. His first sexual experience was with a girl at a mandatory military camp. A pirate radio station hidden in Hamkyung Buk-do in North Korea triggered Rhee's musical enlightenment. Supposedly, a blues pub in Hamkyung plays Rhee's music in honor of the legend.
One thing we know for sure is that Rhee has gathered followers all over the world who are eagerly anticipating his reappearance. In his absence, the legend only grows stronger. We also know that Rhee doesn't actually exist. But just because he doesn't exist, doesn't mean he isn't real.
Rhee was conceived in a moment of drunken inspiration by Oh Do-ham and Park Jun-chul of the rock band Pavlov. To fill out the legend, Do-ham and Jun-chul invited the members of ten punk and indie rock bands to come up with story lines for Rhee. The bands all met six or seven times to discuss music, politics, history and installation concepts. They also spoke with a North Korean defector about life in North Korea, which helped them add historical density to the project. The result is the punk performance piece "North Korean Punk Rocker Rhee Sung-wung," curated by Do-ham and Jun-chul at the progressive museum space Artsonje in Seoul. The story of Rhee is broken down into three separate events at that narrate his birth, career, and downfall.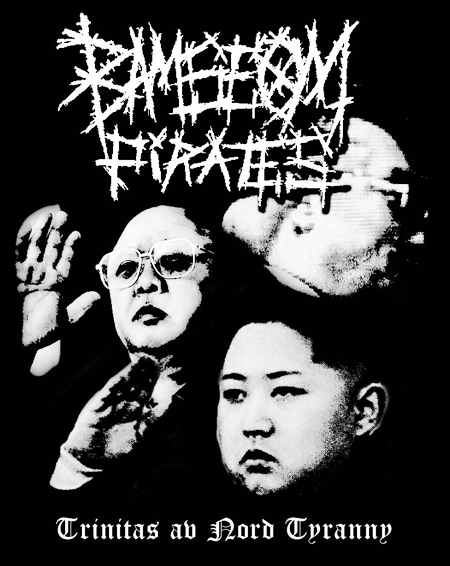 In the final installation which deals with the downfall of Rhee, hardcore punk band Bamseom Pirates thrash out the story of Rhee's arrest for distributing capitalist trash in North Korea (Bamseom is a small island next to Yeouido, the financial district of Seoul). This fictional story mirrors the very real arrest of 23-year old Park Jung-geun by the South Korean government for satirically re-tweeting messages from a North Korean website. Jung-geun was accused of violating the National Security Law, which bans acts that "benefit the enemy." It appears that the South Korean government has a hard time understanding humor. In an article on the case in the New York Times (2/2/12), Sam Zarifi, the Asia-Pacific director of the human rights group Amnesty International, stated:
This is not a national security case; it's a sad case of the South Korean authorities' complete failure to understand sarcasm. Imprisoning anyone for peaceful expression of their opinions violates international law but in this case, the charges against Park are simply ludicrous and should be dropped immediately.
In his daily life, Jung-geun was a photographer who specialized in taking pictures of babies. He was also active in protests against labor layoffs and redevelopment, both very contentious and occasionally violent issues in South Korea. Rights activists here believe the National Security Law is being used to punish dissidents. Jung-geun was arrested in January and recently released from prison.
Rhee may not really exist, but the legend of Rhee provides an accurate reflection of the schizophrenic politics that shape everyday life on the Korean peninsula. The bands involved in the production of "Rhee Sung-wung" have created a fragmentary spectacle that both reflects and subverts the spectacle of cold war geopolitics, authoritarianism, paranoia and cultural chauvinism that is becoming increasingly intractable on both sides of the DMZ.
"Rhee Sung-wung" reveals a Korean indie music scene that is raw, intelligent, political and funny, very much tuned into the history of punk, a history that, as Greil Marcus poetically displayed in Lipstick Traces, emerges out of Dada and the Situationist International. In a final performance piece, the bands involved in "Rhee Sung-wung" plan to put together a compilation CD which they hope to smuggle into North Korea when the water level of the Yalu River goes up so security is relaxed.
The Korean punk scene was intimately documented in the film Our Nation: A Korean Punk Rock Community (2002, and now available on Amazon) by Stephen Epstein and Timothy Tangherlini. Our Nation features a very young band called Crying Nut, who recently blew audiences away at SXSW. As music critics enthusiastically noted in their reviews of performances by Crying Nut, 3rd Line Butterfly and Galaxy Express at SXSW, there is a rugged authenticity to Korean punk and indie rock that can sometimes be hard to find in hipster-saturated places like Portland or Williamsburg. I have a feeling the next Korean wave isn't going to be pop, it's going to be punk.
The second and third installations of the story of "Rhee Sung-wung" will be performed at Artsonje in Seoul on April 1 and April 13 at 7 p.m. Massive thanks to one of my former students, Pyha Jang of Bamseom Pirates, for help with translation.

Related
Popular in the Community