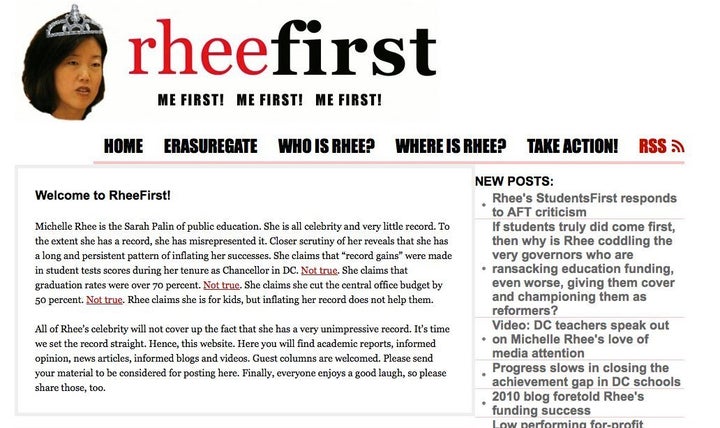 In the eyes of Steven Brill, the American Federation of Teachers building a website attacking Michelle Rhee and masking its origins is worse than Rhee's creating a billion-dollar organization aimed at revamping education that doesn't disclose its backers.
Brill, author of the recent Class Warfare: Inside the Fight to Fix America's Schools, came to the education beat after writing a piece for the New Yorker about the "Rubber Room," a place where New York City public school teachers were paid to stay out of classrooms.
"People are generally making a mistake when they don't disclose who's donating," Brill told The Huffington Post. "But when you set up a website to attack them for it and don't define the source, that's worse."
Brill is referring to the latest public spat in the debate over school reform, which pits so-called education reformers against teachers unions over the question of how teachers are evaluated, hired and fired. On Monday, StudentsFirst, the organization founded in Janurary by former Washington, D.C., schools chancellor Michelle Rhee, circulated a statement calling RheeFirst.com "unbecoming of civil discourse." Rheefirst.com launched in March, and aggregates material critical of Rhee in both the policy-related and personal realms. The missive follows last week's revelation -- courtesy of Politico's Emily Schultheis on Ben Smith's blog -- that the site, which launched in March, is hosted by a server at the American Federation of Teachers, the nation's second-largest teachers union.
Rhee, the face of one breed of school reformers, is best known for publicly firing teachers while running D.C. schools. She gained national acclaim by posing for a Time cover with a broomstick, and a starring role in the documentary "Waiting for Superman" only increased her profile. Her critics charge that she ignores the effects of poverty on teaching, and point to allegations that her record in D.C. was inflated by cheating. A federal investigation of exams there is still ongoing.
On Monday, the teachers union acknowledged its connection with RheeFirst and hit back at critics who say the site goes too far with its mockery. John See, a representative for the AFT, issued a statement calling the site a "truth squad":
It's revealing that StudentsFirst's spokesperson calls RheeFirst.com an attack site -- yet doesn't challenge any of the facts on the site. That's because RheeFirst.com aggregates articles raising fair and legitimate questions about Michelle Rhee's agenda. Much of this information can't be found on Michelle Rhee's official website, such as her work with Republican governors to promote vouchers and to dismantle public education, her failure to acknowledge the seriousness of the cheating that occurred on her watch in Washington, D.C., or countless other examples you can find on RheeFirst.com.

RheeFirst.com has acted as a truth squad, and that's what it will continue to do. We hope StudentsFirst's feigned outrage will lead members of the media and the public to visit RheeFirst.com and get a better understanding of Michelle Rhee's true agenda. We also hope, in the spirit of transparency, that StudentsFirst will now reveal its donors.
A digitally tiara-bedecked Rhee appears on RheeFirst, sitting plainly above the phrase, "Me First!" repeated thrice. While the site does have links to some quantitative studies debunking her record, it also features unrelated attacks, such as the police records of sexual misconduct allegations made against her fiance, Sacramento Mayor Kevin Johnson. Among its Photoshopping creations is a picture of Rhee surrounded by children with masking tape on their mouths, a play on Rhee's admission that as a teacher, she taped students mouths' shut to keep them quiet.
Not only is RheeFirst hosted by the union, but the AFT used a series of IP addresses and alternate hosts in an apparent attempt to mask its association: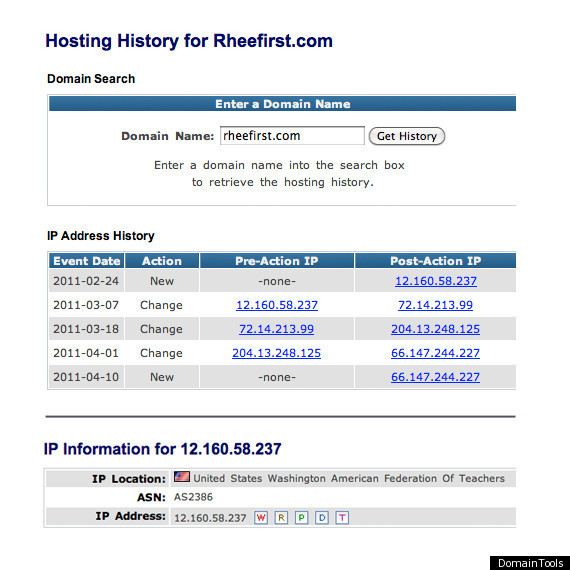 An AFT representative declined to answer further questions about everything from how the site was created to the matter of IP masking.
The AFT has sought the high ground in education arguments, appealing to broader reform forces by publicly participating in the debate and working on such measures as streamlining teacher discipline.
"The AFT has enjoyed a positive reputation for knowing how to talk about reform, but this was idiotic," said Mike Petrilli, president of conservative think tank the Fordham Institute, which has recently written about the need for civility in the education debate. "It's fair game to disagree with Michelle Rhee on the issues, but to put her picture in a tiara on a website seems too far. This was clearly a personal attack. After this, it's only going to get nastier."
It is still unclear how the site was started or whether knowledge of the site reached the level of AFT President Randi Weingarten. Critics call the revelation of the site's affiliation with the AFT ironic since it comes after the union's recent pleas for civility in the debate. For example, Weingarten called for less sniping in a Reuters op-ed responding to Brill's book.
StudentsFirst takes issue with what it sees as a contradiction between AFT's public face and the tone of its site. "It's disappointing the AFT would in one breath call for greater civility and in the very next breath condone a website that launches anonymous personal attacks," StudentsFirst spokeswoman Mafara Hobson said in a statement. "If it wasn't a big deal, why did the AFT try to hide their connection to the site by laundering it through multiple IP addresses?"
We think our kids deserve better than the brand of poisonous discourse and tactics that the AFT thinks aren't a 'big deal' and that is typical of the old Washington politics. We hope that the AFT will join us in shifting the tone of the debate, as well as the substance, so that it no longer focuses on what's best for the adults in the system, but instead what's best for the students in our classrooms.
Petrilli suggested that the site could actually be a gift for StudentsFirst. "This is a thing they will have a field day with -- maybe not in public, but in meetings with potential donors," he said. "Look how desperate the other side is, they can say. They went to great lengths to destroy our credibility. This is catnip for StudentsFirst."
In his book, Brill concludes that true reform can only be accomplished with the leadership of teachers' unions. He even suggests that Weingarten be appointed as chancellor of the country's largest school system in New York City.
Brill said the RheeFirst issue highlights the dueling pressures that the AFT faces: to serve its members while focusing on reform. "Randi and the AFT do all kinds of schitzy things," he said. "They're being tugged in different directions, so they try to have their cake and eat it too."
Correction: An earlier version of this article attributed the discovery of RheeFirst's host to Ben Smith. Politico's Emily Schultheis posted the item on Smith's blog.
Related
Popular in the Community