Rhiannon Giddens is following in the footsteps of Lin-Manuel Miranda ― in more ways than one.
First, the North Carolina-born musician earned herself a spot on the 2017 roster of MacArthur Fellows, a career-defining prize commonly referred to as the "Genius Grant" that comes with a "no strings attached" award of $625,000. Miranda snagged the multi-disciplinary grant in 2015, as did icons like Chimamanda Ngozi Adichie and Colson Whitehead before him.
Second, and perhaps more surprising, is the fact that Giddens is writing a musical. The acclaimed banjoist, fiddler and founding member of the Grammy-winning Carolina Chocolate Drops was recognized by the MacArthur Foundation for her work "reclaiming African-American contributions to folk and country music and bringing to light new connections between music from the past and the present." And she plans to continue doing just that on the stage, by bringing to life the story of the Wilmington insurrection of 1898.
She says the 19th-century event is often left out of textbooks or oversimplified by white Americans as a "race riot." It was a massacre, she clarified, and a coup, that revolved around the 1898 North Carolina election, when a group of armed white supremacists marched on Wilmington's City Hall and "overthrew the elected local government." Some historians estimate that hundreds of African Americans may have died in the violence that ensued, between the biracial Republican Party and the Southern democrats who sought to disenfranchise black voters, though official records mark the death toll at 25.
Giddens, of course, wants to tell the harrowing story through music. Like much of her work before it ― her performances with the Carolina Chocolate Drops or her 2017 solo album "Freedom Highway ― the musical would not only introduce new audiences to a forgotten piece of history, it would introduce them to musical influences that have long been left out of popular folk and country narratives, too. The MacArthur Foundation recognized her specifically for her embrace of slave narratives and under-celebrated black banjoists and fiddlers of the past ― more recently, she's incorporated contemporary history, like stories of police brutality, into her songs.
HuffPost spoke to Giddens ahead of the 2017 MacArthur announcement on Wednesday about the responsibilities of artists, her obsession with history and how she views diversity in genres like bluegrass and country music:
On how it feels to win a MacArthur Genius Grant:
Oh my God. It feels amazing. So, so validating. You know, I just had a few weeks to sort of ― I mean, it's so mean. They tell you [you've won] and you can only tell one person for the next three weeks. But I'm just so excited.
On what she plans to do with her prize:
I have several things planned. There are a couple of things in the works with other organizations that I can't really talk about until they're finalized, but there are a couple of things that I've been working on [that I can talk about]. One is this website about history and trying to have a place where all of the historical background for all the songs on "Freedom Highway" and other things that I've written can all live. You know, a place that has a history of black string-band music. I've been wanting to do a website for a long time, and I've gotten a domain now and thought about how how to organize it.
The main thing for me is that history gets taught devoid of cultural connections, and I think that that's not a good way to teach history. Because the music that's published or that's recorded or that's being done [in a certain time period] is a really important part of what's going on then ― they're reflections of what's going on culturally during historical moments. And you don't understand those moments without that context, to me. So having a place that, kind of, could be a home for that sort of notion ― you know, that's not a federal institution, it's not the Smithsonian. It's its own kind of thing, and can be a gateway for people.
On the musical she hopes to make:
The other thing [I want to do] is a piece about 1898, which is something that we never learn in school. This is something that happened in North Carolina in Wilmington ― and I'm from North Carolina and I only learned about it as an adult. It was a political coup that happened in Wilmington when a black and white Fusionist party started getting power and the white supremacists basically destroyed it and killed a lot of black people in the process. It's been called a race riot; it was a massacre. The [supremacists] ran the [Fusionist] politicians out of town and replaced them with their own, and the federal government did not do a thing. Echoes of this happened in Colfax, Louisiana, 20 years before and set into motion this pattern of the destruction of black power through the political process that has been going on since Reconstruction. So it's a huge part of American history that doesn't get talked about. And, you know, given what's going on today, I think it's very relevant.
And also, musically-speaking, there a lot of amazing things that were going on then ― before genres, before the race records and hillbilly records and country and soul. Music was much more of a crossing-line kind of thing. What was going on before the turn of the century really feeds into all of the explosion that happened afterwards during the Harlem Renaissance, jazz. Music between Reconstruction and the turn of the century is extremely important and undervalued and under-reported on, because there was no recording industry back then. But there are other ways to recreate and to explore what's going on during that time period. And I think this is an opportunity to combine those two things, or it's actually just not segregate them ― the history and the culture that surrounds it.
Which is why a stage production or musical or something like that is kind of an irresistible way to do that. And it's a huge undertaking, and it's something that I need time and connections and, you know, money to do. But I think it's very important to me, so that's my obsession right now. People are like, "Tell me about what you're working on." And I'm like, "Let me tell you about 1898." They try not to let their eyes glaze over. But I already have a narrative structure. All the characters involved were amazing people. The story itself is already there. And it's a time period that I happen to know a lot about already.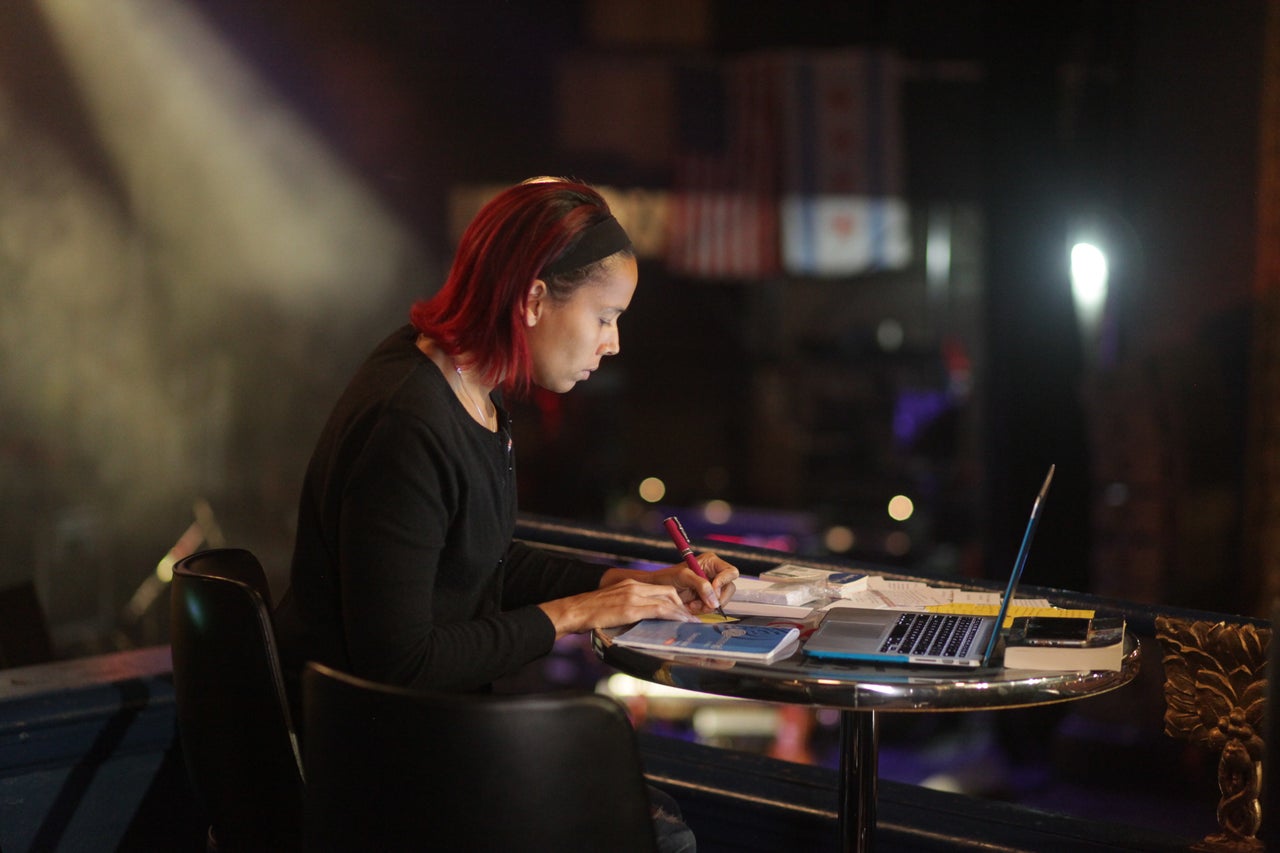 On the power of an 1898 musical and its connection to "Hamilton":
Listening to one song can highlight an enormous piece of history emotionally. [...] So for me the idea of 1898 and these people who lived in this time and went through that ― there's a newspaperman who was at the center of the story, who ran this black press. These people are a way into this history. And that's what [Lin-Manuel] Miranda did with "Hamilton. What I said to somebody was like, "I want [this 1898 musical] to be somewhere in between 'Oklahoma' and 'Hamilton.'" I want a narrative that is a story. I want a combination of historical and made-up characters that can represent some of the experiences of African-American life that always get left out. Like the black middle class that was going on in Tulsa before the absolute destruction of black Wall Street. There's all this history that gets left out.
[...] I'm kind of obsessed with the idea of it being a musical right now, with an accompanying book. Whether it turns into a concept album that then turns into a stage work ― you know, like Anaïs Mitchell's ["Hadestown"] that turned into an off-Broadway thing. I don't care what the process is. But I want to explore it musically and I want to explore it narratively. The beauty of it is that I don't have to know what the final product is just yet. You know, pretty soon I will, but right now I want to start making and seeing where it leads. But yeah, I think the narrative is so strong that seeing it on a stage would be be incredible.
On why she is drawn to slave narratives and overlooked black banjoists and fiddlers:
The thing that really sparked me was that I was drawn to strings and music through dance and North Carolina. I was like, man, I love this music and I want to learn, but I'm tired of sitting in jams and being a singer. I wanted to learn all these instruments. So I learned. I learned how to call and I called for dances and I danced. But I was always the only black person there, or one of the only. There was a few of us, but I was actually the only black caller I ever met and one of the only black banjo players that I ever met. Then I started reading the history and was like, what? The banjo is a black [instrument]? For so many years it was only a black instrument? It freaked me out, in a good way.
Then meeting Joe Thompson, the black fiddler from North Carolina, and realizing there was an enormous, unsung, untold part of American history ― my sense of righteousness and making things right sort of reared its head. I've always kind of had this streak of [thinking] wait a minute, that's not fair! And then when you are connecting it to racial issues today, the vindication of putting the real history out there is that it makes American history much more interesting and much more understandable and relatable and makes it more like, wow, we've actually always been coming together.
When you look at the cross racial history of string-band music, which then turned into so many genres ― the heart of the blues and "hillbilly music," which turns turns into country music and jazz ― all that stuff doesn't happen without the fiddle and the banjo. Of course, there are all of these other influences going into it. But for me, the heart of American music is in this moment of white and black sort of coming together. Maybe that's simplistic, but to me it is a symbol of the best of what we do culturally.
On diversity in genres like bluegrass and country music:
The question is always how to get diversity in bluegrass, but the question really should be how do you get it back into bluegrass and string-band music. It was always there, but it was taken out for various reasons. I don't want to look at Beyoncé coming into country music as the only way. Can we look at Charlie Pride, who has always been there? Can we look at the McCrary sisters, who straddle those lines? Can we look to all the black people who love country music and all the black music that went into country music? What a great way to celebrate America. What a great way to celebrate who we are, by really exploring these things ― the good and the bad. [...] There's no reason not to know this [history] now, because there are these scholars that have been painstakingly building this case through primary sources.
On telling the stories of the nameless people who shaped history:
There also a bunch of people who don't have names, who don't have histories written about them, who are just working in that plant or working in the coal mine or doing whatever and who just make some tunes with that black guy down the street. And those are the stories that don't get told. Nowadays, that's really important and that's what appealed to me. I think I'm in a position to highlight that because of my background. You know, because I'm black and white and Southern and I went to school at Oberlin and I was classically trained and I studied with a traditional elder. I'm really used to being on the bridge looking at both sides.
On the role art plays in changing perceptions:
This is where change happens: through music, through art, through literature. I can't affect the legislature ― I'm not a politician ― but I am a musician who has seen these things and whatever I can do to to add to the conversation in a positive way, that's what I want to do.
[...] I think that artists are the cultural response to what's going on in life. [...] People flock around music and they flock around art, because emotionally we need these outlets. So I think we're really important. [...] I think the arts has an incredible opportunity to make people care. Even something like Tom Petty's "Won't Back Down." It puts the heart in them. This climate is really exhausting and it's really depressing for a lot of people. And they come to a show and they walk out like, yes! They say, "Please keep doing what you're doing." That, to me, says everything that I need to know. That the people that I'm reaching out to are being reached. Then this music is doing what it will do.
On her relationship to conventional historians:
One of the books that really affected me was called The Half Has Never Been Told: Slavery and the Making of American Capitalism by Edward Baptist, which is an unbelievable book. And he came to a show! He came to a show. And I don't think this has ever happened ― I just like freaked out and I wanted a selfie. And he said, "There's a group of us historians and we're all rooting for you." You know, they are so happy that their work is living in a different discipline. Living in a different arena. That I can take a fact that they painstakingly researched and I can put it in a song and people can feel their research without having to go pick up the book.
Because let's be honest, a lot of people aren't going to read these books. They may buy them, they may put them on their bookshelves, but the people who are going to sit down to read it are a concentrated group of people. That's another reason why I think it's important to draw on that, because I'm like, I can make up stuff, but it's not going to be as interesting as what actually happened in history. Forget "Django Unchained," let's pull an actual, really exciting [story] ― like that guy who escaped slavery and commandeered a ship and became a captain. There are so many really cool stories that show our resilience.
Popular in the Community