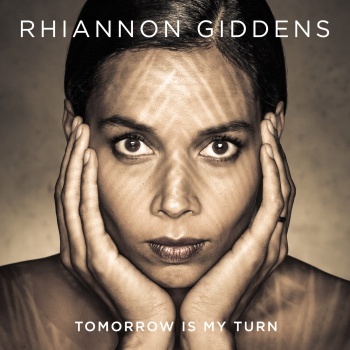 Five years ago, I was flat out flattened by my discovery of a band called The Carolina Chocolate Drops and their album, Genuine Negro Jig. I was not alone; the album wound up winning a Grammy. Still, my longstanding fascination with the inescapable blackness of virtually all American music at the root resonated powerfully with what the Carolina Chocolate Drops were up to.
I quickly learned that The Drops were a collective trio: two-thirds Dom Flemons and Justin Robinson, a pair of exceptional male musicians, and one-third a stunningly talented woman named Rhiannon Giddens. All three were African American, based in North Carolina. All three were virtuoso vocalist/multi-instrumentalists specializing in the all-but-forgotten styles of a venerable black stringband tradition. The music that they made was joyous and righteous, bone-deep and celebratory in its deceptively meticulous scholarship. On the surface, their sound resembled what people like to call bluegrass music, except that the sources were black and in essence predated bluegrass, like the banjo itself, which arrived here with the slaves from Africa.
Many years ago, I wrote a book called Black and Blue: The Life and Lyrics of Andy Razaf. I like to think of it as a history of black music in America told through the prism of one black music maker's life - the most prolific (and most forgotten) African-American lyricist in the annals of American popular music, Andy Razaf - the man who wrote the words to most of the songs composed by Fats Waller and Eubie Blake and so many other central black songwriters during the first half of the 20th century, including the scores for at least three black Broadway musicals.
Andy Razaf's life had unfolded for me like a detective story; my search for an African-American artist whose fingerprints had long since been wiped away. Black and Blue ultimately taught me that, in American music, until very recently, most black fingerprints have, in fact, been whited out. Moreover, this whiting out re-rendered the original, authentic nature of black American music as an unbearably demeaning, racist caricature.
How do you reclaim such music? How do you give it back to America in the 21st century? How do you sing that stuff? This is the very ticklish territory that the Carolina Chocolate Drops affirmatively chose to inhabit - or, more accurately, re-inhabit - as with Genuine Negro Jig, an album named for a song that had been sung in the mid-1800s by a white man named Dan Emmett who was a pioneer of "Minstrelsy" in America -- another very touchy subject.
The Carolina Chocolate Drops possess an astonishing ability to seemingly put American music to right - to entertain and somehow restore both credit and credibility in a breath. Today - after the amicable departure of Flemons and Robinson for their own solo projects - the band, more than ever, is a shifting troupe of young African-American folk musicians who revolve around Rhiannon Giddens.
I had long wanted to speak with this lady. This week, she released her first solo album, Tomorrow Is My Turn, on Nonesuch Records (also the Chocolate Drops' label). Celebrity of a whole other sphere has recently found her. In September 2013 at New York's Town Hall she performed in a concert celebrating the Cohen Brothers' sixties folk scene flick, Inside Llewyn Davis, and stopped the show cold. In short order, the evening's musical curator, the legendary producer T Bone Burnett, announced to Giddens that it was time for her to record a solo album with him. And so that has come to pass.
In the run-up to release, the photogenic and articulate Ms. Giddens increasingly has been appearing as the subject of lush magazine photo spreads and even as the singing voice on Apple's latest Super Bowl commercial. Already it seems a long way from the hills of North Carolina.
Or is it? "The band is a band," Giddens announced to me over the phone from London, where I at last tracked her down. "I've always been determined to keep The Drops from being a singer-out-front kind of thing. Especially when there's one woman in a band, and she's a singer, people tend to want to pull her out. I resisted that. Still, you do have to subsume your identity somewhat. There were songs that came to me over the years that I wanted to sing but that didn't fit with The Drops. When T Bone told me: 'The time is right to do a solo record for you,' I had a list to pull from."
"The title song, for example," Giddens goes on emphatically. "I was really taken with Nina Simone's performance of Charles Aznavour's 'Tomorrow Is My Turn,' in a video of her live in Holland in 1965; it was a slow, burning, really intense version - very unlike the way she recorded it in the studio. Hank Cochran's hit for Patsy Cline, 'She's Got You,' was another one. Both songs seemed out of the purview of what we do as The Drops. For a solo album, though, those two were kind of irresistible."
So is the album. Giddens sings on it with all the intensity, vibrancy and wit, as well as the innate authenticity that informs everything she has touched with the Chocolate Drops. What's changed is the scope of the accompaniment in places and the range of material she draws from, which, when you get down to it, simply has expanded to include white folks: Cline, Cochran, Aznavour. Dolly Parton's "Don't Let It Trouble Your Mind" is another album high point.
"There are also songs on the record that might easily have fit with The Drops," Giddens points out, "like Elizabeth Cotton's 'Shake Sugaree.' We start touring at the end of March," she added gleefully, "and we'll go through the summer. I got The Drops with me; it'll be me and them and I'm adding drums and bass. I'm really eager to get this out on the road."
"What about the black community?" I wondered aloud. Has anyone ever given her flack for singing these heavily freighted songs?
There was silence for a moment on Gidden's end of the line. "The black people that we can get to come to our shows, they don't complain; they really like it," she slowly answered. "If there are black people at our shows - which sometimes there aren't - they usually say it's great to get this history out there. No one has ever said: I went to your show and was offended.
"Why aren't there more?" I asked.
Giddens sighed. "I can only say that the whitewashing of American music history has been pretty damn thorough. I've been thinking about this a lot lately. Maybe the name scares black people off, for starters. The fact that we play banjos - that may also be hard for some to take. Once they come to a show, though, it's totally cool."
"Look, I do have an educational mission, absolutely," Giddens avows. "I'm not afraid to face this stuff. I am making a concerted effort to bring this history to a wider audience. Not just bring the 'roles' that African Americans had to play in their early days of creating music in America, but also just the fact that American music is a mixture. Nobody holds all the keys. But, if you leave out a group that played such an important part in all this, you're really gutting the depth of the music and the meaning of it."
"I've already made plans for the next Drops album," she goes on. "I want to get even deeper. I want to keep pushing. I see such parallels to what's going on today; what I read in the papers. This music is useful. It can make you think differently about today. I do believe that being matter of fact about it is better than getting on a soap box. This is what it was, and this is the music, and it's awesome, and the more you know about it, the better it is. But even if you don't know anything at all, you're gonna enjoy it. So just listen."
I asked Gidden about opera, which I had heard she'd been studying as an undergraduate student at the Oberlin Conservatory of Music in Ohio, before putting opera aside for the music of her native North Carolina hill country.
"I love it!" she replied effusively. "I love singing opera. That was my favorite thing actually, the act of performing an opera onstage, in costume, the conductor right there, killing yourself or whatever at the top of your lungs. I really do miss that.
"I've kind of kept my toe in," she went on. "I've done a couple of Pops concerts with the North Carolina Symphony. I've also got this project about turn-of-the-century black Broadway."
"Black Broadway?" I interrupted. Thoughts of Andy Razaf were crowding in.
"Yeah, I've had three songs orchestrated for symphony orchestra," Giddens continued. "Oh, man, I've got to get a whole show together! All three are by this black composer, Will Marion Cook, who graduated from Oberlin and was trained by Dvorak."
I smiled. Will Marion Cook appears often throughout the first hundred pages of Black and Blue. I knew well the name Will Marion Cook. More importantly, Will Marion Cook and Andy Razaf knew each other.
"There was this amazing flowering of black songwriting on Broadway and then it all went kaput!" Giddens was saying. "I sang the three pieces for audiences in Raleigh and folks loved them. This stuff still has life! But some of it is in dialect, and it takes people who really know what they're doing to make it work."
I told Rhiannon Giddens about Andy Razaf and the book Black and Blue. She listened intently.
"I have a lot of love for that music," she finally said softly. "And I have a lot of ideas for how to bring it to people who would not otherwise listen. A way that still honors the songs and honors the tradition. I got a lot of plans, man."
Calling all HuffPost superfans!
Sign up for membership to become a founding member and help shape HuffPost's next chapter