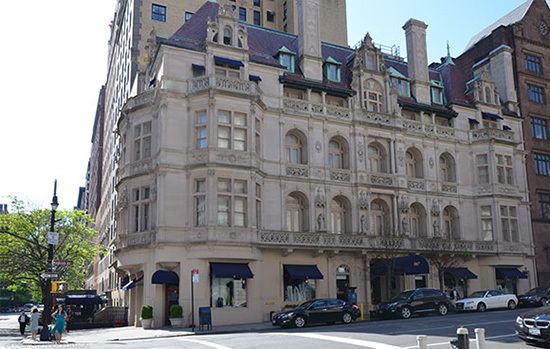 The very first Ralph Lauren NYC flagship store is a New York destination not just for fashionistas, but historians and interior design enthusiasts as well. It's backstory lends charm and perspective to the stately address, and amplifies my respect for Ralph Lauren.
The Gertrude Rhinelander Waldo House is a French Renaissance revival mansion located at 867 Madison Avenue on the corner of East 72nd Street in the Lenox Hill neighborhood of Manhattan, New York City. Completed in 1898, it was modeled after a châteaux of the Loire Valley in France. The plan was for this home to outshine the Vanderbilt limestone palace. Gertrude Rhinelander Waldo, the eccentric New York heiress who commissioned the mansion, made numerous trips to Europe to buy art, furniture, and statues, which were shipped back in crates and stored in rooms and hallways of the home.
Gertrude never actually moved in, never opened those crates. Widowed after two short years of marriage, she opted to live across the street in a town home with her unmarried sister, Laura V. Rhinelander. She was unable to maintain the building and it went into foreclosure in 1909. The crates of valuable furnishings, never opened, were the cause of multiple lootings of the property in 1909. She died in debt in 1914. The building remained vacant until 1921, at which time the first floor was converted into stores and two apartments were carved out of the upper four floors. It is sad to think that this masterpiece was never used as a home. At various times the property was leased by an antique store, Christie's auction house and a Zabar's-owned restaurant. Then greatness happened: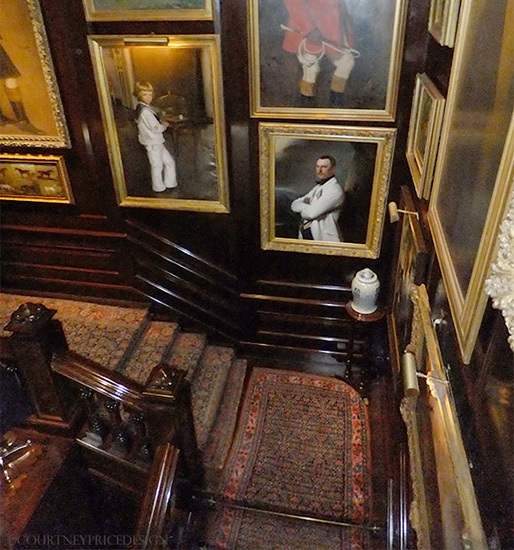 Ralph Lauren obtained the lease in 1983 and started a massive overhaul of the building to create his first New York Ralph Lauren flagship store. Published figures put the cost around $14-15 million. Ownership of the building has changed several times during his lease, sales of the building escalating from US$ 6.4 million in 1984, five years later in 1989 it sold for US$ 43 million and the most recent sale in 2005 being reported at a record US$ 80 million.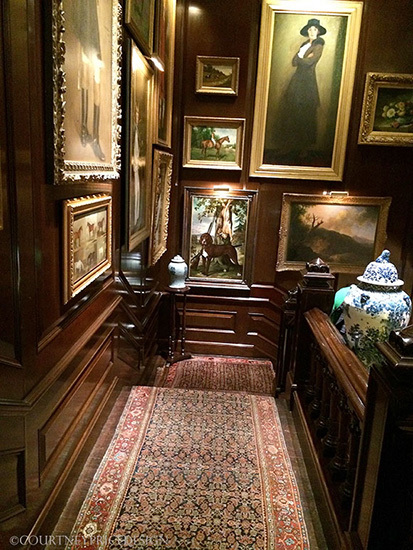 I loved this mansion long before I knew the story behind it. I have to admit, I was devastated when I heard Ralph Lauren was planning to move the home and women's collections across the street. Perhaps that was because I was looking at the existing building, unaware that a new one would house those collections.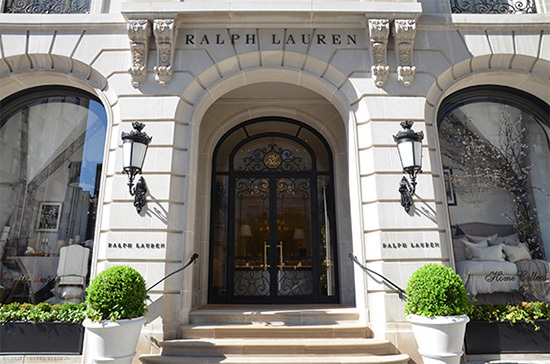 Me of little faith: Ralph Lauren is the king of the brand experience. The new one is just as fabulous as the old, with a luxurious feminine vibe and a coco-esque stairwell. Now there are two great reasons to enjoy the intersection of Madison and 72nd.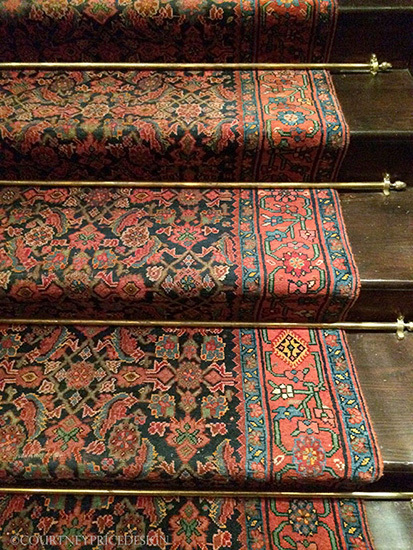 But I digress. Back to the Rhinelander Mansion: The Ralph Lauren attention to detail is everywhere. I can imagine Gertrude would have loved it. But who knows- she sounds like she was a bit "out there", once suing a servant over $5, which ended up costing her $15,000 before it was all over.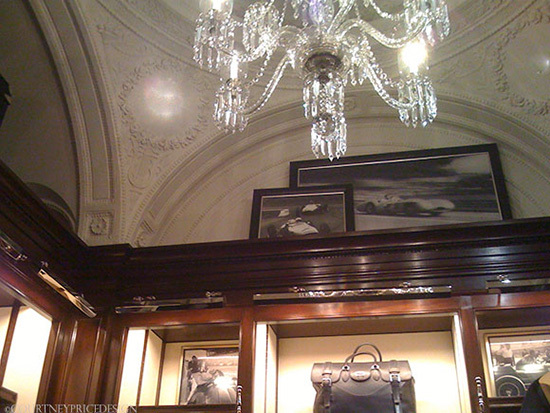 The ceilings are incredible. Elaborate detail on every surface.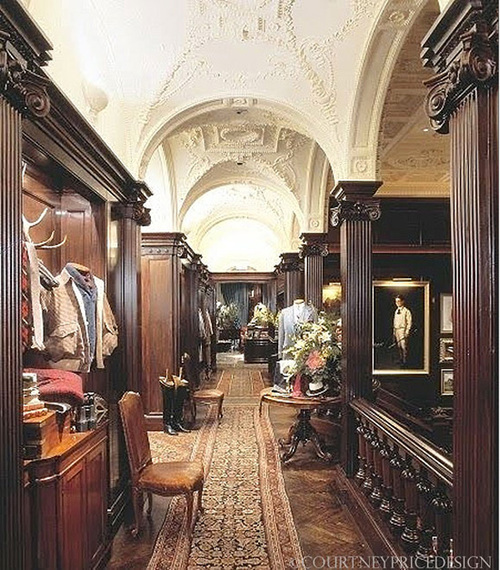 The Gertrude Rhinelander Waldo House was designated a New York City Landmark in 1976, and was added to the National Register of Historic Places in 1980. If it weren't for Ralph Lauren, imagine what this property might have turned into, or how any of us might ever have seen this elegant bit of NYC history... Heartfelt thanks to RL.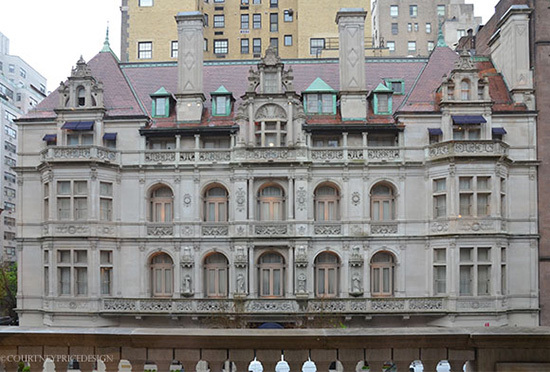 This photo was taken from the newer Ralph Lauren store across the street.
The Rhinelander name is a prominent name with deep roots in New York history. Gertrude was the daughter of Bernard Rhinelander who in the 1840s was described as the richest of the rich.
The Rhinelander name appears again, not far from this location.
If you are a fan of the Metropolitan Museum of Art, you may be familiar with the name Frederick Rhinelander. His father and Gertrude's father were brothers. To step back further into history, this Rhinelander family is said to have started their fortune with a sugar refinery and were among the earliest shipbuilders in the American colonies. By 1776, they were rich enough that an early Frederick Rhinelander was, the New York Times said in 1878, "disinclined to encourage the agitation" of the American Revolution, but hung around afterward and either bought or acquired through marriage large tracts of land all around the city, capitulating the family into the top ranks of the local Kinickerbocker gentry. Two generations later, Frederick W. Rhinelander was one of about forty members of his family living off of a fortune estimated to be as high as $100 million. He was an important figure in the history of The Metropolitan Museum of Art- one of the original incorporators. He served as treasurer for years and was a member of the inner circle of trustees who actually did all of the work; he appears to have had no other profession. He served as the 3rd president of the Met, from 1902-1904 (until his sudden death)- following Henry Marquand and preceding John Pierpont Morgan.(-all information on Frederick Rhinelander is from Michael Gross's book: Rogue's Gallery, highly recommended-)
Ready for one more link to the Rhinelander name? Pussy Jones, aka Edith Wharton, was related to Frederick Rhinelander.
Many thanks to @ShelleyCHolmes for the geneology research to establish the family connections mentioned in this article.
Calling all HuffPost superfans!
Sign up for membership to become a founding member and help shape HuffPost's next chapter