Rhode Island on Friday became the latest state to join a nationwide push to strengthen gun laws, with new measures to ban bump stocks and give law enforcement additional power to temporarily seize guns from individuals determined to be an imminent danger to themselves or others.
In a bill signing event at the Rhode Island State House, Gov. Gina Raimondo (D) thanked lawmakers and volunteers with gun violence prevention organizations who were in attendance.
"Because of you and your efforts, Rhode Island will be safer," Raimondo said. "There's no question that we need these laws, there's no question that it's common sense and there's no question that it will make us safer."
On Thursday, the state's General Assembly gave overwhelming final approval to the pair of bills, sending them to Raimondo. Lawmakers have characterized the legislation as a necessary response to horrific mass shooting events over the past year.
The push began after an attack on a country music festival in Las Vegas in October, in which a gunman killed 58 people and injured hundreds more using rifles equipped with bump stocks ― accessories that allow semiautomatic firearms to simulate automatic fire.
Once the bump stock ban legislation goes into effect, anyone in possession of a bump stock or similar device will have 90 days to sell, destroy or "otherwise remove these items from the state." Possession will carry a penalty of up to 10 years in prison, or a fine of up to $10,000.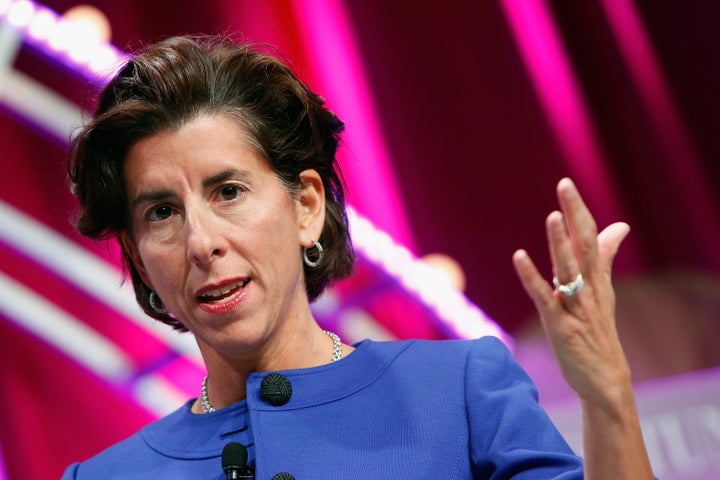 The impetus for the second round of legislation came in February, when a 19-year-old former student allegedly walked into Marjory Stoneman Douglas High School in Parkland, Florida, and opened fire with a semiautomatic AR-15 rifle, killing 17 people. The suspect had exhibited disturbing behavior before the shooting, but local law enforcement had no authority to seize his firearms. Supporters of the so-called red flag bill said the measure might be able to prevent exactly this sort of incident.
"Too often, after a mass shooting we learn about all the warning signs people saw from the shooter and wonder why they still had guns. But the truth is, there isn't always a legal means to stop them," said Rhode Island state Sen. Maryellen Goodwin (D), one of the Senate bill's sponsors, in a press release last week. "Our legislation provides a speedy but fair process to ensure that those who pose a legitimate risk do not remain armed."
Rhode Island's red flag law allows law enforcement, family members, dating partners and roommates to petition the court to have firearms temporarily removed from an individual, on the grounds that the subject poses a risk to themselves or others. A judge would then hold a hearing to review evidence and determine whether to grant the red flag petition, also known as an extreme risk protection order.
Under the new law, petitioners can also request a temporary extreme risk protection order, which allows for more immediate confiscation of an individual's guns if the court determines there is sufficient evidence that the person poses an "imminent danger." In those cases, hearings must be scheduled within 14 days of the order's issuing to determine whether it should be extended further.
If a judge decides to issue a full extreme risk protection order, the subject must typically surrender their guns to law enforcement and remain away from all firearms for at least a year. Violating such an order would be a felony punishable by up to 10 years in prison. The bill also establishes a penalty of up to five years in jail and a $5,000 fine for anyone who knowingly provides false information in a red flag petition.
Rhode Island is now one of nine states with a red flag law on the books and one of four, including Florida, to have enacted new legislation since the Parkland shooting. Critics of the measures have raised concerns about the lack of due process. Gun rights groups and the American Civil Liberties Union of Rhode Island found common ground in opposing the state law, arguing that firearms shouldn't be confiscated unless the owner is alleged to have committed a crime.
Lawmakers have introduced other bills this session to ban high-capacity ammunition magazines and semiautomatic rifles commonly referred to as assault weapons. Those bills have yet to be considered.
Calling all HuffPost superfans!
Sign up for membership to become a founding member and help shape HuffPost's next chapter