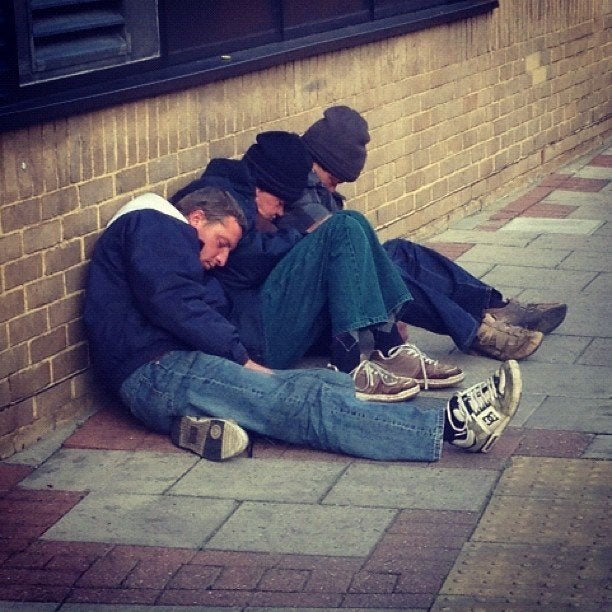 (Reuters) - Rhode Island's governor is expected to sign into law the first "Homeless Bill of Rights" in the United States as early as next week, formally banning discrimination against homeless people and affirming their equal access to jobs, housing and services.
The legislation, which won final approval by the state Senate on Wednesday, bucks a national trend among municipalities toward outlawing behaviors associated with homelessness such as eating, sleeping and panhandling in public spaces.
Among other steps, the Rhode Island law would guarantee homeless people the right to use public sidewalks, parks and transportation as well as public buildings, like anyone else "without discrimination on the basis of his or her housing status."
It guarantees a "reasonable expectation of privacy" with respect to personal belongings similar to that of people who have homes.
While other laws already guarantee many of the rights specified in this legislation, supporters say it was necessary due to widespread discrimination.
"I think we've set the bar high in the U.S. for homeless people, and I'm very proud of that," said Senator John Tassoni, a sponsor of the bill.
Rhode Island is the smallest of the 50 U.S. states.
Tassoni and other homeless advocates said Rhode Island Governor Lincoln Chafee would likely sign the bill in coming days. Chafee's office said it could not comment until the bill was formally presented to the governor for signing.
HUNDREDS OF THOUSANDS ARE HOMELESS
Roughly 643,000 people are homeless on any given night in the United States, experts say.
"It's important as a standalone piece of legislation but also as it's juxtaposed with other communities that are in the process of criminalizing homelessness," said Neil Donovan, executive director of the National Coalition for the Homeless.
"This just affirms the rights and existence of the unhoused in America."
Cities including Philadelphia, San Francisco and St. Louis recently passed ordinances targeting the homeless or have stepped up enforcement of existing regulations.
A report in April from the White House's Interagency Council on Homelessness noted a "proliferation of local measures to criminalize 'acts of living'" such as sitting, standing or asking for money in public places.
"You're just looked down on because you're carrying your life on your back," said John Joyce of Providence, who was homeless for three years and now is co-director of the Rhode Island Homeless Advocacy Project.
Frank Nolan, 53, of Providence became homeless last year when a ruptured appendix left him with $30,000 in hospital bills and he did not have medical insurance.
Nolan said he used the addresses of friends on job applications because he knew he would not be hired if his address was a homeless shelter.
He said he was stunned when a bus driver failed to stop for him and three other homeless men waiting near a shelter.
"He pulled up and looked at us and he knew we were homeless," said Nolan. He just waved and he drove off."
In Philadelphia, an ordinance took effect on June 1 banning charities from feeding homeless people in public places such as parks.
In St. Louis, Missouri, police evicted homeless people from a site leased for them by a local minister after the city cleared out three homeless encampments along the Mississippi River.
In California, San Francisco last year began enforcing a ban on sitting and lying on sidewalks between 7 a.m. and 11 p.m., with violators facing tickets of up to $500. But San Jose recently said it would order police to stop throwing away the personal possessions of homeless people seized during sweeps of homeless camps, amid criticism from homeless advocates.
Opposition to the bill in Rhode Island's Democratic-controlled legislature was muted, said Jim Ryczek, executive director of the Rhode Island Coalition for the Homeless.
(Reporting by Jason McLure in Littleton, New Hampshire. Editing by Ellen Wulfhorst and Christopher Wilson)
Related
Popular in the Community