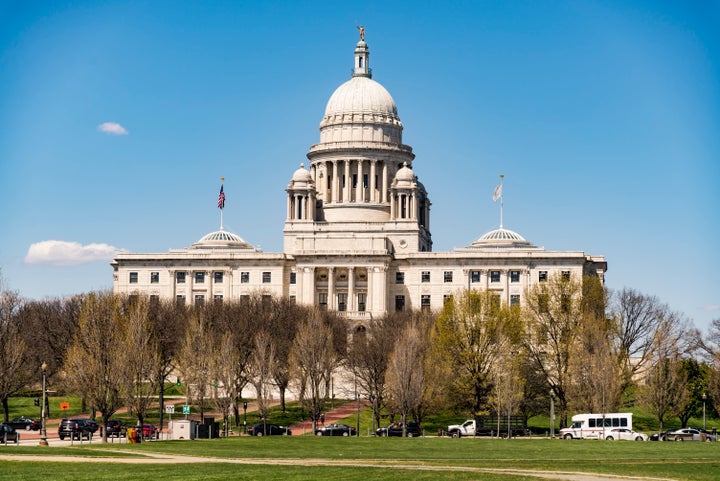 Rhode Island is about to become the eighth state in the country to give workers paid sick leave ― and activists are partly crediting the anti-Trump movement for their victory.
On Tuesday, the state's legislature passed a bill requiring employers to offer three paid days off per year to sick workers beginning in July 2018, with the number increasing to five days in 2020 and beyond.
According to the legislation, employees could also use that time to care for sick loved ones or for "safe time" to deal with domestic violence or sexual assault issues.
Rhode Island Gov. Gina Raimondo, a Democrat who supports paid sick leave, is expected to sign the bill into law.
The United States is the only developed country without any kind of paid sick leave law, but in recent years, states and cities have taken matters into their own hands.
Since 2008, 39 cities, counties or states have passed paid sick day laws. In 2011, Connecticut became the first state to make the move, followed by California, Massachusetts, Oregon, Vermont and Washington state. Arizona voters approved a paid sick leave law in November.
The legislation is another sign that states have been making progress when it comes to workers' rights, even as the Trump administration attempts to roll back a variety of labor protections ― from rules on discrimination to regulations that would have given workers more opportunities to earn overtime pay and be protected from exposure to deadly chemicals.
Backers of the Rhode Island law say that energized opposition to Trump gave the legislation added momentum.
"We've been doing a lot of work with new activists in the resistance to Trump," said Georgia Hollister Isman, director of the Rhode Island branch of the Working Families Party.
Isman also said she credits momentum from local elections in 2016, in which six progressive candidates won seats in the state legislature.
Groups including Planned Parenthood, local unions, women's groups and even the AARP joined the Working Families Party in supporting paid leave.
Ultimately, about 100,000 of nearly 170,000 workers in Rhode Island without access to paid sick leave will now have access to it. Seasonal workers are exempt from the law, as are companies with fewer than 18 employees. But under the law, those workers will still be protected from retaliation at work if they take unpaid time off.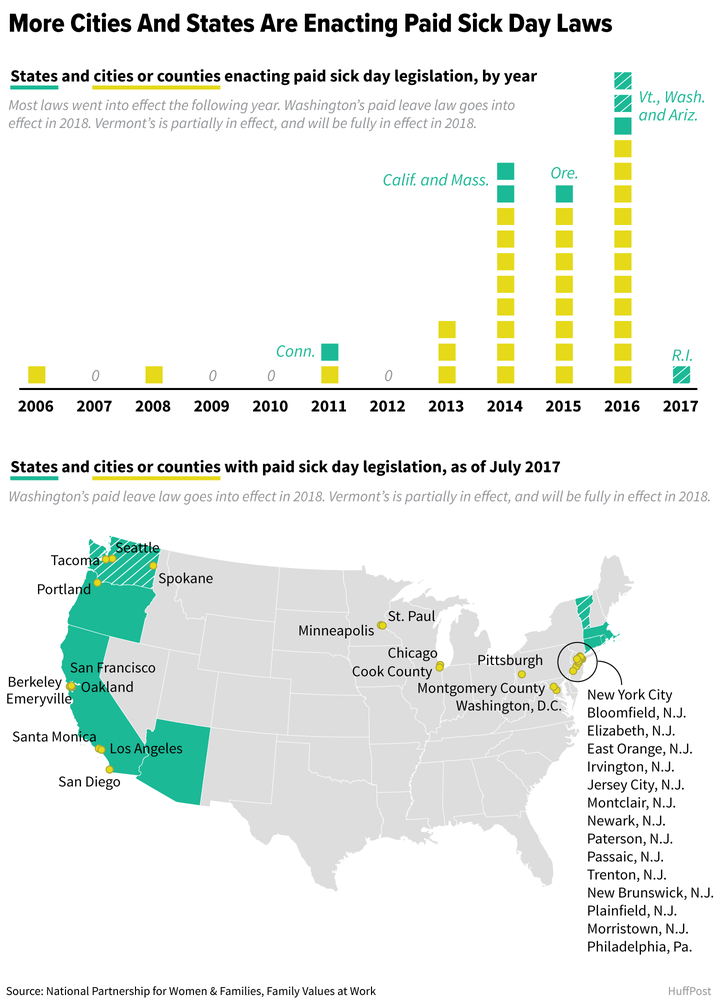 The new laws are making a real difference to millions of people around the country. Sixty-eight percent of employees in the private sector now get paid sick days ― nearly 79 million people ― an increase of 7 percentage points from 2015, according to data released by the Labor Department over the summer. Last year, 64 percent of workers in the private sector had paid sick days.
Rhode Island is the first jurisdiction to pass paid sick leave since the November elections. The law comes at a perilous time for U.S. workers, as the Senate again contemplates repealing the Affordable Care Act, known as Obamacare, and leaving millions of Americans without health insurance.
The lack of a law on federal paid sick leave has far-reaching consequences ― and not simply for workers who don't get the time off.
Lacking paid sick leave, employees often wind up coming in for work and spreading disease both to their colleagues and their customers ― since many people without paid sick leave work in the service industry.
Flu rates in the U.S. could decline by at least 5 percent if the country implemented paid sick leave nationwide, according to a paper from two economists published in 2015. A study released this fall also found that not having access to paid sick leave can have dire mental health consequences.
Opponents of Rhode Island's law argued that giving workers paid sick leave would be too costly for businesses.
"If this bill is going to hurt me financially in a way I cannot overcome, I will hire fewer people and start eliminating vacation days," said Republican state Rep. Michael Chippendale, according to the Providence Journal.
But a number of studies show that offering employees paid time off is actually good for business. The overwhelming majority of employers in the city of San Francisco and the state of Connecticut, which both have paid sick day laws, did not see a negative effect on profits.
Popular in the Community