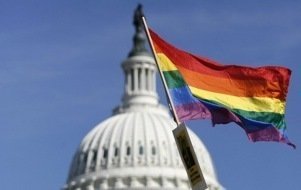 In November, Rhode Island Governor Donald Carcieri made a move that surprised even his harshest critics -- my membership dues to that club being current -- by vetoing legislation that would have permitted domestic partners to claim each others' remains and plan each others' funerals.
State Senator Rhoda Perry and I sponsored the bill at the behest of our constituent, Mark Goldberg, whose partner's body went unclaimed for nearly a month in late 2008. (It's not gratuitous to mention that Goldberg's partner of 17 years had claimed his own life, for it makes clear just how flagrantly unconscionable were Carcieri's actions.)
As of Tuesday afternoon's veto override session, the law will stand in spite of the Governor's intransigence.
The legislation was construed to apply equally to gay and straight couples, quite possibly affecting more of the latter. But the governor saw it as yet another poisoned barb in gay rights activists' bottomless quiver, asserting that "this bill represents a disturbing trend over the past few years of the incremental erosion of the principles surrounding traditional marriage."
Perhaps he was bolstered by the overturning of marriage equality in Maine just days before the veto. Were Rhode Islanders more fundamentalist in their Catholicism -- RI is the nation's most Catholic state -- it might have played well to the very conservative Republican's conservative base, if he still has one. But with a majority or near majority of Rhode Islanders supporting gay marriage, and with only one member of the legislature voting against the measure -- and therefore with dozens of opponents of marriage equality voting in favor of it -- the maneuver amounted to a self-inflicted gubernatorial face-plant.
The backlash was swift and sharp: When pressed on the matter, even the chair of the state GOP declined to support Carcieri. The governor's been quick to make the rounds on cable news in support of his anti-immigrant agenda or his fiscal austerity measures, but it wasn't until the revelation of his fear of the "gay death-style" that his mug landed on the Colbert Report.
So too has the National Organization for Marriage weighed in, accusing Goldberg of playing patsy to the cynical gay rights movement -- or even worse, knowingly exploiting his partner's tragic passing:
Rather than being compassionate, the legislation in question is actually an exploitation of Mr. Goldberg's tragedy by the homosexual-marriage activists in Rhode Island. Despite their claims to the contrary, these bills serve simply as "Trojan Horses" for homosexual-marriage.
Even if Carcieri is against the measure in his frigid heart of hearts, the move was politically asinine. His veto will help the marriage equality effort far more than would have the alternatives, like letting the bill become law without his signature. It provides a stark signal for anyone who's still undecided about gay marriage: "I know I'm not on the same side as those cranks who wanted people to jump through hoops to claim the remains of their loved ones."
For that reason, NOM's revolting stand on this issue should be broadcast far and wide, wherever they work in opposition to gay marriage. The group's radically anti-gay agenda cuts much deeper than opposition to marriage equality: In this instance NOM has demonstrated a willingness to sacrifice the well-being of straight couples, just so gays don't achieve a meager increment of headway alongside them. I suppose every war has its collateral damage.
Popular in the Community