American colleges such as Yale University and The University of Missouri aren't the only ones experiencing a wave of student protests against institutional racism. In South Africa, the #RhodesMustFall movement started in March 2015, when students at the University of Cape Town protested and helped to remove a statue of the British imperialist Cecil Rhodes.
Rhodes was a mining magnate and ardent advocate of colonialism who founded the colonial territory of "Rhodesia," now Zimbabwe and Zambia. He was a student at Oriel College, Oxford between 1873 and 1881, and left 2 percent of his income to the College upon his death in 1902. He also endowed Oxford with the prestigious Rhodes Scholarship, which has allowed nearly 8,000 international students to study at the University.
The plaque, which has been on the campus since 1906, was removed thanks to a petition from Rhodes Must Fall In Oxford, the BBC reports. An official statement released by Oriel College on Thursday identifies Cecil Rhodes as "a 19th-century colonialist whose values and world view stand in absolute contrast to the ethos of the Scholarship programme today, and to the values of a modern University."
Oriel College's statement said that "the historical fact of Rhodes's bequest to the College does not suggest celebration of his unacceptable views and actions," and said they are committed to improve the "representation and experience of BME (Black and Minority Ethnic) students and staff." The college also said they will conduct further outreach with BME students and would fundraise for graduate scholarships for African study. The college will also conduct a "six-month listening exercise" to hear from students and faculty as to what to do with the statue.
On Facebook, Rhodes Must Fall In Oxford celebrated the plaque's removal, but criticized the delay on the statue decision, saying, "We reiterate that universities are no places for genocidal colonialists, or any other such toxic figures."
Daisy Chandley, a first-year student at Oxford's Mansfield College and a member of Rhodes Must Fall In Oxford, expressed cautious optimism about the plaque's removal and said she is "glad that Oriel's statement is somewhat less apologist than their previous statements and interactions with us." Regarding the listening exercise, she told The Huffington Post, "We believe the allocation of six months for this is excessive, and reject such a time frame."
Ntokozo Qwabe, a South African Rhodes Scholar and another RMF member, said the group will continue to push for the statue's total removal during the next semester. The university is currently on winter break and will resume classes on Jan. 17, 2016.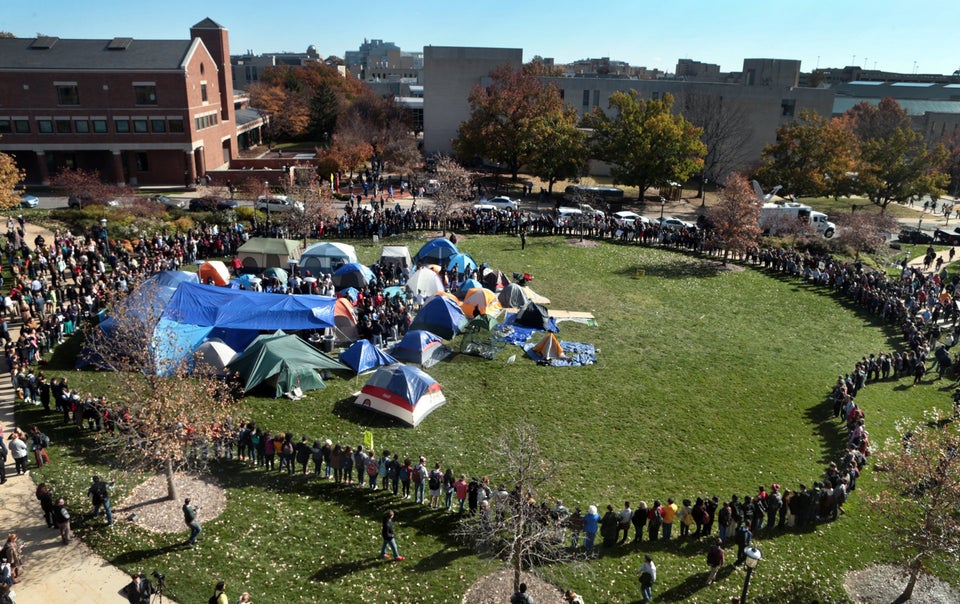 Scenes From The Protests At Mizzou
Popular in the Community