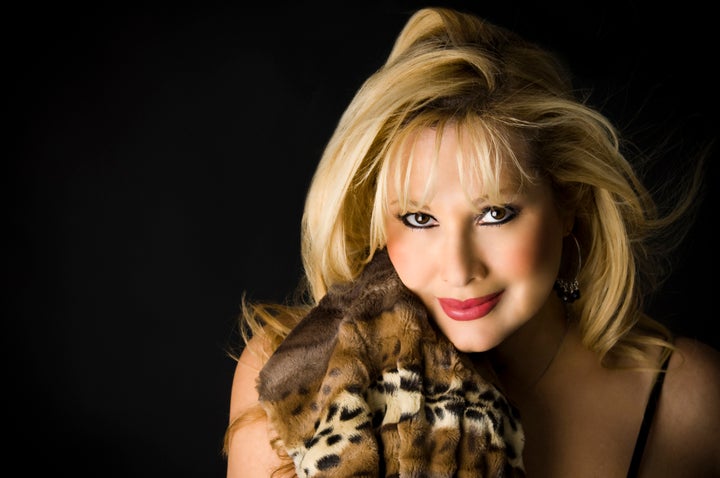 Rhonda Shear loves her breasts. She calls them her "girls," and they've served her well over the years. "My background is as a beauty queen," said Shear, "so I've always been good at manipulating the girls. I've always known how to use them to my advantage." That advantage ultimately came in the form of the AHH Bra. With only one sewing machine, no capital, and limited experience in the lingerie market, Shear managed to design the AHH bra, set up a manufacturing and distribution network for it, and launch it on HSN. Ten years later, it's one of the top-selling bras in the world, with over 25 million units sold internationally and countless devotees around the world.
But Shear's big breaks didn't come until later in life, after a series of leaps of faith, hard work, and chance encounters. She started off in beauty pageants, went on to pose in Playboy (with clothes), got dethroned for it, sued for her title back, ended up losing the case but running for mayor and eventually went into entertainment, hosting "USA Up All Night" on cable TV. She posed again for Playboy at the age of 37 (this time without clothes) and married for the first time at age 46, after she met her husband, a former junior high school flame she reconnected with on classmates.com. Pushing 50, Shear found herself at a crossroads. At her husband's suggestion, she decided to engage the "girls" in a new business. "I asked him to build me a lingerie web site. I had an interest in lingerie, but no business experience in it. I virtually started from ground zero."
Today, Shear shows no signs of slowing down. She is designing a new lingerie line for older women called "Boomer Hottie" and just launched Rhonda Shear TV. On June 15, she won the Ernst & Young Entrepreneur of the Year Award. We recently spoke with Shear about bras, big business and being a "boomerpreneur."
It's funny that you call your breasts your "girls." Lee Woodruff wrote a hilarious lexicon for us called "The Many Splendors of Boobs." So what made you decide to parlay your experience with your "girls" into an actual lingerie business?
When I hosted "Up All Night," I pretty much used them to keep the attention of viewers by wearing a lot of lingerie. I designed a lot of fun stuff. Even though it wasn't my major in school, I worked with designers. It was just something I liked doing, coming from Louisiana and Mardi Gras' and costuming. In L.A., I continued working with stylists and designers. I loved corsetry and things that went underneath the gowns. I'm not 300 years old but I'm not 12, either. I'm a boomer hottie. But back in the day everything was girdled with stays and boning in it. Everything was uncomfortable.
So you decided to liberate women from those shackles?
How did your big break on HSN come about?
I reached out to HSN early on and had some beginner's luck there. They needed someone in the intimate apparel world. They brought me in and the timing was right. We sold out our first 6,400 pieces overnight and they asked me back on. That was in 2003. Now we have the number one selling bra in the world.
You pulled off quite a major mid-life career reinvention.
Absolutely, and I'm so proud of it, particularly after years of being a sex symbol in front of the camera and being pushed up into other people's bras and underwear that never fit me right. So yeah, I started totally over, though of course I'm using all of my showbiz background and my past interests from way back -- from when I was a kid designing clothes for my Barbie dolls on forward, to pageants and playing up my lingerie as I hosted "Up All Night."
Bras are not only big business; they're also a source of tribulations for many women, particularly those who've had breast cancer. You've carried a torch for them as well.
I'm helping women with breast cancer. I'm giving them a bra that makes them feel great again. That's just huge. As much as I love being adored by young, cute boys from my "Up All Night" years, I love giving back to women. I was Spokesperson and Chairperson for the Cancer Society in my community. Personally, if I had breast cancer I think I'd have a mastectomy. I feel that way even though I've used my breasts my entire career to help me get ahead, literally. But so many women are devastated over the results of a lumpectomy, for example. I actually love giving them something that works with their bodies and helps them, because I think the girls are empowering to women. They are a symbol of our womanhood and our sexuality and our sensuality.
No matter what -- whether you're just a large-breasted woman or a woman who's going through a lumpectomy -- you want to feel really great and feminine. I just really want women to feel like they look hot. And also no matter what, as we get older our bust changes. You lose the elasticity, so you always sleep in your bra. It helps the girls.
I'm 52 years old and have worn bras my whole life, but no one's ever told me to sleep in my bra.
Think about it: After years of falling back while you sleep, your girls are going to stretch out like anything else. It makes total sense. A bra can help you keep them up a little longer. We do different little sleepwear sets that are very comfortable.
What is your take on breast enhancement?
I love it. I am shamelessly for it as long as women don't do it for a guy or for any other purpose; as long as they're doing it for their own self-esteem. I did it when I was a B cup and hit Hollywood. I wanted to have those boobs that could be braless. Then I went up to a large C. When you hit your 50s, the girls kind of just blossom. But I think if it makes you feel better about yourself, absolutely. And I'm all about reconstruction after breast surgery or cancer. I've seen women look great. You should feel sexy and fabulous no matter what.
To what do you attribute your determination?
It was the spices in my mother's gumbo! Actually, winning all of the entrepreneur awards has been mind-blowing, because I've been an actress/stand up comic my whole life, but I've always gone for things that were a little out of reach. I always wanted to go against the grain. I don't know what's in me because I was actually kind of shy growing up. But sometimes shy people push themselves more than you'd imagine.
You weren't too shy if you posed for Playboy. Many people criticize Playboy for peddling a myth of perfection. Where do you weigh in on that?
I've had a life-long affair with Playboy, and not as a playmate. In 1978 Playboy came through Louisiana and I knew I wasn't going to pose naked. I was really concerned about being a mama's girl. But I wanted to meet the Playboy photographers. And when I did, I told them that I wasn't going to take off my clothes. They said, "Oh no, we always do a couple of clothed girls in these shots of girls from the South." So they chose me. But when the photographs came out and I was in Playboy, I was holding a title and I got dethroned. So I sued to be reinstated.
Why were you dethroned from the title if you were clothed?
Because back then in the late 70s, the connotation of Playboy was scandalous, even though I was in this big Antebellum, Scarlet O'Hara dress. I was holding this title that wasn't like a beauty contest -- it was a social honor. So they dethroned me and I sued. As the old saying goes, "Hell hath no fury like a woman scorned."
What's one thing you know now that wish you knew growing up?
I was painfully shy growing up. I wish I knew that I could have just been who I am now. Something happens at 55. There's a certain confidence you get that just comes with age.
What advice would you give people embarking on new careers the way you did later in life?
I know it sounds corny, but you just have to go for it. Whether you're dating or looking for a new job, or divorced or starting a new career, you've got to get out there and network. You've got to force yourself out of the house and meet faces and join organizations. Don't stay home and don't stay online doing everything on the computer. You have to get out and go for it.
PHOTO GALLERY
Rhonda Shear
Calling all HuffPost superfans!
Sign up for membership to become a founding member and help shape HuffPost's next chapter
BEFORE YOU GO