Big construction projects are awash in technology and data. Yet in the traditionally opaque world of construction sites, where the right hand may not know what the left hand is doing, it remains difficult to use all this data effectively.
Enter Rhumbix, a smartphone-based platform that optimizes construction management, facilitates team cooperation and safety, and empowers workers with insight into the data that tracks their hours and labor. Deploying smartphone navigation and geolocation capabilities, Rhumbix monitors locations of construction workers and collects data about their daily activity.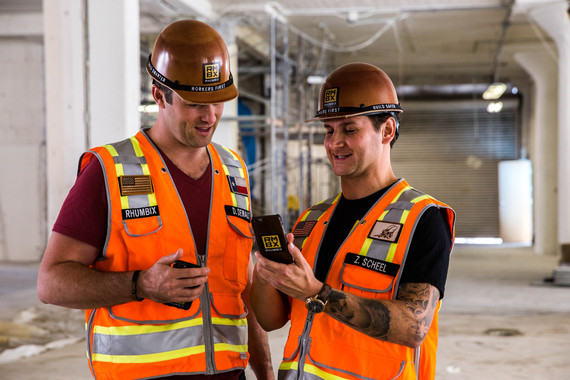 With hundreds, sometimes thousands of workers and subcontractors, managers, and inspectors all viewing discrete parts of the data, the potential for miscommunication, miscalculation, and mishaps is enormous. This robust mobile platform organizes that information and helps all personnel safely and efficiently complete a day's work.
Conceived by two former Navy vets, Drew DeWalt and Zachary Scheel, who met at Stanford University's MBA program, Rhumbix, offers novel solutions that will transform the industry.
"My experience in the Navy taught me that many of the smartest, most knowledgeable people in a big project are those on the ground actually doing the work," says DeWalt, the company chief operating officer. "Leveraging their experience and giving them insights into the data will transform how big projects are completed."
Both DeWalt and Scheel, who have construction management experience, also draw on their experience with Navy technologies that provide improved situational awareness to gain insight into the complexities of large constructions projects. Rhumbix provides more efficient alignment of workers, materials, and tasks. It can also provide more detailed analysis of safety incidents to help make sure mishaps aren't repeated.
However, the system anonymizes labor data to the construction crew level, so that say a construction worker has passed out from heat stroke, supervisors can find this crew member quickly, but his or her identity remains protected. Likewise, crew members worried that Rhumbix could be used to single out individuals, are assured of their privacy.
The technology presents managers a live safety snapshot, which shows workers' locations and their projects. The aggregated, anonymized labor time data reveals to workers and their supervisors the myriad of challenges on the site and helps them decide on best practices for getting the job done. Building issues that traditionally emerged too late and required massive revision investments can now be addressed in real time on a daily basis.
"Too often workers are prevented from doing their job because of a miscommunication," says DeWalt.
Construction is notoriously inefficient. There's way too much standing around waiting for direction or approval, and the teams have difficulty communicating among different trades. Drywall can go up before the electricians finish their work. There aren't the proper penetrations in the wall; it has to come down, and the job has to be reworked.
Construction management technology is a huge global market. Learning from projects around the world, Rhumbix data science also raises many of the same security and privacy questions as drones and smartphones:
At the beautiful, light-filled Rhumbix offices on Howard Street in San Francisco, Drew DeWalt tackles the harder questions about this innovative technology and insights into future plans for Rhumbix:
Laborer data can promote transparency in the construction site. Tell us how Rhumbix organizes and helps management and labor interpret the data:

DeWalt: The Rhumbix platform collects all the most important project data as it's being created on a jobsite. We then use that data to provide the workers themselves and their superintendents and managers real-time visibility into project status and progress. We can point managers directly to issues as they're happening as opposed to them having to wait for weekly production meetings. The insights from the data are filtered based on the user type so that you only see the information you need. With Rhumbix, the focus is not on more data but rather better, more timely insights.
There's a lot of talk about the invasiveness of time-swiping and tracking technologies. Should laborers be concerned about their loss of privacy on the job?
DeWalt: Construction workers should be empowered to control their data and protect their privacy, but currently the contractors they work for control and maintain all the information. It's very tough for workers to access that data to make sure it accurately reflects the work they do. In addition, large jobsites now employ surveillance cameras throughout, fly image capturing drones over sites daily, and have managers and inspectors walking the site constantly. In this environment, workers need to be able to take an active role in maintaining their data footprint and securing it properly. Rhumbix gives workers the tool to do this. They can record the tasks they perform and provide accurate information themselves instead of relying on it being captured second hand. Rhumbix also allows workers to communicate directly with supervisors consistently so that they can get the resources they need to stay engaged in their craft throughout the day.
Does Rhumbix have a labor relations specialist who understands the technology and can help educate the workers?
DeWalt: We have construction professionals on our team who came up through the trades with decades of experience in the field on some of the toughest projects. They joined Rhumbix after seeing all technology to date focus on managers and office administrators, usually to the inconvenience and sometimes detriment of the workers in the field who actually do the work. Rhumbix takes a different approach by focusing on workers first and delivering value to the hard working craft in the field. So yes, our construction team members understand the technology, and they love educating workers about Rhumbix, since it is the tool they always wanted during their decades in the industry.
Construction apps are a pretty competitive market, what separates Rhumbix from its competitors?

DeWalt: Our focus on workers first and providing value to those workers separates us from the other construction tech companies . I'd put most of them into two general buckets - (1) big management systems that aren't user friendly and are only accessible to managers and administrators, and (2) redundant digitization of paper based processes. Rhumbix is better than both. Instead of just providing data to managers, we turn the data analysis into insights that can help worker crews and their managers be more productive, smarter and safer. And Rhumbix collects better quality data by relieving the administrative burdens in the field.
The Rhumbix team has a strong background in construction, management, and data science, how do you compete for developer talent? In this start-up climate, a full-stack developer can afford to be choosy, why would she or he come to Rhumbix?
DeWalt: It's all about fit. While a lot of developers have really cool projects, the organizational part of a start-up and securing funding often remain elusive. Rhumbix offers a chance to build cutting-edge software and improve the lives of real workers who have a really tough job to do. We've seen so many great engineers motivated to do what they do best - build beautiful software systems. Rhumbix allows them to contribute in a big way to building real assets like roads, bridges and buildings. Add to that all the technology challenges like RTLS, NLP and ML that we're working to solve around the extremely dynamic environment of a construction site. Rhumbix is a very compelling team to be a part of for someone looking to tackle big, real challenges.
DeWalt: Even with so much construction experience on our team, there's a lot we won't know until we get out on more and different construction sites. Unless you work in the industry, you probably don't realize just how varied and nuanced the construction industry is. Right now, Rhumbix does a great job of helping workers and managers laser-target issues as they arise. The next step we're working on is identifying and scaling best practices that move the needle even more significantly for construction productivity. Eventually, we'll add even more layers of machine learning to our data to build out predictive capabilities that move construction from a reactive, damage-control mentality to a proactive, continuous improvement reality.
Calling all HuffPost superfans!
Sign up for membership to become a founding member and help shape HuffPost's next chapter