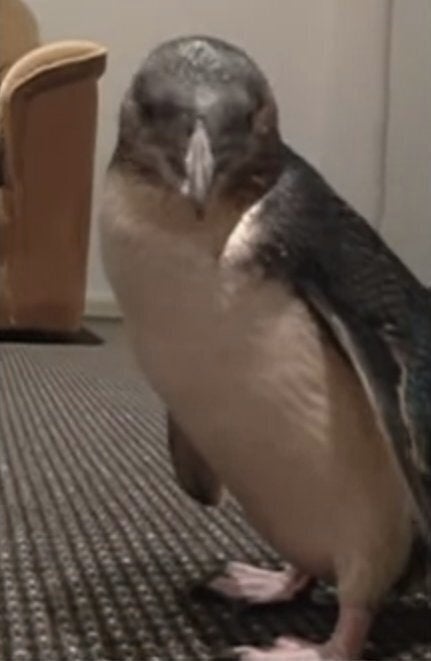 Court magistrates in Queensland, Australia have ordered two young Welshman to each pay a penalty of about $1,030 after kidnapping Dirk, a fairy penguin, from a Sea World theme park last month.
In addition to the fine, Rhys Owen Jones, 21, and Keri Mules, 20, were ordered to write a letter of apology to Sea World and to the Australian public for their actions, according to the Independent.
The duo, who were living in Queensland on a temporary work visa, were drinking heavily at a beach party when they decided to break into a nearby Sea World theme park and swim around with some of the animals.
"I'm not sure if a little bird popped into their heads but they thought a swim with the dolphins might be nice," their lawyer, Bill Potts, said while the defending the pair in Southport Magistrates' Court, according to the Australian.
After swimming with the dolphins and apparently thinking about swimming with sharks -- they set off a fire extinguisher near the tank -- the two men grabbed Dirk and took him back to their apartment, where they passed out.
When they discovered Dirk the next morning, they put him in the shower and tried to feed him bread before deciding to drop him off under Southport pier. Dirk was discovered later that day exhausted and scared, and was taken back to Sea World to be reunited with his mate, Peaches.
Jones and Mules, as well as an 18-year-old Australian who also broke into Sea World that night, were discovered by local authorities because they had posted pictures of their adventures on Facebook, according to CNN.
Magistrate Brian Kucks has accepted an appeal not to record convictions against the two Welshman, because it would ruin their dreams of moving to Australia permanently, according to the Independent.
"You could have found yourselves in a morgue if you'd gone into the wrong enclosure. Perhaps next time you are at a party you will consider drinking a little less vodka," Kucks said.
Watch 7 News original report on the theft, below:
Related
Popular in the Community