This week's Huffington Post Gay Voices RaiseAChild.US "Let Love Define Family" series installment features Ricardo and Jesse Ortiz-Barreto, happy parents to four young men they adopted, ages 4–8. Their story is a true testimony to the magic that can be created in loving families when prospective parents open their hearts to adopting older children.
Some people think that LGBT-headed adoptive families are a new phenomenon, but Ricardo and Jesse Ortiz-Barreto are one of many couples who demonstrate evidence to the contrary. The couple, who started adopting their children back in 1995, are now facing empty nest syndrome. This fall they will send their youngest son off to college.
The couple proudly introduce their sons: John Gabriel, now 26 (adopted at 8 years); Richard Jr., now 25 (adopted at 7); Iván Christian, now 21 (adopted at 7); and Jose de Jesus Jr., now 17 (adopted at 4). All four were adopted through foster care. The older two were adopted through a foster agency in Los Angeles and the younger two directly with the Los Angeles County Department of Children and Family Services.
Ricardo, 48, is the house manager for The Ricardo Montalbán Foundation and Theatre in Hollywood. His husband Jose de Jesus, "Jesse," 54, is an activities instructor for L.A. Kids Program offered by the City of Los Angeles Parks and Recreation. They have raised their four boys in Palmdale and Los Angeles. Their dreams of having a family came early.
"When I was a boy in Tijuana," said Jesse, "I would ask my mother where were the parents of the kids on the streets we would see living on the streets. She would tell me that they were orphans, that they had no parents. I knew then that one day I would be a father to children like them."
Still, as an adult, Jesse worried that being gay would interfere with that dream, one that he shared with his husband Ricardo.
"I wanted to make a difference in another life, to give a bigger purpose to our life together and not just exist in the world," said Ricardo. "We were blessed to have found each other, to share our lives together and we wanted to also share our lives and love with children."
"We did not know that the agencies would be open or even allow us to adopt," Jesse explained. "But as soon as we found out it was possible, we started the process. There were hurdles but, all in all, it went a lot smoother then we ever dreamed it would go, especially being so early in the process (in 1995). Every one of our social workers said that we were their first gay couple adopting. But once we decided to adopt and everyone understood where we stood, there were no issues."
"We are still in contact with some of our kids' social workers and we keep them updated on the boys' lives, which they appreciate," Jesse said. "Iván and Jose's social worker came to Iván's graduation in 2011 and will also be attending Jose's graduation this year."
As they planned how to build their family, Ricardo and Jesse did not limit themselves to investigating the possible obstacles to adopting as gay parents. They also did their research on what it was like to parent adopted children so they felt fully prepared for their responsibilities. They felt they needed to have a larger perspective in which their role in service to the children was more important than their own needs.
"We did a lot of research before we decided to foster and adopt," Ricardo said. "What we found was that a lot of adopted children said that even when they felt loved in their adopted homes, they nevertheless still felt like they were always missing something in their lives. So we wanted to face our own fears of what that could mean."
"We felt we needed to prepare ourselves," he added. "We had to be clear with ourselves about why we wanted to do this and it could not be about getting their appreciation, if that makes sense. We had to understand that parenting these children would have to be about them and what we wanted to do for them, not about our own needs. It would have to be enough to know that we gave them all we could and not expect anything in return if it came to that. I know it is easier said than done -- the heart is not very rational -- but thankfully we have been blessed that all our sons have wanted to stay in our lives and we could not have dreamed of a better outcome."
Ricardo and Jesse say they have been blessed with four wonderful sons and are eager to describe them.
"John is a generous, smart, and determined man who sticks with his goal and sees it though, despite any obstacles. It's trait that comes in handy as a commercial real estate agent here in Los Angeles. We're most proud of John's determination."
"Richard is the bond in our family, a hard worker who is currently the manager of a pet shop chain in Santa Monica. Richard is sensitive, forgiving, creative, strong, and smart. We're most proud of Richard's perseverance. "
"Iván is the athlete of the family, particularly in soccer and swimming. Following high school, he completed a junior fireman program but when the Los Angeles Fire Department had a hiring freeze, he joined the Navy as a fireman. Iván has a caretaker's soul and wears his heart on his sleeve. We're most proud of Iván's love of family and of our culture."
"Jose is our socialite. He is smart, caring, and funny, and he is a good friend. After graduating in June from a medical magnet school, he wants to get a degree in nursing. Jose has been accepted to California State University (CSU) East Bay and CSU Northridge, Colorado Mesa College, and a college in Boston, among others. We're most proud of Jose's hard work to finish high school and getting accepted to all the colleges he applied to."
It is apparent that the men's positive experiences growing up were integral to how they raised their sons, and that their sons have absorbed those values.
"We both had very good relationships with our mothers, so while we felt confident about everything we could do for our sons and all the love we could give them, we did want them to have positive female influences in their lives," said Jesse. "Since both our mother had passed, we made sure our boys had lots of contact with our sisters and sister-in-law, their godmothers, and their aunties. We are very grateful to all these women for the love and support they have given us and our boys. We are also grateful to our brothers for their advice, and to our family and friends, and to our boys' friends and their parents for their support. As clichéd as it sounds, 'It takes a village to raise a child.' It's true. You don't do it alone!"
As they prepare to send their youngest son off to college, Ricardo is looking forward to the next stage in their lives as a couple while Jesse is still having a hard time letting go of Jose, their "baby." They state emphatically that they would do it all again without hesitation and that they have no regrets. They love the men their sons have become. But, for the future, they do have something on the horizon, although they vow they will be patient: Always family men at heart, Ricardo and Jesse are looking forward to becoming grandparents someday.
Corinne Lightweaver is the Special Projects Manager at RaiseAChild.US, a national organization headquartered in Hollywood, California that encourages the LGBT community to build families through fostering and adopting to serve the needs of the 400,000 children in the U.S. foster care system. RaiseAChild.US works with foster and adoption agencies that have received training in LGBT cultural competence through the Human Rights Campaign Foundation's "All Children-All Families" initiative. Since 2011, RaiseAChild.US has run media campaigns to educate prospective parents and the public, and has engaged more than 2,000 prospective parents. For information about how you can become a foster or fost/adopt parent, visit www.RaiseAChild.US and click on "Next Step to Parenthood."
Before You Go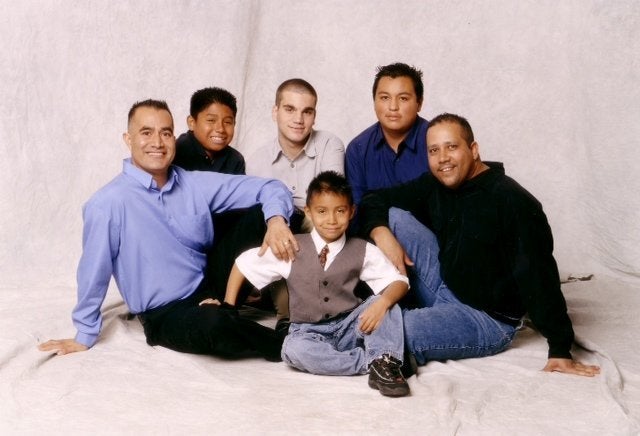 Ricardo & Jesse
Popular in the Community