Choreographer Alexei Ratmansky's Shostakovich Trilogy is currently in production at San Francisco Ballet. The work is set to three pieces by Dmitri Shostakovich -- Symphony No. 9, Chamber Symphony, and Piano Concerto No. 1. It is a co-production with American Ballet Theatre which premiered the first part, Symphony No. 9, in October 2012 and the complete triptych in May 2013. Last week's premiere at San Francisco Ballet proved to be an all-around artistic feat - again for Ratmansky, for the entire company of San Francisco Ballet and, yes, for Shostakovich who had not penned these compositions for the ballet stage.
"This is one very ambitious project," says Ricardo Bustamante, ballet master at SF Ballet. "Ratmansky has done so much in his career. He is an avant garde Russian who comes from the old Russia into the new Russia -- those who bring tradition forward, in the best possible way, through innovation. In many of his ballets, Ratmansky places great emphasis and great value on classicism. His vocabulary of dance and his direction to the dance is old tradition, but he is creating something completely new and fresh. We benefit from the ballet having already been performed at American Ballet Theatre."
Shostakovich benefits from a little leeway in the getting-to-know-him department. An evening of music by the great 20th Century Russian composer can be greatly enhanced with just a bit of advance preparation. On first hearing, his Symphony No. 9 sounds like the perfect match for a choreographer of classical ballet. It's five separate movements contain all the elements upon which a story can be built, characters created, motivations identified, and a time and place be located. It helps to know that Shostakovich composed the work under the watchful eye of the Stalin regime. He had some serious explaining to do when the symphony turned-out to be something less than a rallying call to nationalistic pride. The critics discredited it as ideologically weak and succeeded in having it banned. For Ricardo Bustamante, one of two ballet masters at SF Ballet assigned to Shostakovich Trilogy, this combination of music and dance is a gift for life.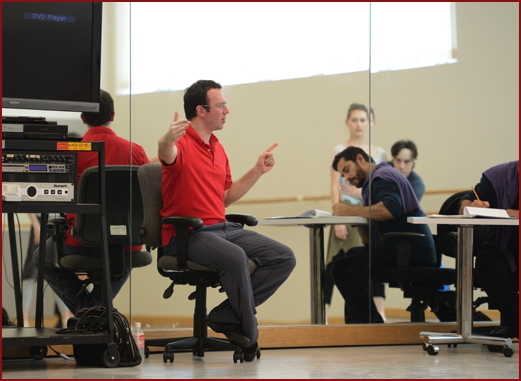 Alexei Ratmansky during rehearsal of Shostakovich Trilogy. Ricardo Bustamante (right) taking notes. Photo, Erik Tomasson
"How is it that Shostakovich is not as well known as Tchaikovsky?" Ricardo asks. "I am very curious how the response of the audience will be to this very brilliant work. I knew the Shostakovich Piano Concerto very, very well. My mother loved classical music, my grandfather was a piano concert master, there were opera singers in my family -- there was always music. But I did not know Symphony No. 9 or the Chamber Symphony. Now I am fascinated. I have grown so much in my appreciation for this music. I would encourage the audience to read the program notes, YouTube the music. I feel as though I'm still at the beginning stages with it. The way that Ratmansky has put all this drama and dance together is eloquent and makes perfect sense. The dance is haunting. It has a time and period, a mindset and an atmosphere to it. You will come away wanting to know more."
In 1985, Ricardo was invited by Mikhail Baryshnikov, then Artistic Director at ABT, to join the company, eventually becoming a Principal Dancer. The breadth of his dancing career includes working with many notable choreographers including Antony Tudor, Martha Graham, Jerome Robbins, and Natalia Makarova. Ricardo has served as artistic director for Ballet Teatro Colón, as director and choreographer for Ballet de Santiago, and in 2009 became Assistant to the Artistic Director at the San Francisco Ballet. In 2007, he was named Principal Character Dancer at San Francisco Ballet. I asked Ricardo to describe his assignment as ballet master for the first two parts of the ballet, Symphony No. 9 and Chamber Symphony. The process begins with the ballet mistress at ABT, Nancy Raffa, who has not only assisted Ratmansky with all of his ballets there, but has since set them on other companies worldwide.
"All the information comes to us via Nancy Raffa, who is a choreologist and répétiteur -- the person in charge of staging it and teaching us the choreography. That's where I come in. I'm not the only ballet master to this. We divided the task of the three. In Symphony No. 9, the person I work with, to inherit the work, is Katita Waldo. The division is that Katita takes care of the corps and I take care of the principals. For the Chamber Symphony, Anita Paciotti has the corps and I have the principals. That makes it easier, more possible. I'm not in charge of Piano Concerto. It is sublime music, but there is no story to it. it's very important to have two ballet masters. I'm taking care of the drama while the corps is creating a very different picture. It's a lot to assimilate!"

Sarah Van Patten and Carlos Quenedit in Symphony #9 from Ratmansky's Shostakovich Trilogy. Photo, Erik Tomasson.
"Learning the music was also quite complex, because we have to count everything. Symphony No. 9 is more fun, very up-beat. The first movement is more like what we're used to counting. The second and third movements are far more difficult because there are a lot of areas where you don't actually put counts to it, but must emphasize the value of the movement -- the breath in the movement -- in order to feel the music. If you were to count it and try to dance it, you might limit yourself in the expression. I'm very committed to Ratmansky's inspiration, both dramatically and mathematically. Accuracy is very important in order to paint a clear picture of the complexity in the music. He is telling a story in a very specific way, without props or facial expressions. The narrative is coming through the body."
The term "inherit" is a fantastic way to describe the step-by-step absorption of a choreographer's work. As the ballet master, Ricardo becomes the "keeper of the flame" -- the one who knows the course of the dance moment by moment, from section to section -- particularly as it corresponds to the rehearsal numbers in the conductor's score, as in the direction. "Let's begin at twenty-nine." During the run of the production, whenever there is a question, i.e., a movement or a motivation that may need to be refreshed, Ricardo can demonstrate the answer and may refer to his bible of copious notations as backup.
The second part, Chamber Symphony, is biographical. Davit Karapetyan danced the role of Shostakovich at the opening night performance, the three wives being portrayed by Sasha De Sola (Nina), Mathilde Froustey (Margarita), and Lorena Feijóo (Irina). The piece runs about twenty-three minutes. As opposed to the brightly colored and spirited nature of Symphony No. 9, the minor tones and sometimes disturbing harmonies of Chamber Symphony provide the perfect changes in atmosphere for the swift progression of chapters in the composer's life. Karapetyan's dramatic interpretation of the character may be the best of his career. The choreography that tells of the deaths of Nina and Margarita is poignant and troublesome. Four men surround the body, envelop it and seem to blot everything about the woman out of sight. The onslaught of the composer's progressive battle with what we now describe as Lou Gehrig's disease and the impact of its crippling effects on his body is captured fully by Ratmansky in a handful of moments.
"Ratmansky is very clear in his ideas. Nancy Raffa, who staged the work, was very accurate in telling us the numbers and the moods. For instance, in Chamber, last solo. Just before his death, there is a remembrance of his past - of his last wife. It is a very tormented, frustrated scene where he covers his body and is trying to remember. When he lifts up his arm, he must gaze toward the audience. Ratmansky wants him to close his eyes and then open them, to start thinking about her. He doesn't want him to look at the audience but to just pass through the audience, to suggest that his mind is going through memories of what she looked like -- then just go away from that thought. This is great direction and a great way of dance."
"What an opportunity for Davit Karapetyan! It's one of those roles of a lifetime. I wish I could have had the opportunity to dance it. I wish that Ratmansky would have chosen me to be his Shostakovich - to have played somebody on stage that is so obsessed, so possessed of genius and madness and craziness, and so much sorrow and sadness. You can hear it all in the music. How lucky for Davit and Jaime Garcia Castilla [second cast] to have this chance to work with Ratmansky and to play this role. I've been a very fortunate artist. I've had great direction from a great many people. This is definitely one of those moments where I am happy for this new generation - to have this kind of opportunity in an old world tradition pushing forward with what's to come, to see this new generation get that kind of brilliance and clarity of direction. What Ratmansky is bringing to us has a very unique touch and influence. I hope that everybody will assimilate this in their own time - that piece of greatness we are experiencing, simply because it has that kind of real emotion and really perked-up ears and is more internal as opposed to what we do nowadays -- being athletic and really 'Wow!' -- which we do really well. We have great dancers in our company. I hope that the work will be seen as even greater than it was with ABT."
REAL LIFE. REAL NEWS. REAL VOICES.
Help us tell more of the stories that matter from voices that too often remain unheard.