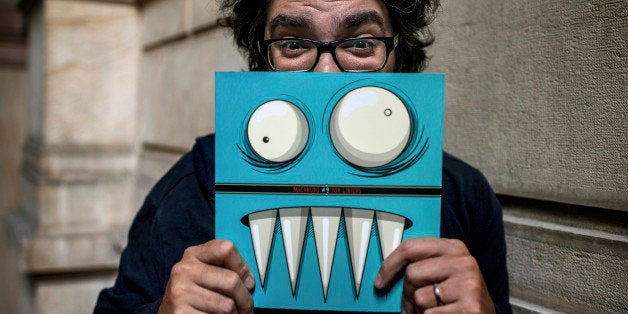 Ricardo Siri Liniers is a well-known and truly beloved Argentine cartoonist noted in Latin America for his successful comic strip Macanudo, published in the Buenos Aires newspaper La Nación.
Liniers has over 3600 published comic strips, 25 published books in Spanish and more than 10 books published in Brasil, Canada, France, Spain and Italy, among other countries. In addition, his work appears in magazines like Rolling Stone, Spirou, Virginia Quarterly Review and Playboy. Not only that but he collaborated painting pieces live, on-stage at concerts with Grammy-nominated musician Kevin Johansen in a tour through Latin America and Europe.
His work has earned him comparisons to cartoonist legends Charles Schultz (Peanuts) and Bill Watterson (Calvin and Hobbes).
Siri Liniers recently released "The Big Wet Balloon," his first English-language children's book, which he wrote and illustrated. The book is published by Toon Books and will be available in both English and Spanish editions.
The U.S. book tour was a huge success, with appearances at the Brooklyn Book Festival in addition to bilingual book readings in public schools in Washington and New York City coinciding with Hispanic Heritage Month.
"The Big Wet Balloon" tells the story of sisters Clemmie and Matilda– inspired by Siri Liniers' daughters– who learn to enjoy the secret delights of a rainy afternoon. VOXXI had the pleasure of sharing a few moments with this cartoonist to talk about his book.
Q&A with cartoonist Ricardo Siri Liniers
VOXXI: How is t"The Big Wet Balloon" different from your previous books and works?
Ricardo Siri Liniers: "The Big Wet Balloon," the book I have just presented in the USA, is very special to me. Not only because the Toon Books Publishing House is managed by one of my great heroes in the publishing world, Françoise Mouly, with whom I worked closely in this book, but because the protagonists of this one are my two daughters, Matilda and Clementine. One day I saw them play in a summer rain and discovered almost immediately that there was a book there, just waiting to be written.
VOXXI: Does the U.S. public understand your humor the same way Latin Americans do or did you have to reinterpret? There is nothing more difficult than telling a joke in another language to another culture. Is this true for you?
Siri Liniers: I don't know how well they will understand my humor, but I trust that it should work. Although I am a Latin American author with influences from other Latin American authors, there are also many American influences in my past. I grew up watching Woody Allen movies, listening to Bob Dylan, reading Kurt Vonnegut and admiring Bill Watterson, Art Spiegelman, Gary Larson… I think that also has influenced me as a draftsman.
VOXXI: What do you expect from this latest release?
Siri Liniers: The same thing as when you put one foot in a swimming pool– to test the water!
VOXXI: What new projects do you have in the immediate future?
Siri Liniers: For the immediate future, I plan to have the happiness of welcoming my third daughter, Emma, in October… Surely she will somehow be the protagonist of some of my future pages.
For more information on cartoonist Ricardo Siri Liniers visit his Toon Books page. "The Big Wet Balloon" is available in hardcover for $12.95