I am not a great cook. Ask me to set a terrine in a bain marie and I'll find a way to burn it. Fernand Point I am not. Consommé? Not my forte. I also confess to being completely useless when it comes to vegetables -- for me, they've never been anything more than a vessel for cheese, heavy cream, salt, lard or ranch dressing (the glories of which I will explore in a future dispatch). I'm vile, I know. And although I'll make my girl some perfect soft-cooked scrambled eggs on a Sunday morning, I don't have a signature "egg dish" per se. And I don't know how to bake. That said, I will perfectly season and hand-stuff a sausage faster than most. My mortar-pounded nam priks are the best I've had outside of Chieng Rai and my pork rinds are like crack, meaning there are a few things I do well. That's because when it comes to matters of the kitchen, I keep it simple, and you should too. Hear me out.
We seem to be a few years deep into a trend of complicating food, where a steak sammie is no longer good enough unless it looks like a lollipop, or something as delicious and satisfying as fried chicken has to be deconstructed (I'll take mine full-constructed, thank you). This type of thing can be great coming from an amazing chef, which we've already determined I am not, but otherwise can be responsible for lots of mediocrity at the hands of the overzealous culinary world pubescent. I'm not interested in making that sort of food.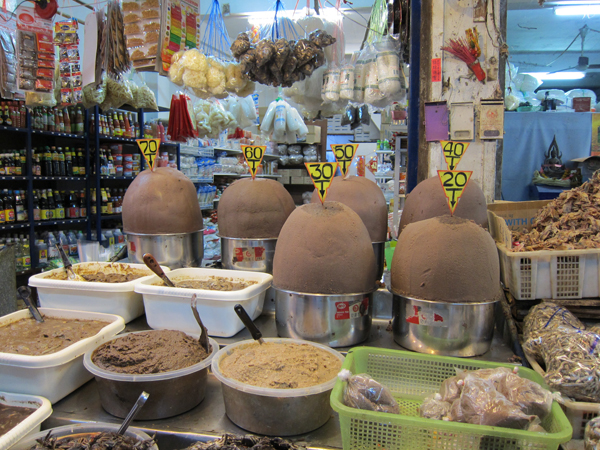 What I am interested in is making food that people want to eat week in and week out. I don't want to run a restaurant that caters to the college graduation dinner market. I want to feed the post-cineplex crowd as they discuss the artistic merits of the latest Bourne installment over a cold beer and my chicken wings. Call it what you want -- simple food, comfort food, soul food. Kanye West once had this to say about a Louis Vuitton camouflage duffel bag: "That works internationally. No matter where you go, that gets respect. A 5-year-old could see this bag and think it's cool." Recreating that duffel bag in food form might be the easiest way to describe my rubric for conceiving dishes at NIGHT+MARKET. I aim to make food that connects across the board. While a 5-year-old might not necessarily eat my food, that's the direction I'm constantly looking towards. I want to achieve pop appeal with the dishes and I find that the most foolproof approach is to do two things: rely on your strengths and curate a stash of secret weapon ingredients that when added to your food, make it 100 times better.
The king of my secret stash ingredients is gapi -- fermented shrimp paste. It adds a depth of flavor, soul and complexity to any number of relishes, mortar-pounded curry paste, fried rice. You can find it at any Thai grocery store. Of course if you're a total food nerd, newly single or have a few months to spare and don't mind stinking up your apartment, feel free to contact me and I'll tell you how to make your own. For our purposes, store-bought is just fine. In Thailand, vendors sell it in open air markets, carving away chunks from giant egg-shaped mounds. (photo) The prices vary according to age which has a direct correlation to the degree of pungency. The more you pay, the more it stinks. Be warned.
My favorite dish to prepare with gapi is Kao Kluk Gapi (rice seasoned with fermented shrimp paste). It's based around two components (the rice and candied pork) and tastes good topped with any number of things you might find in your fridge. In the recipe below you'll find the traditional toppings. I like it with sliced avocado or freshly shucked oysters. I like this dish because it's a blank slate. It's like an ice cream sundae but with rice. A Rice Cream Sundae.
Here's the recipe:
For the rice: heat a generous pour of cooking oil in a wok or pan. Keep the heat on high until you see smoke, then lower it. Add handful of minced shallots and work them around, careful not to burn them. Add a few tablespoons of gapi and allow it to liquify. Add some water -- you want it loose. When it starts to look like a dark bubbling hot chocolate, add the rice. You want to use leftover rice because it's drier than freshly-cooked rice and won't get mushy in the pan. Work it until it's coated and you start to see some color on the rice.
For the candied pork: you'll want a few cups of chopped pork butt. The pieces should be fatty and roughy the size of a cashew. Simmer the pork with enough water or broth to cover as well as a tablespoon of fish sauce and a dash of soy sauce. Stir occasionally and add more water so it doesn't get too dry. Once the meat is cooked, heat some oil in a wok on medium heat and melt a few heaping tablespoons palm sugar. Drain the pork and throw it in the pan. Coat it thoroughly and add a tablespoon or two of fish sauce and a bit of soy sauce. You'll have to constantly taste and adjust -- what you're going for is sweet with underlying pungency and salt from the fish sauce. I'm generally lazy, in and out of the kitchen. The one time I'm not lazy is when I'm cooking this candied pork, because although you're basically "done" once it tastes right, the pork benefits from a long simmer and constant stirring and attention. Do it til you get tired, your belly will thank you later.
Those two steps might seem a little involved but they're really not. All you have to keep in mind is "don't burn" and "taste and adjust."
Beat a few eggs with a half tablespoon of fish sauce. Pour into a 12-inch skillet with enough oil set over medium-high heat and allow the egg to cover the whole surface of the pan. You want a big, flat omelet. Flip it once. Drain the oil on some paper towels. Once it's cooled down a bit, fold it in half, then fold it again. Cut 1/4 wide strips and reserve.
To assemble, scoop a mound of rice into the center of a bowl. Top it with a few tablespoons of candied pork. Around the rice center, form a moat of accoutrements -- the egg omelet strips, minced shallots, bird eye chile, shredded green mango, dried shrimp. Top it all off with some minced cilantro. Add, take away or substitute ingredients as you please. It's all anchored by the gapi-seasoned rice. If you can't get ahold of any green mango, substitute apple. If you can't get dried shrimp, throw in some bonito flakes or furikake or omit that component altogether. It'll still taste good.
Ingredients:
A few eggs
Gapi
Oil
Shallots
Water or broth
Leftover rice
Pork butt with fat
Palm sugar
Fish sauce
Soy sauce
White pepper
Green mango
Cilantro
Bird eye chile
Shredded green mango
Dried shrimp

Calling all HuffPost superfans!
Sign up for membership to become a founding member and help shape HuffPost's next chapter