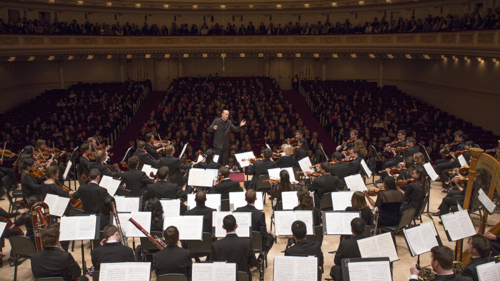 Rice University's Shepherd School Symphony Orchestra conducted by Larry Rachleff at Carnegie Hall. Photo: Jennifer Taylor
When you conduct professional orchestras you're always trying to make them sound young. When you're conducting young orchestras you're trying to make them more mature.
-- Larry Rachleff
When Rice University's Shepherd School Symphony Orchestra played their first-ever East Coast tour earlier this month, their Top Ten quality was on full display.
At Meyerhoff Hall in Baltimore on February 15, the Owls (the University's iconic mascot) reportedly knocked 'em dead with Berlioz's The Corsair overture, Bartók's Concerto for Orchestra and Rachmaninoff's Rhapsody on a Theme by Paganini with Jon Kimura Parker. At New York City's Carnegie Hall three nights later, they did the same with Berlioz, Bartok and Christopher Rouse's Violin Concerto with Cho-Liang Lin.
The conductor for the concerts was the Owls' Music Director Larry Rachleff who is so good at making music with his "NCAA Division 1" counterparts to the "NFL" Houston Symphony Orchestra that in a parallel universe he would be conducting a Top Ten orchestra in the American pro leagues.
If Rachleff chose to remain at the university ranks it goes without saying that in such a highly theoretical, parallel universe, he would function like a football coach and stand on the sidelines while students conducted the concerts. (On today's classical music playing fields, however, the coach still plays quarterback.)
I talked to the coach before the Owls embarked on their trail-blazing tour.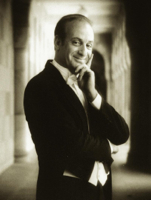 Larry Rachleff. Photo: Rice University Shepherd School of Music
Laurence Vittes: It's a pretty exciting thing you're doing. What made you go for it?
Larry Rachleff: People have been urging me to do make an East Coast tour for 15 years, not to show off the Orchestra, but to give the students a unique experience that would celebrate their hard work and confirm their faith in the creativity and imagination we try to teach and inspire.
Laurence Vittes: What's the difference between the Owls and their pro counterparts?
Larry Rachleff: The simple answer is: When you conduct professional orchestras you're always trying to make them sound young. When you're conducting young orchestras you're trying to make them more mature. Young players have the facility, technique and vitality, but not the experience.
Laurence Vittes: What's so great about experience?
Larry Rachleff: Experience is a great plus. With it you can bring richness. On the other hand, the first time you play a piece you bring something to it you will never bring to it again. On either side of the coin are those bits of wonder that enable and help each experience in its own way be complete. The music itself is always the most important, of course, but I think you will find that in our concerts the involvement of the young musicians creates feelings between the audience and the stage.
Laurence Vittes: It sounds to me like there will be more going on than just the music. Was it process or principle that led to such a holistic enterprise?
Larry Rachleff: Each of us who teaches at the Shepherd School has started by taking the very best from where we've been, and letting go of less than best practices. The classical music oases we create provide our students with unparalleled levels of quality and real world, reality check value that give our students a competitive edge in realizing the trajectory of their potential.
Laurence Vittes: Is the bottom line: Whose Bartok Concerto for Orchestra is going to give me a more meaningful cultural experience, the Owls or the Houston Symphony?
Larry Rachleff: Each gives you more, in its own way. It's a Gestalt, really, in which it's impossible to construct a hierarchy. That having been said, however, hearing and seeing these gifted young musicians bring a piece like the Bartok to life is a very extraordinary, visceral experience. Who's to say that the purity of wonder can only happen the most in the professional settings?
REAL LIFE. REAL NEWS. REAL VOICES.
Help us tell more of the stories that matter from voices that too often remain unheard.