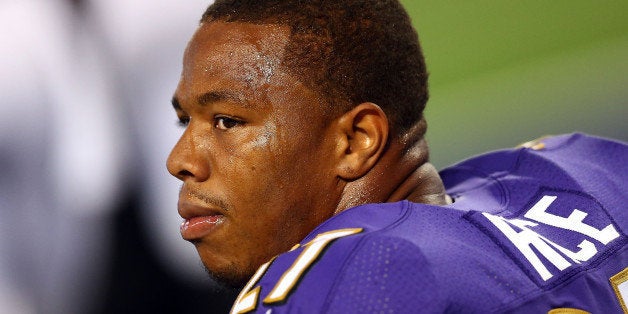 The video that TMZ leaked of Baltimore Ravens star Ray Rice punching his then-fiancée in a casino elevator couldn't have come at a more fortuitous moment. October is Domestic Violence Awareness Month, which means that every year around this time women's shelters and advocacy organizations expend a great deal of energy and not a small amount of their limited funds organizing events designed to call attention to the ongoing tragedy of men's violence in families and relationships.
That "closed circuit" video has done more to raise awareness about domestic violence than untold numbers of public service announcements and billboard ads.
But the awareness it raised goes well beyond conventional pleas for understanding the plight of victims. Due to the powerful combination of Rice's fame and status as a Super Bowl-winning, Pro Bowl football player, along with social media's ability to transmit video, the entire country has been exposed to the stark realities of domestic violence in one of the most convincing ways possible: right in front of its eyes. Survivors of this type of violence -- both its immediate targets and its "secondary" victims, such as children -- don't need a video to validate that what they experience is real.
But for millions of people who don't know much about the issue, and only tune in when a high-profile case dominates the 24/7 news cycle for a few days, the Rice incident and its fall-out provide a powerful case study of what the cultural theorist Henry Giroux calls "public pedagogy." It's an opportunity for the general public to learn more about an important issue that even after all these years of tireless advocacy and consciousness-raising by the battered women's movement and its allies remains shrouded in denial and misinformation.

Still, many of us in the gender violence prevention field know full well that trying to turn controversial public events into "teachable moments" can be an uphill fight. We know a lot about the causes of domestic and sexual violence -- and we know a fair amount about how to prevent them. But in-depth discussion and analysis is typically not considered "good for TV ratings," especially when it's competing with cable television's preferred script, which consists of staged debates between charismatic former prosecutors and defense attorneys arguing over the legal minutia of celebrity cases.
This one may turn out differently for the simple reason that the video of Rice punching his future wife in the face makes it difficult, if not impossible, for commentators to minimize his behavior or shroud it in euphemism. In the past, televised discussions about domestic violence often parroted the kind of trivializing language counselors who work with men who batter have heard for decades in their court-mandated programs: "It was just a domestic dispute," or "They just had a little scuffle."
Men who abuse women often use the passive voice to describe what led to their arrest: "She got herself beat up that night," or "A fight broke out." Media commentators play a similarly obfuscating role when they say things like "We don't know the whole story," or when teammates and team officials respond to domestic violence allegations against one of their own by saying "Our thoughts and prayers are with the couple at this difficult time."
Their sentiments might be sincere, but they play a crucial role in shifting accountability away from the alleged perpetrator and onto either the victim, or the couple as a whole. There is a term for this in the domestic violence lexicon. It's called "colluding with the batterer."

Unlike previous high-profile cases, the existence of the elevator video has significantly diminished that kind of collusion by the media and by Rice's peers.
In fact, one of the most notable developments in the Ray Rice case is the astounding number of men in the media and in public life who have stepped forward to strongly criticize Rice on the air and applaud the National Football League's (NFL) decision to indefinitely suspend him. Among those men are many current and former professional athletes, whose vocal leadership on this incident represents a major shift from similar cases in the past.
The most promising aspect of this sad saga is that the presence of the video has contributed to a transformation already underway in the public's understanding of gender-based violence.
The old way to approach the subject was to focus on the women and ask questions like: Why are they attracted to men who mistreat them? Why do they stay? For sure, these sorts of questions retain their allure: Janay Rice is under intense critical scrutiny for her tweets and declarations of love for the man who knocked her unconscious.
But the new paradigm for understanding domestic and sexual violence entails turning the spotlight around, onto men. These abuses are no longer something that happens to women. Rather, they are increasingly seen as something that is done to women by men. In the case of Ray Rice, (nearly) everyone is talking about him -- what he did, why he did it, what it will mean for his career. The idea is not to negate Janay Rice's experience; far from it. She is the actual victim in this case. But Ray Rice's fateful act of violence, caught on video, says much more about him than it does about her.

And to the extent that the national conversation remains focused on all that's happened as a result of his actions, as well as a consequence of how the NFL's leadership mishandled the situation, it will say something hopeful about us.
It will say that our troubled society is finally beginning to place the responsibility for our tragic level of interpersonal violence not on its victims, but on those with power who abuse and misuse it.
Support HuffPost
The Stakes Have Never Been Higher
Related
Popular in the Community