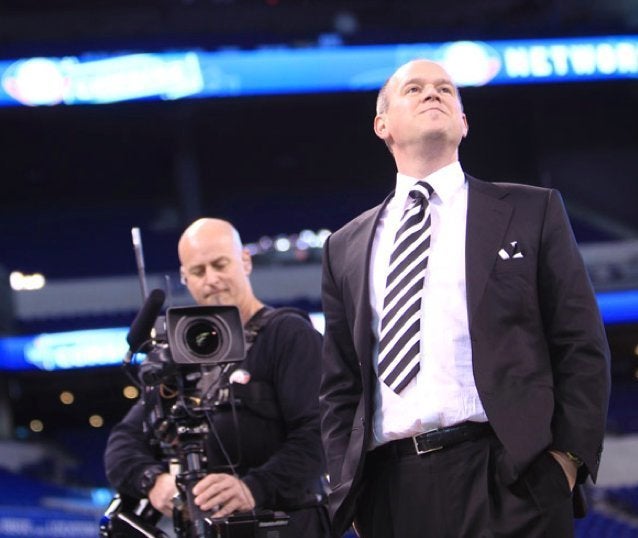 Rich Eisen is the face of the NFL Network. He hosts NFL Total Access, NFL GameDay Final, Thursday Night Football's Thursday Night Kickoff, the Sprint Halftime Show and the Postgame show. This man is busy. He has a podcast, he's written a book, he has a wife, a rescue dog and two little boys. He has been a regular contributor on VH1's "I Love The 70's," "I Love the 80's" and "I Love the 90's." He and his wife, sports reporter Suzy Shuster, have both won Emmys. Dudes have man-crushes on him and women laugh at his every word.
Seven years ago, a tiny challenge that involved how fast Eisen could run in his suit at the Scouting Combine has turned into an internet phenomenon. Tuesday marks the 8th annual Rich Eisen 40-yard dash and The Huffington Post jumped at the opportunity to ask this LA man a few questions. Click here to see how fast he runs in his 2012 sprint -- according to Rich, he's "the Benjamin Button of the Scouting Combine."
Neighborhood: Beverly Hills
Where is the best place in LA to watch football?
The NFL Network studios in Culver City. We sit around on the main set and watch every single game at once on the 180 inch TV surrounded by two 105 inch TVs, with the "we" being NFL Network analysts and Hall of Fame players like Deion Sanders, Marshall Faulk and Michael Irvin along with future Hall of Famers Warren Sapp and Kurt Warner. Throw in former 49ers and Lions head coach Steve Mariucci and you've got the best place (without alcohol, of course) to watch football in LA.
You have become famous for your annual 40-yard dash at the scouting combine and it's become so big, that now you have fans submit their own runs via Twitter. What are some of your favorite submissions this year?
I particularly enjoyed some guy running his 40, like me, on a football field in a business suit and tie, except, unlike me, he was being trailed by a little dog. Technically, however, that 40-yard dash was outside the rules of the promotion, which asked people to run a 40 in their work clothes at work. So, we've gotten people running in parking lots, in warehouses, down the hallway of a chemistry lab or a cubicle-filled office. It's been awesome and fun.
Do you train for yours? How did the idea begin to start with?
No training for me, thanks. I rely solely on guts, sheer will and heart. You can't teach what beats inside. The idea was born out of complete boredom waiting to tape several show segments at the 2005 Combine. While waiting around on the set in the suite section of the old RCA Dome in Indianapolis, I turned to one of my analysts, Super Bowl 32 MVP Terrell Davis, and asked him how fast he thought I could run the 40. He merely laughed. I took it as a challenge and went straight down to the field in my suit, tie and lace-up Zegna crocs. And ran like the wind. Alright, more like molasses: 6.77 seconds. Unbeknownest to me, the equally-bored crew in the NFL Network trucks rolled tape on the run. And, now, we're in our 8th year of doing it.
If not at the studio or on a plane somewhere, where might one find you?
At home with my two sons, Xander and Cooper, and my yellow rescue dog, Hudson. Really don't have much time for golf, although I would love to try and shave some strokes off my 18 handicap.
Where do you like to take out-of-town friends?
Craig's for the best steak in town and a chocolate pizza for dessert. Or I like taking them to the Soho House to enjoy the incredible 360-degree view of Los Angeles from high atop West Hollywood and, especially if the friend's a single guy - the equally fascinating 360-degree view within the Soho House.
If you hadn't found a career in sports journalism, what do you think you would have done?
Stand-up comedy. I tried it in college and LOVED it. To this day, I still miss the immediate feedback of a live audience.
What's your biggest indulgence in LA?
It used to be the burger at the Hamburger Hamlet on the corner of Sunset/Doheny, but in the ultimate outrage they closed the old haunt. That place was downright sinful. I'm still in search of a burger close to my neighborhood that's even half as good.
Most embarrassing thing you've ever done on air (unintentionally)?
In my first TV job in Redding CA, I was anchoring a weekend sportscast when virtually every single piece of equipment involved in televising the segment began to crap out: the teleprompter, the graphics, the tapes. The only thing that was sadly working was the electricity to beam my disintegrating sportscast into everyone's homes in the market. It was my "Boom Goes the Dynamite" moment and the only thing I can remember was looking into the camera and saying: "I'm broiling in my own sweat." I dread logging onto "Google" one day and seeing a link to it. Good lord that was a long 5 minutes.
Freeways or side streets?
Freeways. Absolutely. But, once on one, patience runs thin in a hurry. I have no problems bolting to a surface street and hitting the navigation button. Talk about times changing: I used to always have a Thomas Guide in the backseat.
A song that reminds you of LA?
Is it a cop-out to say "I Love LA?" If so, then I'll say that every time I hear that song, I not only think of Los Angeles, but also the brilliant baseball montage in "The Naked Gun."
Favorite LA movie?
Without a doubt: "Chinatown" -- Nicholson, Dunaway and a spectacularly creepy John Huston in one of those rare murder mysteries involving drinking water. All genius. Think of it every time I'm in the valley or downtown. And it's also one of the few movies that, wherever and whenever I pick it up, I must watch it all the way to the end.
Since as Angelenos, we don't actually have an NFL team, how would you characterize the typical LA NFL fan?
The typical NFL fan in Los Angeles is most likely a Rams or Raiders fan, either eager to see either one of the teams return to town or eager to prevent it because they enjoy getting several out-of-town games on the CBS or FOX regional Sunday coverage. Either way, there are WAY more NFL fans in Los Angeles than credited.
What would you name LA's football team? Keep it PG-13.
I think the "LA Brangelinas" would work, although I think they're both Saints fans. You could kill two birds with one stone and just name the team "The Kardashians"
The moment you knew you wanted to make Los Angeles your home…?
The moment I knew I wanted to make Los Angeles my home came in January of 1990 when I came out here to cover the 1990 Rose Bowl for my college newspaper "The Michigan Daily." I came out two days before Michigan played USC in the Rose Bowl (and got robbed by a phantom holding call in the loss, I might add), and I fell in love with virtually every aspect of this city. I remember strolling down Rodeo Drive one day and also renting a set of golf clubs and playing nine holes by myself on the Griffith Park golf course, watching the sun set over the mountains as I made my lone great approach shot of the round. I knew right then and there that I would love to make LA my home and when it was offered by NFL Network in 2003, I leapt at the chance.
Biggest perk of being nominated for an Emmy?
Zero. In the sports world, few people remember who DOESN'T win. Plus, in the sports world, there are no gift baskets or swag rooms for nominees. Someone has got to work on that. Because I got into this business for the free stuff.
BROWSE PHOTOS OF RICH EISEN IN ALL HIS GLORY: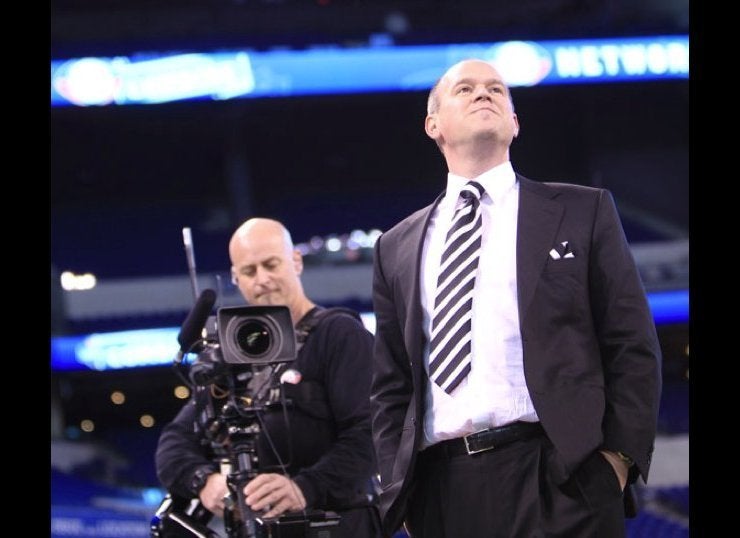 Popular in the Community