An Instagram account called Rich Kids of Tehran is prompting headlines for more than just its subject matter.
The account, which is modeled on the popular profile Rich Kids Of Instagram and has been made private since news of its existence broke, posts photos of what appear to be members of Tehran's young elite galavanting around the Islamic Republic with fancy sports cars and designer watches. Since its first posting on Sept. 13, the profile has gathered over 50,000 followers.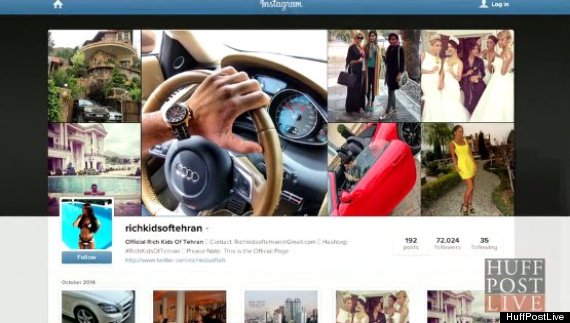 (HuffPostLive)
Many of those photographed are reportedly the offspring of the country's ruling class, leaving little room for fear of repercussion.
In a posting Tuesday, the person or people behind the account announced that its purpose is apolitical -- and said not everyone who appears in its photos are residents of Iran.
"We Love our city of Tehran. We are in no way trying to put a difference between rich and poor. We are trying to show the world how beautiful Tehran and people from Tehran are. The Middle East is always on TV receiving negative attention and we just wanted to show that Tehran is not like that. This page is in no way political and we never had any bad intentions. We never thought the page would make headlines all over the world. Some of the people featured in this Instagram account don't live in Iran. #richkidsoftehran #welovetehran"
Related