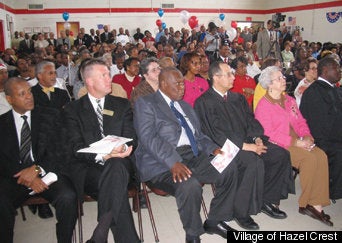 Nearly four years ago, Bremen Community School District 228 Superintendent Rich Mitchell was fired after his contract had been extended through 2009. Last week, the Cook County Human Rights Commission figured out why: because he is gay.
Mitchell was interviewed for the leadership position in 2004 by the local School Board, according to a statement from Lambda Legal. While being interviewed, board member Evelyn Gleason allegedly asked two other members if they knew Dr. Mitchell was gay.
"The School Board members inferred that Ms. Gleason was opposed to hiring Dr. Mitchell because of his sexual orientation," Mitchell's Lambda Legal attorneys said in a statement. "The Board chose to hire Mitchell through the end of the 2007 school year. In his complaint, Dr. Mitchell alleges that, soon after he was hired, Gleason and another board member sought to invalidate Mitchell's contract without informing the rest of the Board, but their attempts were rejected by the Illinois State Board of Education."
Though his contract was extended, things began to get more difficult for Dr. Mitchell. Evelyn Gleason became president of the School Board.
Gleason's new role allowed her to not only change the district's legal council, (replacing the firm with her son's law firm) but it allowed her to "do what she'd always wanted: get rid of Mitchell," Lambda attorneys wrote in 2006. "When Mitchell notified the board that he intended to pursue his rights under local laws prohibiting sexual orientation discrimination, Gleason retaliated by trumping up false allegations against Mitchell in the media. He was suspended and later fired."
Aside from Gleason spreading the news of Mitchell's sexuality during the interview process, she also allegedly told parents in the district "Did you know that he's gay?" when they questioned his firing.
"I'm upset about the fact that this [segregation of the board members] has been going on for 11 months," Posen parent Kathy Novak told the Chicago Tribune in 2006. "It's been arguing and fighting because they want to get rid of Dr. Mitchell. It hasn't been about our kids, it's been about Evelyn Gleason trying to get rid of Dr. Mitchell."
The case has been under investigation since 2006, but last week the Cook County Human Rights Commission reported that they have found "substantial evidence" of sexual orientation discrimination.
Even other members of the school board acknowledged the discrimination.
"There is nothing wrong with Dr. Mitchell," board member Verla Clevenger told the Tribune at the time of Mitchell's ouster. "It's the administration. It's because of his lifestyle."
"The findings clearly illustrate that school boards can't be in the business of firing teachers or administrators because they are gay," Mitchell's attorney Christopher Clark told the Southtown Star. "After years of investigation, this case can finally proceed to a full hearing."
REAL LIFE. REAL NEWS. REAL VOICES.
Help us tell more of the stories that matter from voices that too often remain unheard.