(Adds response from Boehner's spokesman in paragraphs 8 and 9)
WASHINGTON, Jan 12 (Reuters) - One of the conservatives who last week took part in a rebellion against House Speaker John Boehner's re-election castigated the Speaker's leadership style on Monday, calling him "ineffective."
"I can respect the man and certainly the office he holds, but I would be lying if I said I respected his leadership. He simply hasn't earned it," Representative Rich Nugent, a Republican from Florida, said in a letter to his constituents published online in the Tampa Bay Buzz.
Boehner narrowly survived a challenge last Tuesday from 25 conservative Republicans, including Nugent, in the biggest such intra-party rebellion against a speaker candidate since 1859.
After the vote, Nugent and another rebel were booted off the powerful House Rules Committee in apparent retaliation. But the next day, Boehner hinted at a possible reconciliation, saying he was engaged in a "family conversation" with dissident lawmakers.
However, Nugent made clear on Monday that he was unrepentant. He said he told Boehner in a private meeting that he didn't believe Boehner should be Speaker.
"If you can't lead and you can't deliver, then your own personal political philosophy is pretty much irrelevant," Nugent said in his letter. "There have been far too many occasions over the last four years where the House has been ineffective."
Nugent complained he didn't know what Boehner's plans are for budgeting or tax reform in Congress this year. Nugent also charged that Boehner dithers too much, lacks follow-through and too often gets "duped by Democrats" who pull their support from bills at the last minute.
Boehner's spokesman Kevin Smith responded that the Speaker had been "very clear" that the House would pursue a regular budget and appropriations process, adding that he supported tax reform to "eliminate loopholes, lower rates and create jobs."
"Other decisions about our agenda this year will be made at the Member Retreat later this week," he added.
The episode again underscored the deep divisions within Republican ranks in Congress, despite the party's expanded House majority and new Senate majority.
Since becoming speaker in 2011, Boehner has faced a series of internal challenges to his leadership, particularly on his handling of budget matters in which small-government Tea Party Republicans have demanded more aggressive confrontation of President Barack Obama's agenda. (Reporting by Susan Cornwell; Editing by Christian Plumb)

Support HuffPost
The Stakes Have Never Been Higher
Before You Go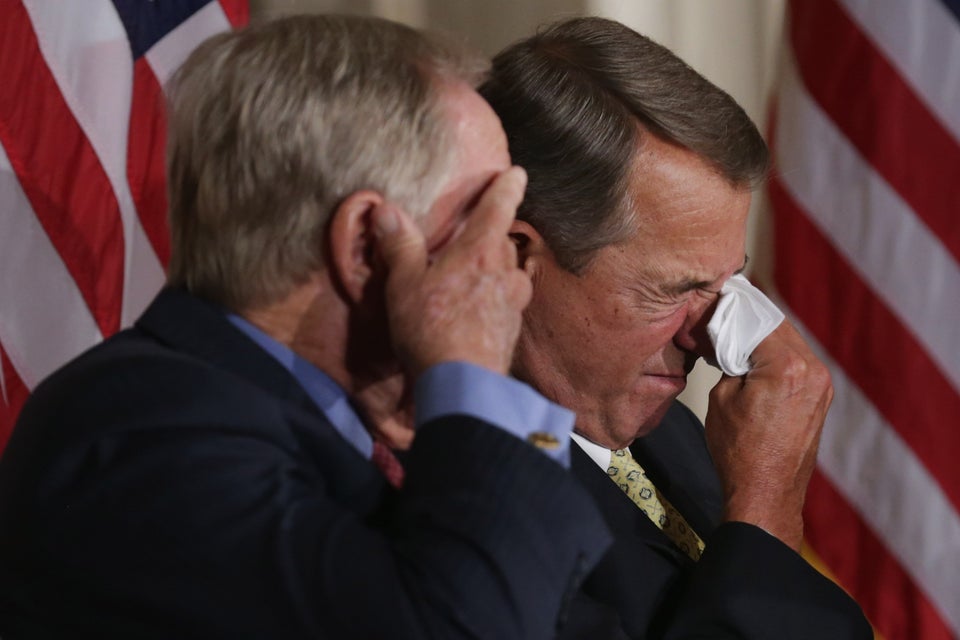 John Boehner Cries
Popular in the Community