DJ Rich Russo's weekly program made its hotly anticipated return to the airwaves on Sunday September 18 after an unplanned hiatus due to its original home WRXP being shut down. Russo had created a whole community around his program, which had an unprecedented (at least for recent decades) creative freedom, a kind of oasis of real rock & roll that heretofore was unknown on Mainstream Rock Radio as it currently exists. The program, Anything, Anything (named for the Dramarama hit song) debuts on its new home 107.1 WXPK "The Peak" Sunday night from 9 to 11pm EST. The program will also be available online at www.1071thepeak.com. Anything, Anything will also be broadcast on 105.5 WDHA "The Rock of New Jersey" beginning Sunday October 2. The top-rated "free form" radio show will continue to play rare, underground music tracks of fans' favorite artists as well as local artists.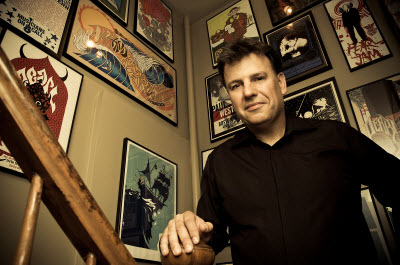 Anything, Anything first came onto the airwaves in 2008 and spawned a devoted listener base that eagerly followed each week's program. Russo, a bona fide music collector, boasts a collection of recorded music that is estimated at over 100,000 items. "Springsteen's line from No Surrender says it best," he states. "We learned more from a three-minute record than we ever did in school."
Anything Anything has the kind of creative freedom that is unrivaled on mainstream radio -- no mandated playlist, ever. Rich has complete control over the music he plays and the result is a free form show that recalls radio's glory days of the 70's - raw, gutsy, opinionated, fun. Anything, Anything was also a huge ratings success in an era when terrestrial radio seems to be on its last legs. When the show started three years ago, Russo was a completely unknown underdog, up against established shows on huge radio stations in the biggest radio market in the world -- New York City. Through guerrilla marketing he built the brand into a roaring success, becoming a Sunday night ratings juggernaut by the time the station folded.
One of the endearing qualities of the program is that Russo welcomes new artists to submit their work to him, whether or not they're signed to a label. Music submissions can be sent to: Rich Russo, The Anything Anything Radio Empire, P.O. Box 765, Cranford NJ 07016. Additionally, he often welcomed artists into the studio to perform live and that is expected to continue as well as the program settles into its new home. Past performers include the Dirty Pearls, Glen Burtnick, Paul Collins, Jessie Malin, Urge Overkill, and the Smithereens. A typical playlist on the program would include the Georgia Satellites, Girl in a Coma, the Del Lords, the Replacements, and Roger McGuinn.
"I am honored Anything, Anything will be back on two legendary radio stations - WXPK in Westchester and WDHA in Jersey," says Russo. "Both stations are leaders in breaking bands and deeply connecting with their audiences. I am proud to have the opportunity to keep free form radio on the commercial dial."

Support HuffPost
The Stakes Have Never Been Higher
Related
Popular in the Community