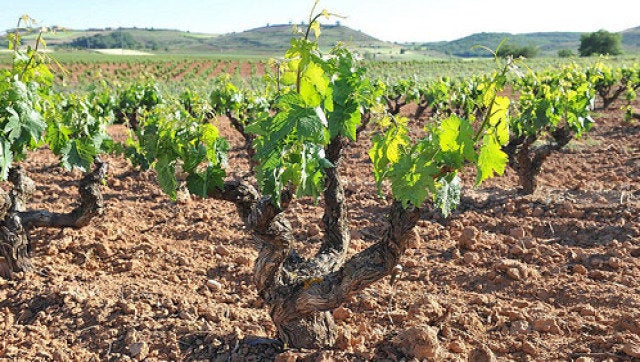 If you like rich, complex, high quality red wines, you owe it to yourself to get to know the wines of Ribera del Duero. The steep vineyards rising along the banks of the Duero River in Spain's second most important wine region, after Rioja, yield wines that are frequently outstanding.
The wines are red, the altitudes are high, and the grape is, overwhelmingly, Tempranillo. Actually it's a local variant of Tempranillo, the early ripening variety known as Tinto Fino or Tinta del Pais in this area. It has adapted to the often harsh weather of the region and its extreme climactic fluctuations.
Temperatures where the grapes are grown, at 2500 to 2800 feet above sea level (among the highest elevations for winegrowing in Europe), can reach over 100 degrees in the middle of summer yet fall sharply at night. These large temperature swings help promote balanced acidities and aromatic complexity. Winters are also harsh, and freezing temperatures can set in both during the beginning and end of the growing season.
The reputation for quality here began with one of the world's great wines, Vega Sicilia's Unico. This is a blend of Tempranillo with small amounts of Bordeaux varieties--Cabernet Sauvignon, Merlot and Malbec--that were brought to this region from Bordeaux by Vega Sicilia's founder Don Eloy Lecanda Chaves in 1864.
Unicos are long lived wines that are always highly rated and carry a hefty price tag: the current vintage of the Unico, 2002, sells in the U.S. for an average of $384. They also make a multi-year blend of the Unico that's released in very small quantities from vintages that are at least ten years old. These Unico Reserva Especial bottlings used to only be available at the winery itself. The 2011 release I sampled was spectacular--complex and hedonistic. I rated it 99 points. A few retailers carry these wines in the U.S., where the average price is currently $464.
The producer whose success convinced others that Vega Sicilia was not an isolated occurrence for the region was Alejandro Fernández, an agricultural engineer and inventor who started a small winery in 1972 using a 16th century wine press. His Pesquera, a 100% Tempranillo, was first released in the early 1980s to high acclaim. The latest releases of these wines retail at $32 for the Crianza and $48 for the Reserva.
The region was finally recognized with Denominación de Origen (D.O.) status in 1982. Other great producers that have followed in Fernández's footsteps include Aalto, Alion, Dominio de Pingus, Emilio Moro, Pago de los Capellanes, and Pérez Pascuas.
The vineyard area of Ribera del Duero is roughly a third of that of Rioja, but the focus on the locally adapted Tempranillo really sets it apart. Tempranillo, or Tinto Fino, makes up 95% of production, followed by 1% Cabernet Sauvignon and a total of less than 1% all other reds--Merlot, Garnacha and Malbec. D.O. regulations require that the wines contain a minimum of 75% Tempranillo. A single white grape, Albillo, is also grown here primarily for local consumption. It amounts to 3% of production, but only red wines are permitted to carry the Ribera del Duero D.O. designation.
The aging requirements for traditional style wines are the same as those in Rioja. Cosecha, or Joven, wines usually see no oak. The Crianza designation is reserved for wines aged at least two years, including at least one in oak barrels. Reservas must be aged three years, at least one of those in barrel. Gran Reservas, from outstanding vintages, are aged a minimum of five years, including at least two in oak.
I've attended two Ribera del Duero tastings in recent months, including a major trade tasting last November sponsored by Drink Ribera, the marketing arm of the Consejo Regulador de Ribera del Duero. That tasting included a number of producers whose wines are, unfortunately, not represented by U.S. importers, and therefore not yet available to consumers here.
The wines were impressive overall, rich and structured, with many exhibiting aromas and flavors of mulberry, blackberry and licorice, along with a sense of herbs. The wines I scored highest at this tasting that are available in the U.S. came from Alejandro Fernández, Comenge, Fuentespina, Gormaz, López Cristóbal, Matarromera, Montecastro, Renacimento de Olivares and Valduero. Other producers whose wines I'd very much like to see in this country are Abadia de Acón, Imperiales (some of the best wines of the tasting) and Valdeviñas. I also recently tasted the 2008 Aalto, which is quite delicious, but pricey at a U.S. average of $54.
The best values represented at the tasting were the 2009 Matarromera Melior, selling for $14, and the 2009 Gormaz 12 Linajes Crianza, which can be found for $28. Prices on the other wines available here range from the low $30s to high $40s.
For information on traveling to this region, visit the Drink Ribera website. For my tasting notes on several vintages of Vega Sicilia Unico and all the wines poured at the Drink Ribera tasting, see the complete report on my website here.