Richard Belzer is leaving "Law & Order: SVU."
Belzer, who has been with the show since it began 15 seasons ago, is leaving "SVU" as a series regular. He's been playing the character of John Munch for more than 20 years.
Belzer's character turned in his retirement papers at the end of the Wed., Oct. 9 episode of "SVU." Look for his retirement party in the Oct. 16 episode. While he may be leaving the show as a series regular, don't expect Belzer to say goodbye to the character of John Munch forever. A source confirmed Belzer is expected to make recurring appearances on the long-running NBC drama.
"I'd be a fool to say I didn't want to do it anymore and I'm certainly not bored with the character because the writing is so good," Belzer told The Huffington Post in May 2013. "[Munch is] very close to how I would be if I were in that situation, so it's a dream."
The character of John Munch first made his debut on "Homicide: Life on the Street" in 1993. The character has also appeared on "The X-Files," "The Beat," "Arrested Development," "The Wire," "Law & Order" and "Law & Order: Trial By Jury." Belzer has made more than 450 episodic television appearances as John Munch.
Here's the official description for the next episode of "Law & Order: SVU," which will feature Munch's retirement party.
A RAPE VICTIM (GUEST STAR SOFIA VASSILIEVA) SEEKS HELP FROM DETECTIVE BENSON (MARISKA HARGITAY) AFTER SHE'S RAPED AGAIN, WHILE SERGEANT MUNCH (RICHARD BELZER) RETIRES FROM THE SVU.Sarah Walsh (Vassilieva) wakes up from a night of partying and believes she's been raped. In shock that it could happen again, she calls Detective Benson (Hargitay), who handled her previous rape case, for help. The search for sarah's attacker leads the cops to a smooth-talking cyber mogul who preys on vulnerable girls and bribes them for their silence. Meanwhile, the SVU comes together to say goodbye to the retiring Sergeant Munch. Also Starring Ice T (Detective Odafin Tutuola), Dann Florek (Captain Donald Cragen), Danny Pino (Detective Nick Amaro) and Kelli Giddish (Detective Amanda Rollins). Also guest starring Dean Winters (Brian Cassidy), Finn Wittrock (Cameron Tyler), Amelia Rose Blaire (Nicole Price) and Matt DeCapua (Matthew Forte).
"Law & Order: SVU" airs Wednesdays, 9 p.m. ET on NBC.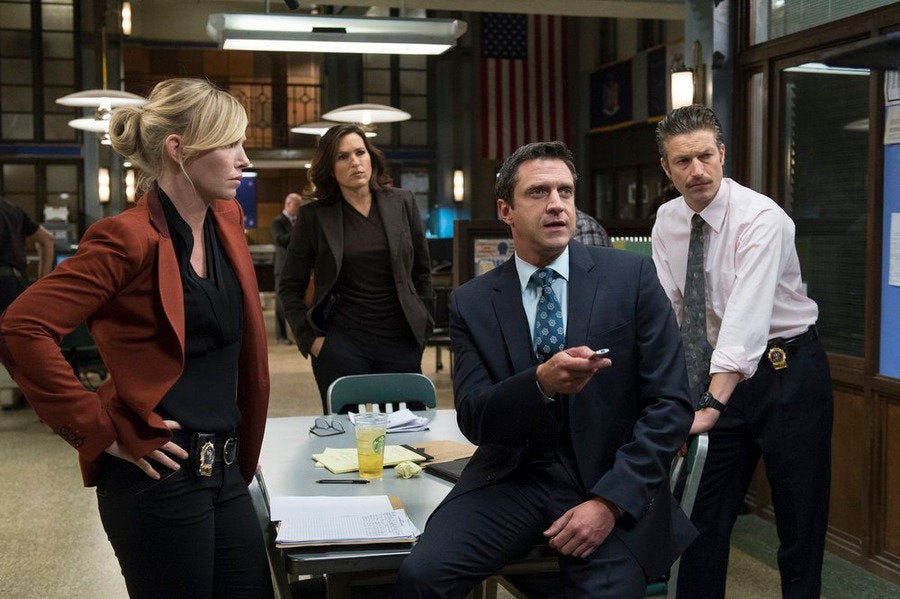 'Law and Order: SVU'
Related
Popular in the Community