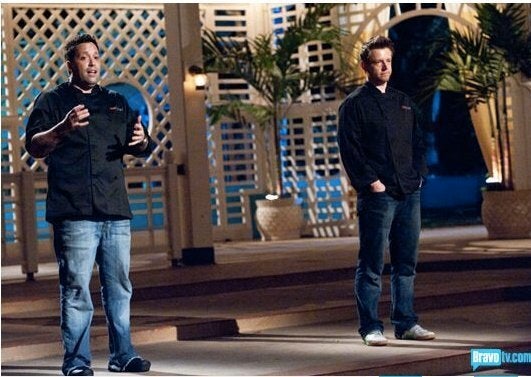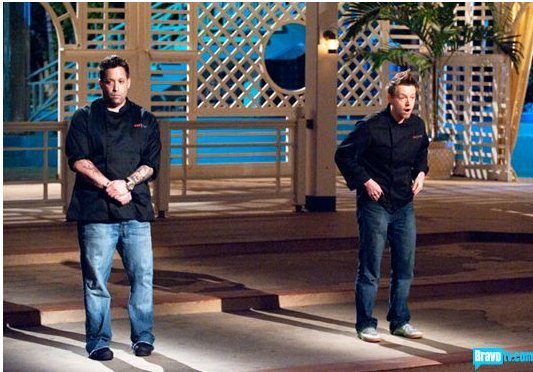 Top Chef season 4 near-winner Richard Blais won the first Top Chef All-Stars Wednesday night over season six's Mike Isabella. Taped in the Bahamas, the finale competition pitted each chefs' version of their "dream" restaurant against the other's. The liquid nitrogen-toting Richard Blais showcased playful surf & turf-oriented pairings in a restaurant he called "Tongue & Cheek," while Mike Isabella's dishes evoked the mozzarella- and pancetta-tinged flavors of the Italian home-cooking from his childhood at restaurant "Iz."
Michelle Weber exclaimed on the HuffPost Food finale liveblog, "THANK GOD. Legions of fans won't have to give up on Top Chef now!"
Below are their menus; photos of the completed dishes can be found here.
"Tongue & Cheek": Richard Blais
Amuse Bouche: Raw Oyster with Lemon Horseradish Ice Cream and Salsa Verde

Raw Hamachi with Fried Veal Sweetbreads, Asian Pear, Pickled Radish, and Garlic Mayonnaisebr>
Pork Belly with a Black Cod Cutlet, Bone Marrow, Beets, Brussels Sprouts, and Kumquatbr>
Beef Short Rib with Mushrooms, Red Cabbage Marmalade, and Celery Root Horseradish Pureebr>
Cornbread with Foie Gras Ice Cream and Whipped Mango
Spiced beets with Mozzarella, Chocolate, and Truffle Vinaigrette
Halibut with Kumquats Marmalade, Cauliflower Puree, and Pancetta Crumbs
Braised Pork Shoulder with Pepperoni Sauce, Rosted Cabbage, and Turnips
Rosemary Caramel Custard with Pine Nuts, Citrus, Cherry and Apple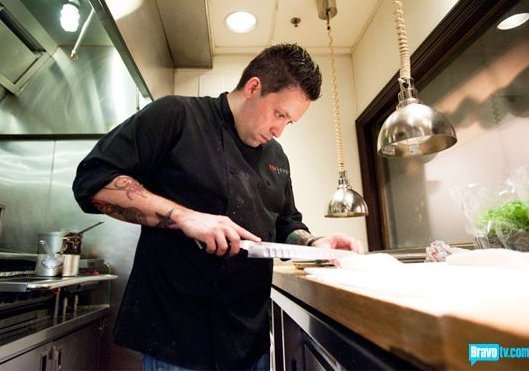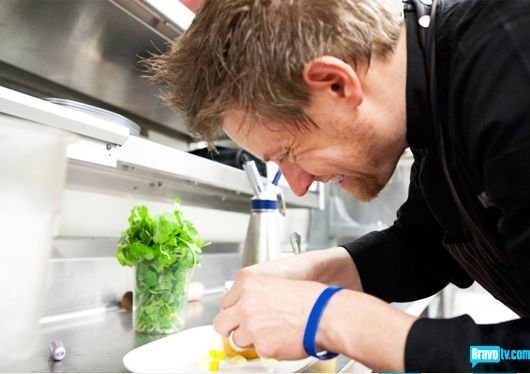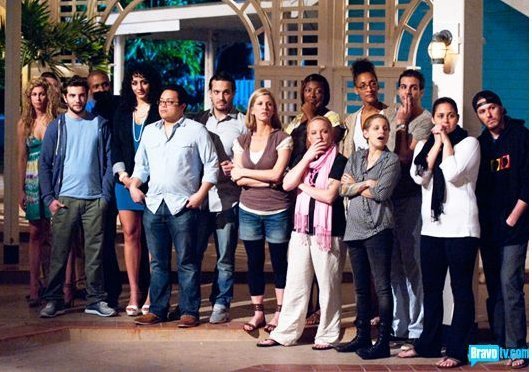 This was the first season of Top Chef All-Stars and the eighth season of Top Chef overall.