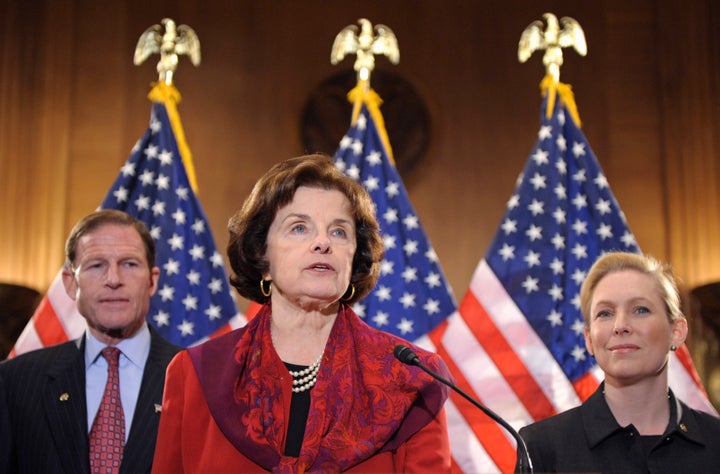 WASHINGTON -- Sen. Richard Blumenthal (D-Conn.), whose state was rocked last week by a shooting at Sandy Hook Elementary School, said Friday that the National Rifle Association was "sadly and shamefully inadequate" in its response to the massacre.
"The NRA today in its approach will be irrelevant, because it can't be a credible and constructive participant in this debate if it says the only acceptable solution is armed guards in schools," Blumenthal said at a press conference with Sen. Dianne Feinstein (D-Calif.), who plans to introduce a gun control bill next congressional session.
A week after 20 children and six adults were killed at Sandy Hook Elementary School in Newtown, Conn., the NRA broke its silence by announcing an effort to put more armed guards in schools. Wayne LaPierre, the group's executive vice president, spent most of his remarks blaming the shooting on everything but guns, from videogames to a media that he said glorifies shooters.
"The only thing that stops a bad guy with a gun is a good guy with a gun," LaPierre said.
Feinstein and Blumenthal said they don't necessarily oppose increasing school security, and are open to considering serious proposals across the board. Feinstein pointed out, though, that many shootings occur outside of schools, from movie theaters to businesses, and questioned whether the only solution should be arming people everywhere.
"Is this the answer, that America should become an armed camp?" she said.
Feinstein said she is working with House members for a bill there, and that senator-elect and current Rep. Chris Murphy (D-Conn.) told her this week he wants to work on her gun control effort. The senator said she also has support from former President Bill Clinton, who helped to pass a now-expired assault weapons ban in 1993. Clinton called her to say he will help however he can, she said.
Blumenthal said his conversations with those in Newtown and elsewhere indicate people want something to be done about guns, particularly assault weapons. He also noted that NRA members have contacted his office to say they disagree with the organization. "The Newtown tragedy was a call for action, and the NRA has failed to answer that call," Blumenthal said.
He added that law enforcement officers in Newtown told him that they weren't sure they could have stopped the shooter because of the heavy level of weapons he was carrying.
Increasing security in schools "may be helpful in some instances, but it falls far short of the strong, serious comprehensive action needed to stop the kind of horrific tragedy that occurred in Newtown last week," he said.
Read other responses to the NRA statements below:
Calling all HuffPost superfans!
Sign up for membership to become a founding member and help shape HuffPost's next chapter
BEFORE YOU GO
PHOTO GALLERY
Reactions To NRA Press Conference