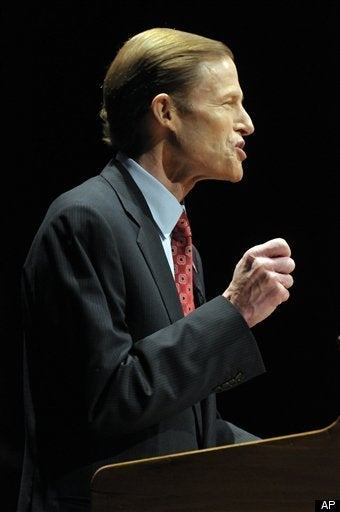 Connecticut Attorney General Richard Blumenthal has entered undoubtedly the most critical 48-hour window of his political career. Presented with a clear record of his rhetoric (suggesting he had served in Vietnam) not matching reality (he was granted five deferments and ultimately ended up in the Marine Reserves), his campaign has begun charting out a path to stem the bleeding.
On Tuesday, Blumenthal will host a press conference to answer questions while surrounded by Connecticut veterans. He won't be granting national interviews beyond that (at least temporarily) advisers say. And he will make clear that the report that appeared in the New York Times told a limited if not slanted story.
Crises like these happen periodically in politics. Few end successfully. What may end up helping Blumenthal is to draw lessons from those who preceded him in the cauldron. And in that respect, there is no better parallel than the case of Bruce Caputo.
Back in 1982, Caputo was considered a young, rising star in the Republican Party. His path through elite institutions (the prestigious Deerfield Academy, Harvard University and Georgetown Law School) earned him the moniker of "whiz kid" when he ended up at the Pentagon. Politics came shortly thereafter. A stint in the New York State Assembly was followed by his election to Congress n 1976. He flirted with a Senate run in 1980. But deferred to Al D'Amato. When the next election cycle came around, he chose to take on then freshmen Democrat Daniel Patrick Moynihan (the same senator who had mentored Richard Blumenthal years back).
But before the campaign could gain steam, it fell apart. It had been reported that Caputo had been drafted in 1967 to serve in Vietnam as a second lieutenant in the Army. In actuality, he had taken a civilian job at DoD to avoid the draft. The congressman had echoed the misinformation in an interview with two reporters in February 1982, after which Tim Russert (an aide to Moynihan at the time and later the host of "Meet The Press") began pushing opposition research exposing Caputo's inconsistencies. Russert had actually toyed with the idea of holding on to the research until the election's end, associates recall. But he decided to pass it to reporters early on in the process to essentially "blow" Caputo out of the race. The phrase "to be Russerted" entered the political lexicon.
How Caputo handled the fallout provides some details, if not a template, for what Blumenthal can do with his own crisis.
"We went out and did six press conferences where he went out and faced all the media in all those areas and tried to explain all those discrepancies," recalled John Samerjan, Caputo's press secretary at the time. "He went out and dealt with it head on, which I give him enormous credit for doing. But ultimately... it became clear after a few days [that it wasn't going away]."
If anything, it grew worse. Caputo initially insisted that he would stay in the race. But while he expressed his apologies, he declined to address why he had misspoken in the first place or even acknowledge that he had described himself as a draftee and Army lieutenant -- I have "no memory of doing that," he would say.
Caputo's misstatements on his Vietnam record, however, compelled reporters to look for other moments of memory loss or exaggerations. Soon thereafter, it was reported that, contrary to what he had claimed in official biographies, Caputo had never received a degree "with distinction" from Harvard. The university didn't offer such degrees.
"Once you get on that slope, you don't get a break for the rest of them," said Samerjan.
Soon the political support began drying up. The 53 Republican county leaders who had endorsed Caputo at the start of the campaign started revoking their endorsements.The money stopped coming in quickly thereafter. "It became untenable," Samerjan said. "And that is kind of what makes you face reality. It just was a situation where there was an explanation but it just couldn't overcome what looked like a major mistake."
Caputo ended up withdrawing from the race, leaving an easy and wide-open path forward for Moynihan's reelection. The post-mortems all pointed to the same misstep in handling the crisis: he failed to simply fess up to the mistake.
"The conservative bandwagon has recently attracted some peculiar passengers, such as Bruce F. Caputo," wrote the Washington Post's George Will. "He seems determined to offer vehemence in espousing conservatism as compensation for the tardiness of his conversion to conservatism. But his problem is veracity: he can't seem to get the hang of it."
For Blumenthal, of course, taking crisis management lessons from the Caputo template has its shortcomings. For starters, the media climate is far more fast-paced and cutthroat today then it was nearly three decades prior. This means more reporters prying into his background. It also opens the door for the story to be forgotten in a shorter period of time.
But the solution offered by Caputo vets and Democratic strategists is largely the same: bite the damn bullet and try to move on.
"Today's lousy answer may be the best alternative you have," said Samerian. "So I hesitate to pretend to know what the right advice is for them, but there is no substitute for being forthcoming. People have a remarkable capacity to forgive and forget."
"I don't think fighting with the New York Times will succeed," said longtime Democratic strategist Bob Shrum. "Fighting with the New York Times is like fighting with the ocean. In the end they are going to win. I think he should get up and say something like, 'I obviously did this. I did it inadvertently. Whether you believe me or not, I am deeply and profoundly sorry because I have tremendous respect for those who served in Vietnam even if I opposed the war.'"
"He should be truthful," Shrum added. "You can put the best face on he truth but I don't think you can put a mask on the truth."

REAL LIFE. REAL NEWS. REAL VOICES.
Help us tell more of the stories that matter from voices that too often remain unheard.