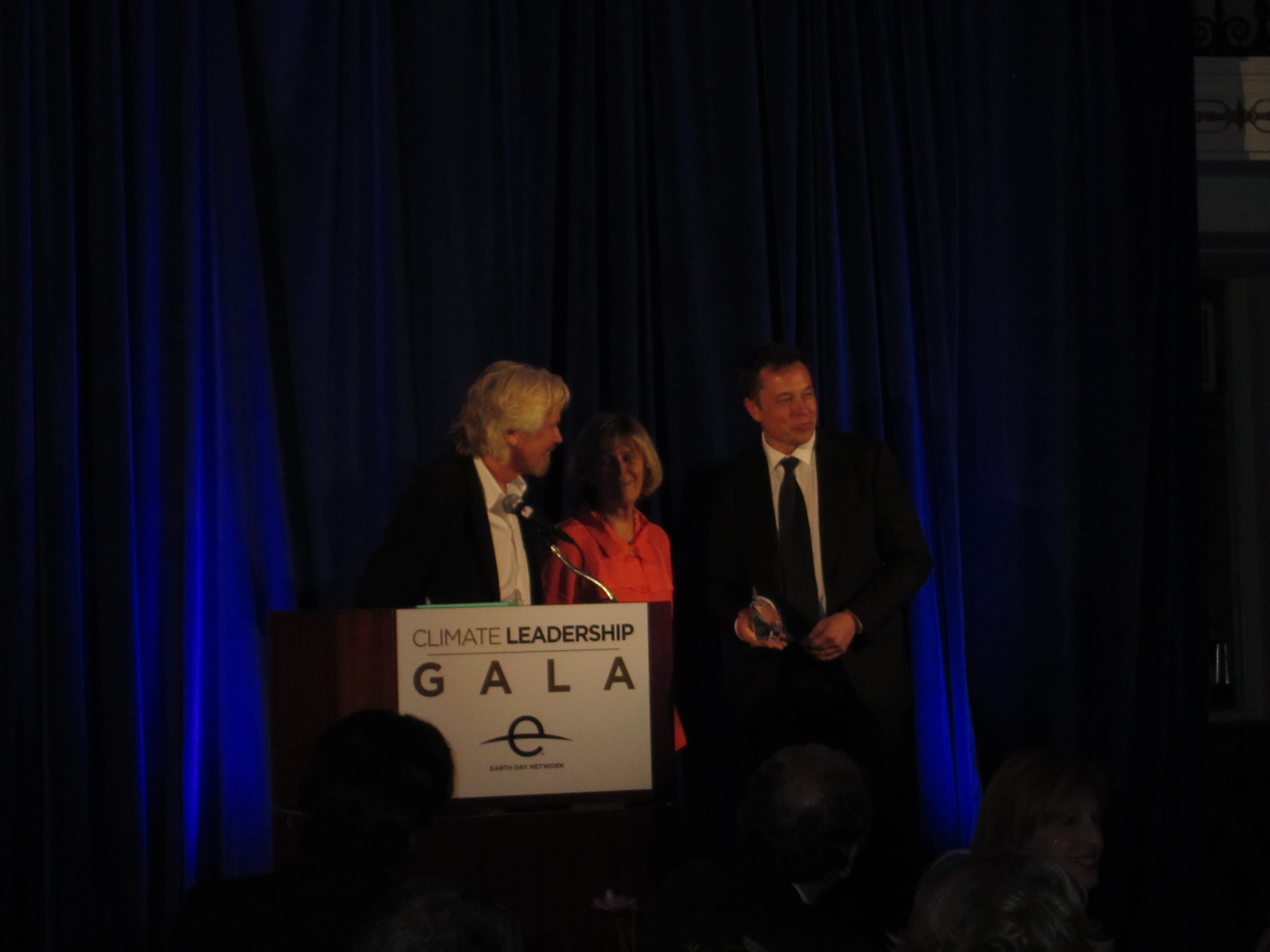 A "to-do" list of how to create a post-carbon economy evolved from the remarks of an array of innovators from business, politics and Hollywood at the 2013 Climate Leadership Gala the other night at the Renaissance Mayflower Hotel in Washington, DC.
From Sir Richard Branson, to Elon Musk CEO and founder of Tesla Motors and SpaceX, to Energy Secretary Ernest Moniz and Quebec's minister, to the actors Ed Begley, Jr. and John Corbett, and the indomitable Melanne Verveer, each presented a piece of the puzzle:
1. Increase Efficiency: The newly-sworn in Energy Secretary Ernest Moniz emphasized the need for various types of efficiencies (from appliances to vehicles, to the grid, to clean and efficient fossil fuels, to renewables), and for the efficiency standards to support them for the long-term and for the private sector to use to drive innovation. We also need to improve the efficiency of best practices by sharing them - between the states, and between the public and private sectors.
2. Slay dragons: Innovators like Branson and Musk who EDN President Kathleen Rogers described as "dragon slayers," have taken on climate change with practical and ambitious solutions, "slaying" structural and policy standards such as monopolies. We need more such courageous innovators.
3. Tax Carbon: Elon Musk gave an impassioned and at time comedic argument for a tax on carbon. "It's just the sensible thing to do," Musk explained, "We know we need tax revenue to run the government... so we should tax the things that are bad... like tobacco" and carbon, to dissuade their use and generate revenue at the same time.
4. Reframe the Argument: Musk added that seeking 100 percent certainty among scientists about climate change is a fool's errand, because they will always find 0.0001 percent that isn't certain. Instead we need to reframe the argument to focus on the facts that we cannot be 100% certain that climate change does not exist, and that we only have one atmosphere.
5. Use Public Policy -- It Works: Yves-Francois Blanchet, the Quebec (Canada) minister of Sustainable Development and Environment explained the various policies that are driving a low-carbon economy in Quebec and significantly reduced their CO emissions, including a carbon tax and electrification of transport. "I'm here to tell you that public policy can work."
6. Collaborate: We need to share best practices and resources, across borders, between competing companies, among states/provinces, between institutions, and among populations. Everyone has a role to play to expedite a post-carbon economy that works for everyone.
7. Empower Women: "Women are not just the victims; they are the environmental change agents," said UN Foundation President and CEO Kathy Colvin when she presented Ambassador Melanne Verveer with the 2013 Women and the Green Economy (WAGE) Leadership Award. Ambassador Verveer, who just left her role as the first U.S. Ambassador for Global Women's Issues (under her "BFF" former Secretary of State Hillary Clinton), put it starkly, "We will not address these challenges or solve them without unlocking a vital source of environmental leadership, investment and action, for decades to come and that is unleashing the potential of half the world's population: women and girls."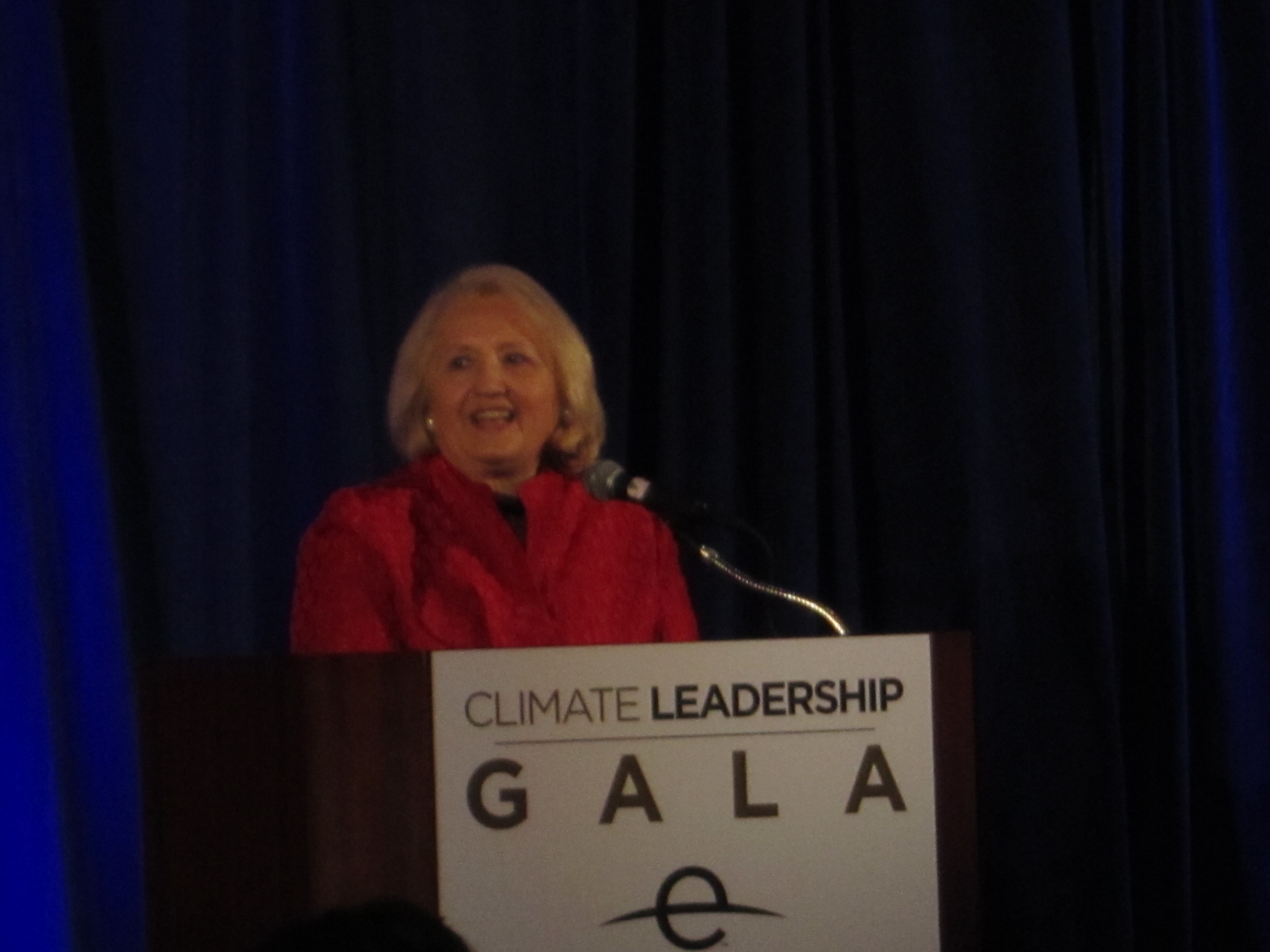 8. Be Top-Down and Bottom-Up: It needs to be a top down and bottom-up approach: political and business leaders need to institute more sustainable policies, products, services and initiatives. Ambassador Verveer stressed that more women in leadership will lead to policies that are more effective, innovative, and pro-environment. Women tend to support pro-environment policies and they are on the front lines of environmental impacts, such as indoor air pollution from unclean stoves in developing countries and lack of access to electricity.
Women at the grassroots level and the lower end of the socio-economic scale can become environmental change agents, driving it from the bottom up. Women are a growing consumer market, representing $28 trillion in global spending by 2028, and responsible for two-thirds of consumer spending according to Boston Consulting Group.
Ambassador Verveer ended the evening on an apt quote from the late Nobel Laureate Wangari Maathai:
"We must find opportunities to make change happen. We must not tire. We must not give up. We must persist."
(Photos: by Joan Michelson: Sir Richard Branson, Earth Day Network President Kathleen Rogers & Elon Musk at 2013 Climate Leadership Gala; and Ambassador Melanne Verveer at 2013 Climate Leadership Gala)
Related
Popular in the Community