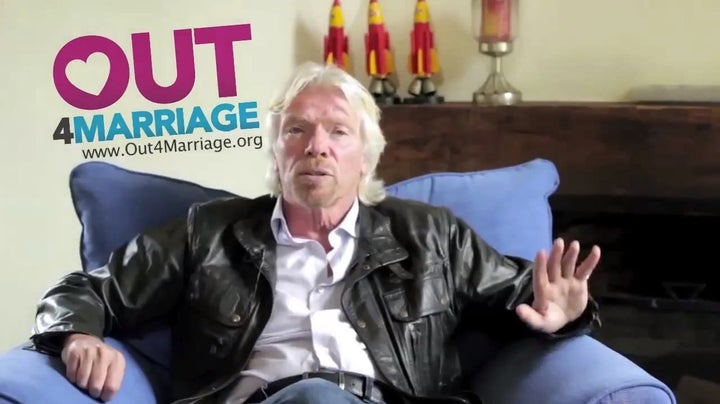 Despite the leaders of all three of Britain's main political parties having stated their support for legalising same-sex marriage, the topic was noticeably absent from the recent Queen's Speech, an event that precedes and details the government's plans for forthcoming legislation.
Two other things occurred on Wednesday, May 9, 2012, the same day as the Queen's Speech. Firstly, President Barack Obama historically announced his support for same-sex marriage in an interview with ABC. Secondly, the Out4Marriage campaign was launched.
The Out4Marriage campaign features prominent men and women expressing their support for same-sex marriage on video, in a way that will doubtless remind you of Dan Savage's It Gets Better campaign. Although the message is different, the YouTube-centric campaign model is much the same.
On May 17 Out4Marriage released a video by Sir Richard Branson in which the multi-billionaire Virgin tycoon became the highest-profile individual yet to record his support for a change in Britain's law that would allow same-sex couples to marry.
Branson, who founded Virgin in 1967, the very year in which homosexuality was decriminalised in England and Wales, had this to say about why he believes same-sex couples should be allowed to marry:
I'm Richard Branson, the Founder of the Virgin Group. For many years I've been a supporter of gay rights around the world. Back in 1967, when we founded a charity called the Student Advisory Centre, the law was changed to make it legal to be gay in England and Wales. We took many calls from young people in the process of coming out, and we were able to offer some support and guidance. But these people were coming out into a world that still hugely discriminated against them because of the gender of the person they loved.

Over the years, across the world, gay people have been given more and more rights. But in the U.K., much of the U.S., and many other countries, one key right is denied: the right for every couple in love to marry. Getting married myself and giving my daughter Holly away at her wedding last year are among the proudest days of my life. Everybody should be able to experience those moments if they wish to do so, regardless of their sexuality.

At Virgin we treat everybody the same, whether they are straight or whether they are gay, and the law should, too. That's why I'm Out4Marriage. Are you?
A number of British politicians have already filmed Out4Marriage videos, including Equality Minister Lynne Featherstone, Shadow Home Secretary Yvette Cooper, and European Parliament member Michael Cashman, as well as girl band The Saturdays and Rabbi Ariel Friedlander of Liberal Judaism.
Despite being physically based in Britain (the campaign was founded by the gay news website Pink News and the Coalition for Equal Marriage), the sentiments expressed in Out4Marriage videos are not confined to one country. Sir Richard's video amply demonstrates this. The bearded entrepreneur has founded numerous American companies, not least California-based Virgin America and Virgin Galactic in New Mexico, as well as being a regular guest on shows like The Colbert Report.
When Branson says he supports same-sex marriage, he means he is in favour of it worldwide, including in the U.S. That was one of the amazing aspects of President Obama's May 9 statement that to me was largely overlooked.
While pessimists and detractors moaned that the president should have made the statement the day before, when North Carolinians voted on and passed Amendment 1, the truth is Obama's support for same-sex marriage has audiences much further afield. Once "the leader of the free world" has expressed support for same-sex marriage, people in Australia and France will look at their own leaders and ask why they haven't come out in favour of same-sex marriage. Obama's statement was of huge significance to the campaigns for equality in many countries.
Our increasingly globalized and interconnected world is one reason that I hope U.S. celebrities will film their own Out4Marriage videos. Perez Hilton's website has a sizeable following in the U.K., so an Out4Marriage video by him would create a real buzz in the U.K. as well as being relevant in the U.S. The same would be true for any Hollywood star or starlet.
If a billionaire like Richard Branson can take time out of running his global (gay-friendly) empire to record a statement supporting gay marriage, then I believe any and every individual can. Visibility is the key in winning over people's hearts and minds. While those on the wrong side of history have churches to help them organize, we on the right side of history have social media and the Internet. I would encourage you all to use it. Please support the Out4Marriage campaign.
Calling all HuffPost superfans!
Sign up for membership to become a founding member and help shape HuffPost's next chapter