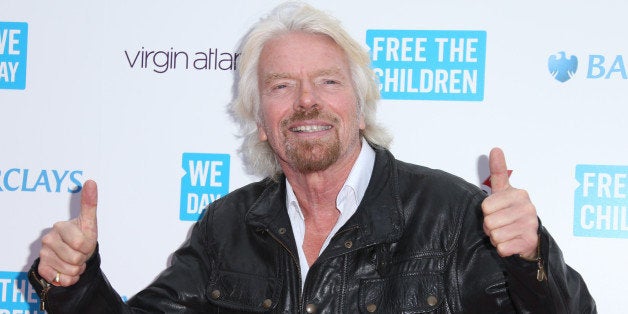 Richard Branson is taking a stand for new dads.
Virgin Management, the investment and brand licensing arm of his Virgin Group empire, announced a new policy allowing some female and male employees to take up to a year of paid parental leave.
"If you take care of your employees they will take care of your business," Branson said in a statement. "As a father and now a granddad to three wonderful grandchildren, I know how magical the first year of a child's life is but also how much hard work it takes."
As with the unlimited vacation policy Virgin Group unveiled last September, the new paternity offer is limited. Only employees who have worked at the company for four years can receive their entire annual salary for the time off, and only those who work for Virgin Management are eligible. The Independent writes that only about 140 workers based in London and Geneva can take advantage of the policy.
A representative for Virgin Management was not immediately available to comment.
Just 14 percent of U.S. employers offer paid paternity leave, according to a 2014 study by the nonprofit Families and Work Institute. Some tech companies, such as Reddit and Facebook, offer a generous 17 weeks of paternity leave; Yahoo grants new fathers eight weeks off -- half the time offered to a female employee. Earlier this month, Goldman Sachs doubled its paternity leave to four weeks.
"We are seeing more big companies start to get the message that supporting men as fathers is a good thing," Josh Levs, author of All In: How Our Work-First Culture Fails Dads, Families, and Businesses -- And How We Can Fix It Together, told The Huffington Post on Tuesday.
Though attitudes are shifting at major firms, there's still a wide gap to bridge. In Canada, where paid paternity leave is more common, men still opt out of their full allotted time off out of fear that their peers will view them negatively. One man profiled in 2013 by Canadian newspaper The Globe and Mail said he endured "borderline harassment" from coworkers after taking leave to care for his newborn twins.
"I hope men choose to take a good portion of that time," Levs said. "Even when there is a lot of paid paternity leave available, men choose not to take it because there are stigmas."
Legislation can erode such social constraints.
In countries that mandate paternity leave, such as Germany, Finland, Norway and Sweden, men are more likely to take time off after a child is born. In those four nations, leave is allotted by family and divvied between parents. A father who doesn't take time off, for example, cannot transfer his weeks to his partner, so his refusal to take leave deprives the child of time with him.
After Germany passed a new rule requiring men to use two of the available 14 months of parental leave granted to a family, the percentage of men taking paternity leave increased from 3 percent to 20 percent in just two years, according to The Guardian.
Sure, research from the Organization for Economic Co-operation and Development found that fathers who are involved early in their children's lives perform better on cognitive tests. But mothers benefit, too. Because many women face discrimination when they take time to care for their children, mandated paternity leave helps promote gender equality, both in the family and the workplace.
That said, the United States, as the only developed country with no guaranteed paid parental leave for mothers or fathers, has a long way to go.
Related