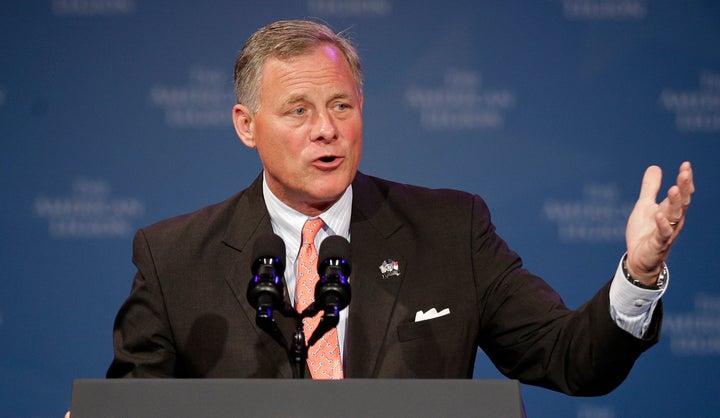 WASHINGTON ― Most people are probably pretty sure that politics and money are more important to lawmakers in Washington than the policies and laws they are charged with overseeing.
Intelligence Committee Chairman Sen. Richard Burr (R-N.C.), who spent two years on the Armed Services Committee, offers a vivid case in point.
Burr, who is locked in an unexpectedly tough re-election battle against Democrat Deborah Ross, had a terrible attendance record when he served on the panel that oversees the military, having missed more than two-thirds of the Armed Services Committee's hearings in 2009 and 2010.
That doesn't look especially good on its face, and might even be considered lazy. But the other side of the work vs. politics equation in Burr's case makes it apparent that he is not lazy. He just works harder at the politics part.
While Burr often could not fit armed services hearings into his schedule, a review of publicly available party invitations finds that he did make plenty of time for Washington fundraisers. In the two years he was on the committee, Burr attended just 26 out of 84 hearings. During the same span, he went to twice as many D.C.-area fundraisers ― at least 51, according to Sunlight Foundation records.  
And, if there was any doubt about which sort of events took precedence, at least 10 of Burr's cash klatches landed on days when he skipped hearings of the committee. The timing of at least four of those fundraisers likely conflicted with the work of the committee.
The meetings he missed ranged from fairly mundane confirmation hearings to discussions of a much more serious nature ― topics such as the war in Afghanistan, military suicides and missile technology ― that show how even the most pressing topics can take a backseat to raising campaign contributions.
For instance, one of the earlier hearings Burr missed was a three-hour session on March 10, 2009, with Director of National Intelligence Dennis Blair and the head of the Defense Intelligence Agency, Lt. Gen. Michael Maples. The pair went before the committee to explain to senators the current and future threats to the national security of the United States. While Burr did not attend ― or submit questions or send a staffer ― he did do a cocktail and dinner party hosted by three lobbyists later that evening, with a minimum ticket price of $1,000.
On June 16, 2009, Burr ditched two hearings: one on funding ballistic missile programs and another on modernizing the U.S. Army. But another evening of drinks and dining did make the cut for him, with a $500-minimum ticket event at the offices of high-powered law firm DLA Piper.
One high-profile hearing that Burr did not attend was an update on Afghanistan with Gen. Stanley McChrystal and Ambassador Karl Eikenberry. The session lasted some four hours on the afternoon of Dec. 8, 2009, leaving Burr plenty of time to at least pop in for a bit, as is the habit of many senators who have to juggle schedules. Burr did, however, find time about an hour after the hearing ended to swing by the Capitol Hill Club for a reception. Tickets started at $500, but the invitation specified "MAXOUTS WELCOME," suggesting attendees give the maximum allowed under law.
The situation in Afghanistan proved no more compelling to Burr six months later when Gen. David Petraeus sat for two days before the Armed Services Committee, and the North Carolinian skipped both days. On the second day, June 16, 2010, Burr did make it to an evening reception for his Senate campaign at a Capitol Hill row house. 
One hearing Burr missed was of particular relevance to North Carolina. On March 3, 2010, the Armed Services Committee was looking into the costly Joint Strike Fighter. When the senator joined the committee, he had boasted that he would use the post to benefit North Carolina, and the F-35 fighter would be built, maintained and based in the state. But while that hearing ran from 11 a.m. until 1:35 p.m., Burr had a $1,000-a-plate lunch in his honor at Johnny's Half Shell from noon to 1 p.m. Burr didn't send a staffer to the committee meeting, either, according to committee records.
There are other occasions when Burr's fundraisers were likely in conflict with his lawmaker duties, including on June 11, 2009, when a $500-minimum breakfast ended just about as the armed services committee was taking up a bunch of nominations. Burr didn't make the hearing. Similarly, Burr made a Nov. 19, 2009, breakfast before bailing on more nomination hearings, and he did not go to a Sept. 28, 2010, hearing on making the Defense Department more cost-efficient that started around the time a $1,000-minimum breakfast with former governors ended.
Perhaps the least likely event to be skipped by someone like Burr, who spent years on the Veterans Affairs Committee, was a session on preventing suicides in the military. While that hearing did not rate for the senator, he made sure to host his "Annual Burr-B-Q Showdown" later that evening at the National Republican Senatorial Committee.
Burr's campaign did not answer questions about why the senator was able to attend fundraisers on days when he was unable to attend hearings.
HUFFPOST READERS: What's happening in your state or district? The Huffington Post wants to know about all the campaign ads, mailers, robocalls, candidate appearances and other interesting campaign news happening by you. Email any tips, videos, audio files or photos to scoops@huffingtonpost.com.
REAL LIFE. REAL NEWS. REAL VOICES.
Help us tell more of the stories that matter from voices that too often remain unheard.
BEFORE YOU GO
PHOTO GALLERY
Republicans Who Have Withdrawn Their Support For Donald Trump