"Nothing made me feel any better than [when] I walked into a gun shop, I think, yesterday ... and there was a copy of Rifleman on the counter," he said in audio posted by CNN of an event with Republican volunteers. "It's got a picture of Hillary Clinton on the front of it. I was a little bit shocked at that ― it didn't have a bullseye on it."
"But on the bottom right, it had everybody for federal office in this particular state that they should vote for," he continued. "So let me assure you, there's an army of support out there right now for our candidates."
American Rifleman is the magazine of the National Rifle Association, which endorsed both Burr and his preferred presidential candidate, Republican nominee Donald Trump, and opposes Clinton.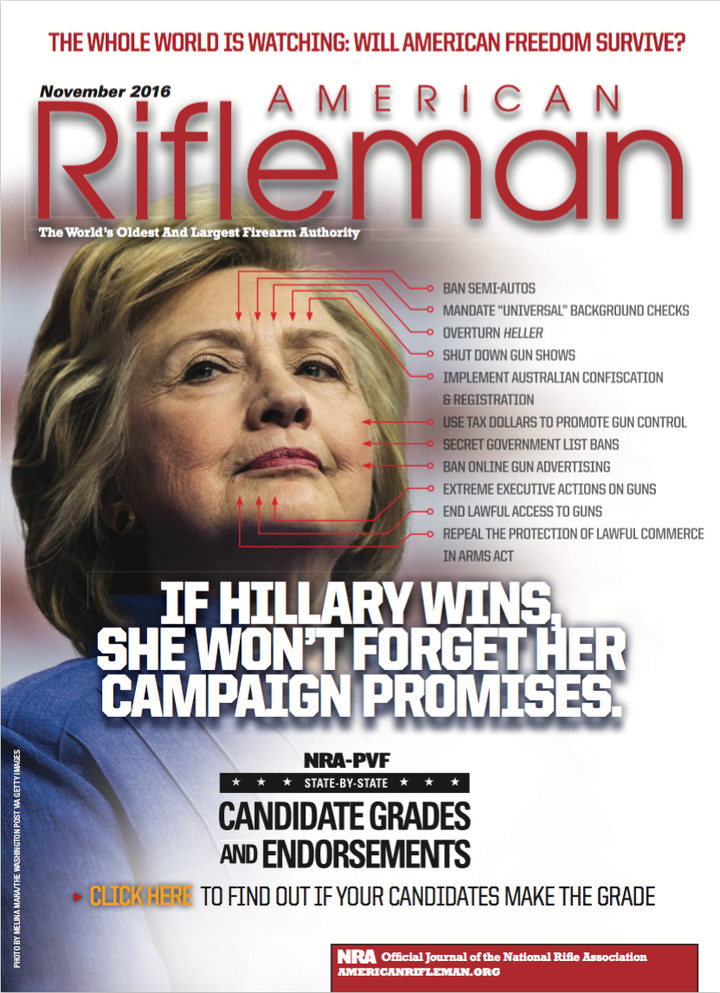 Burr issued a statement to CNN apologizing for the comment and calling it "inappropriate," and a campaign official told the news outlet that he was referring to feeling better about the level of support for his preferred candidates.
A spokesman for Burr did not immediately respond to a Huffington Post request for comment.
The senator is in a close race with Democrat Deborah Ross, and leads her by less than 2 points, according to HuffPost Pollster, which aggregates publicly available polls.
The casual reference to taking literal aim at Clinton ― either a photo of her or the candidate herself ― harkened back to Trump's comment in August that there might be something "Second Amendment people" could do to prevent Clinton from appointing Supreme Court justices.
Burr also boasted at the Saturday event about his own efforts to keep judicial seats unfilled. He bragged about being behind the "longest judicial vacancy in history," referring to a seat on the U.S. District Court for the Eastern District of North Carolina that's been empty for 3,957 days, or more than 10 years. Burr has refused to move forward with nominees to the seat as long as President Barack Obama is in the White House. In the meantime, the court is so overwhelmed with caseloads it's become a judicial emergency.
Burr said he would maintain that obstruction, including for the Supreme Court, should he be re-elected.
"If Hillary Clinton becomes president, I am going to do everything I can do to make sure four years from now, we still got an opening on the Supreme Court," he said.
UPDATE: 10:35 p.m. ― Anti-gun violence groups said they were appalled by Burr's comments, and linked him to Trump, for whose campaign Burr serves as a national security adviser.
"Like Donald Trump's previous reckless statements, Sen. Burr's comment crosses the line from political speech to outright suggestions of violence. They are dangerous," said Mark Kelly and his wife, former Rep. Gabby Giffords (D-Ariz.), who run Americans for Responsible Solutions. "Statements like these are a stain on our politics and an insult to responsible gun owners like us across our country. Along with his record of giving in to the Washington gun lobby, Senator Burr's dangerous statements are further proof that Deborah Ross needs to be the next U.S. Senator from North Carolina."
The Brady Campaign to Prevent Gun Violence went further, saying Burr should quit.
Popular in the Community