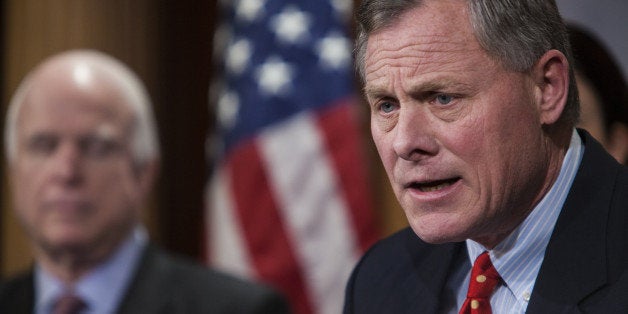 WASHINGTON -- The Senate Intelligence Committee on Tuesday quietly held its annual worldwide threats hearing entirely behind closed doors for the first time in years, underscoring chairman Richard Burr's intention to keep intelligence oversight close to the vest.
The hearing, which has traditionally been held at the beginning of each year, has served as one of the public's few glimpses into the fiercely secret intelligence oversight process. Routinely featuring Washington's most powerful spy chiefs, the hearing has also offered the public a rare opportunity to engage in the process: The packed meeting is routinely interrupted by protesters, and has been characterized by aggressive exchanges between lawmakers and witnesses from the intelligence community.
But Tuesday afternoon, the hallway outside the committee's secure hearing spaces was relatively quiet as leaders of the nation's security apparatus slipped through the frosted glass doors that separate the public from some of the nation's most fiercely guarded secrets; Director of National Intelligence James Clapper, CIA Director John Brennan, FBI Director James Comey, National Security Agency Director Mike Rogers and Defense Intelligence Agency Director Vincent Stewart were all part of the convoy.
"Chairman Burr looks forward to hearing from national security leaders in a classified format today with the understanding that the Committee will have access to all available information about the security state of our country," Burr's communications director Rebecca Watkins told HuffPost in an email. "The Chairman's dedication to preserving the integrity of secure information will be a priority for this Committee. The Committee must take all necessary steps going forward to ensure that the lives of American personnel abroad won't be compromised, especially for political purposes."
Although he touted a February open hearing with National Counterterrorism Center director Nick Rasmussen as proof that would not be the case, Burr's decision to move the threats hearing behind closed doors has some transparency advocates worried.
"Spotlighting one agency offers a more targeted focus than the former global threats hearing and increases the total number of open hearings, up from the previous standard of one per year," Watkins said. "As is expected of new committee chairmen, Senator Burr has made changes to the Committee's schedule."
"It's a stunning decision. That hearing is the one event that has been public as far back as anyone can remember, even when every other hearing has been closed," said Steven Aftergood, director of the Federation of American Scientists' Project on Government Secrecy. "It's a strange choice by the chairman."
But maybe not that strange, given Burr's stated aversion to open hearings. In recent years, the worldwide threats hearing has provided a valuable platform for lawmakers to hint publicly at abuses occurring behind the "classified" veil -- a tactic for which Burr has criticized his colleagues.
But the decision to move the threats hearing behind closed doors won't necessarily compromise oversight. Instead, Burr's vision for public hearings will give more time for each spy agency head to speak in unclassified settings -- instead of cramming all of the intelligence chiefs into one public hearing.
"Let's talk about each individual agency, where you've got one agency for two hours in an open session, talking about everything they can do in an unclass'ed situation," Burr said Tuesday afternoon, explaining his decision. "I think there's much more transparency that you get that way than one time a year, having a worldwide threats hearing."
During Feinstein's last six years chairing the committee, individual agency heads rarely appeared in open session, except for nominations and the crowded threats hearing.
Burr reiterated his intention to hold quarterly hearings focusing on individual intelligence agencies He said the remaining three hearings this year will likely focus on the National Security Agency, CIA and Defense Intelligence Agency.
"I think we're able to get some deeper information in this setting," Intelligence panel member Sen. Angus King (I-Maine) said, noting that the Senate Armed Services panel had its own closed meeting with the intelligence heads Tuesday morning.
"Open hearings are a critical part of effective oversight. When intelligence officials mislead the public or refuse to answer questions in closed session, open hearings are one of the rare opportunities that senators have to hold them accountable," said panel member Sen. Ron Wyden (D-Ore.), who has often asked the probing public questions of intelligence leaders. "It's obviously imperative to ask questions in a way that safeguards properly classified information, which is why my staff and I often spend weeks crafting questions for open hearings and frequently send them to intelligence officials in advance so that they have an opportunity to raise any concerns or objections."
Aftergood said he didn't understand why Burr would risk the public furor just to keep secret the discussions at the generally harmless hearing.
"The threat hearing has always had an element of generality ... so that it wouldn't pose any kind of compromise to intelligence," Aftergood said, pointing out that the open hearing in years past has routinely been followed by a closed session at which lawmakers and intelligence leaders can speak more candidly.
But the open portion of the hearing served a more practical purpose of letting the American people know that someone, at least, was watching the watchmen.
"Why on earth anyone would want that closed is hard to imagine," Aftergood said.
This article has been updated to include additional comments from Burr and comments from Wyden.
Before You Go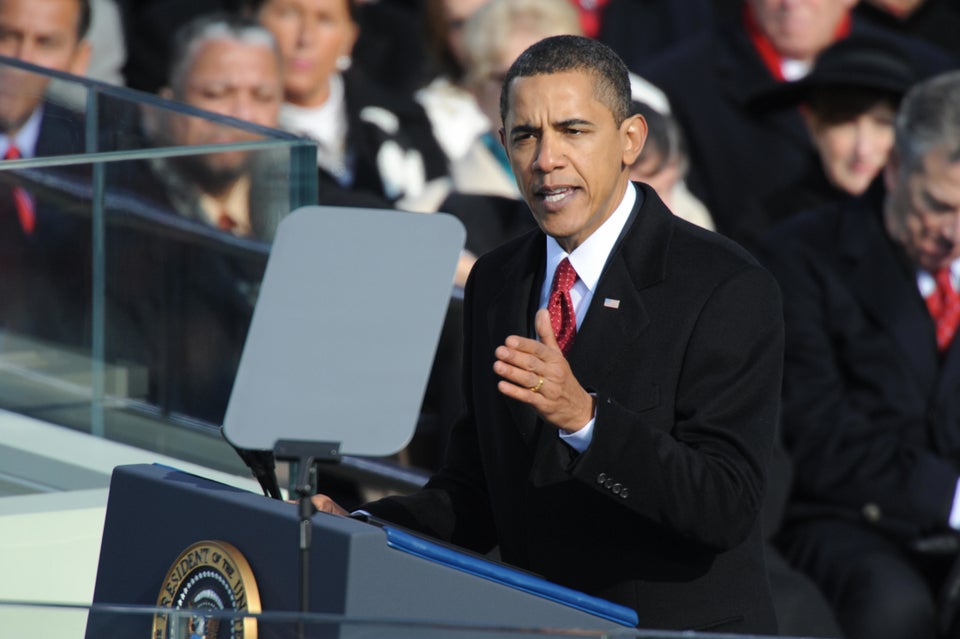 Presidents On Inauguration Day
Popular in the Community