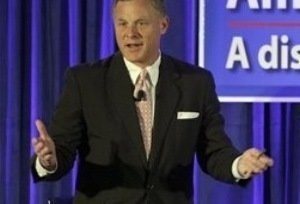 When Congress passed the American Recovery and Reinvestment Act earlier this year, only three Republican senators voted in favor of the legislation. Now Sen. Richard Burr (R-N.C.) is flaunting credit for financial assistance provided by President Obama's bill.
Last Friday, Burr presented the Bethlehem, N.C. fire department with a colossal $2 million grant to build a new fire station. At the ceremony the senator said, "This is a great thing for this county. We're not accustomed to federal dollars in that magnitude finding their way to North Carolina."
Shannon Lowrance, chief of the Community Volunteer Fire Department, also spoke on the significance of the stimulus funds:
Having the plans ready to go helped the department win three American Recovery and Reinvestment Act Assistance to Firefighters Station Construction Grants issued this year from the Federal Emergency Management Agency / Department of Homeland Security.
Before the Senate voted on the American Recovery and Reinvestment Act, Burr slammed the stimulus bill in a statement on his website:
Almost a trillion dollars of borrowed money on projects and programs that are unlikely to produce any real broad-based stimulus or create jobs that will still be here two years from now.
The senator gave a similar message on Fox News saying, "This isn't a stimulus package, this is a spending package."
Earlier this month Hutchison, Cornyn and other Texas lawmakers petitioned President Obama to divert stimulus funds to NASA, after sharply criticizing his stimulus bill. And no less than sixty-seven House Republicans have taken credit for projects funded by the economic bill they opposed, according to the Democratic Congressional Campaign Committee.
"With the economy showing early signs of recovery, it's no wonder that more and more House Republicans are scrambling to take credit for the benefits they opposed," said Ryan Rudominer, National Press Secretary for the DCCC. "Times are tough. Hardworking Americans need solutions, not more hypocrisy from the Republican Party of No."