 Richard Burton and Elizabeth Taylor married twice. Their first marriage lasted for ten years (1964-74), and their second marriage happened very suddenly, 16 months after their divorce, during a visit to Botswana in 1975. This excerpt from The Richard Burton Diaries (Yale University Press, $35) reveals what occurred.
Wednesday 1st, Chobe – Kruger Land-Rovered through real bush. Non-tourist route to lose press. E took snap after snap of you name it she took it. Result – no film in the camera and eleven bruises around her body where she banged herself against the turret of Rover. She did it again!
Friday 3rd, Johannesburg Jetted to J'burg. E was in agony to the point of tears which she hid from me but I am now unfoolable. I scratched her back and held her hand. E went for X-ray of ribs. No cracks but two spots on lung. We must make them go away.
Saturday 4th The most agonizing hour of my life ended at approx 1pm. Yesterday I mean. I had spent the previous hours back to approx 4pm Thursday in the most terrible fear for Elizabeth's and my life. Sleep was no palliative. I am still suffering from delayed shock and will in a lesser form, I think, continue to suffer for the rest of my life. E was incomparably brave. I love her mindlessly and hopelessly.
(Taylor suffered a temporary scare over her health when a chest X-ray was believed to reveal the possibility of lung cancer, only for this to be discounted within hours.)
Monday 6th E in splendid form and a trifle tiddly but sweetly so when we went to Sol's house for a late (very late!) lunch. Then E with what seems like aid and abettance from Adele (P.R.O. [Public Relations Officer] for Sunshine Hotels) that E and I should get married in Chobe this week I thought they were joking and said so. But E turned out to be serious. Result the latter half of the day a series of ½ joking, ½ bitter invective from E. I told her that I was afraid! Literally afraid, at the moment, that marriage might horrifyingly end in divorce. We will of course get married again if E so wishes but until I get over my fear and since I am, at least, deliriously happy at the moment why spoil it!
Tuesday 7th, Johannesburg – Chobe Grass landing. Slight brush with grim reaper. Left suspension, left wheel packed it in. Very rough landing. Guess that we were within 6–8–12 inches from kingdom come. Decided to get married here as soon as possible unless E (or I, for that matter) changes mind. Love her beyond measure and above anything. She fast asleep. Bathed and shamp in private pool. Shiver, shiver, shake shake. Can't wait for E to awaken!
Thursday 9th Looks like marriage is on. I wonder why I am still doubtful. It doesn't seem right but I don't know why. Perhaps I'm afraid of legal responsibility. Also sex urge temporarily dormant. Very puzzling.
Friday 10th [Elizabeth and Richard remarried on this day.] Got shamefully sloshed and despite all my idiocies – nasty too – we are as happy as children. We catch our breaths every so often and say with a kind of smiling wonder and delight 'Hey! Do you realize we are actually married?' We must have said it scores of times. I have never been so happy in my life. E cured me with loving even lavish attention. This is far better marriage than the first despite its silly (and dangerous) beginning.
Saturday 11th Worried about E. She not aware of it but sometimes, in a few seconds she changes colour. Much as I (and she) loves this place must get her back to somewhere sophisticated for a thorough check up. Sleep on it and tell her tomorrow perhaps. Nobody else seems to notice, but I watch my love intently without making [it] obvious. Please God she's OK. I'd die without her now.
Thursday 16th Press all over the place, so confined to camp.
Tuesday 21st Drank enormously and cheated when E wasn't looking. Don't remember much except falling a lot and suggesting divorce. Can't control my hands so cannot write any more. One word only. Very silly. Booze!
Wednesday 22nd, Chobe Having been so drunk yesterday felt terrible in morning and was desperately ill. Went quietly at 9.30 to find a double brandy. Bar closed until 10. Asked for Fritz (manager). Reluctantly he opened bar for me and suggested vodka as it wouldn't be so smelly when E had morning kiss. Drank it with very shaking hands.
Friday 24th Never moved out of the room. [...] E in good form and me much better though occasional wistful look at a bottle.
Monday 27th Drank a lot. Don't remember anything, if at all.
Tuesday 28th Drank some more.
Wednesday 29th Ditto. Must stop!
Thursday 30th Shook and shivered all day long today.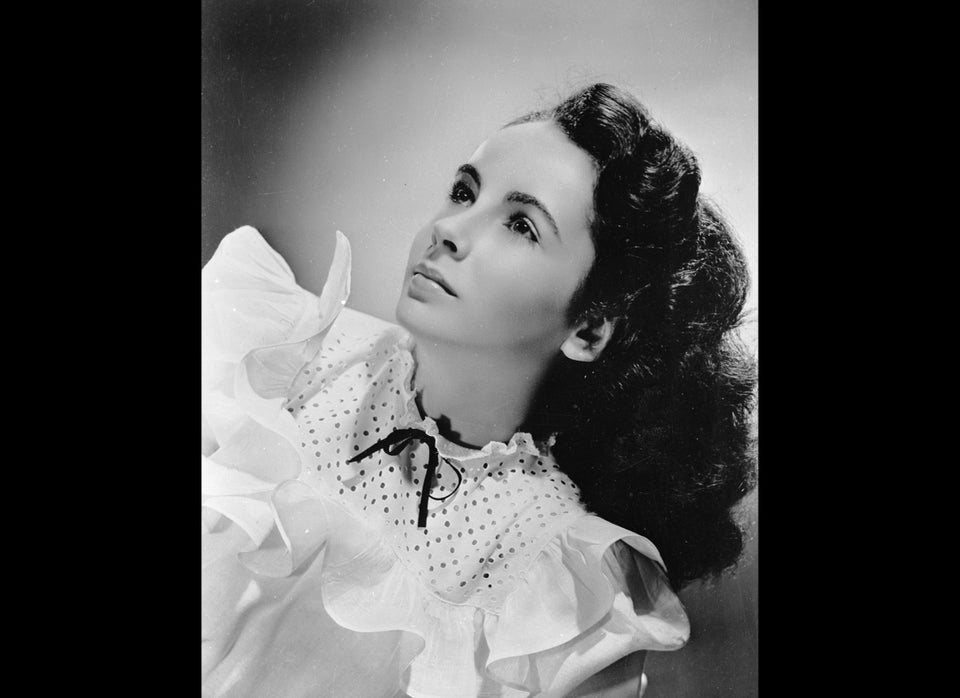 Elizabeth Taylor Beauty Evolution (PHOTOS)
Popular in the Community