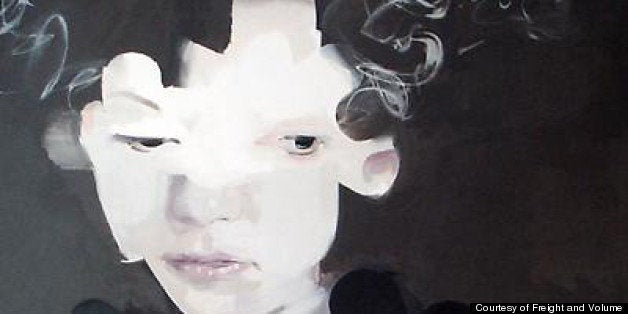 As a painter, I am most impressed with Richard Butler's near minimalist approach to paint application. He achieves smoke, electric light, flesh and focus with ease. I am reminded of the great impressionist painter Édouard Manet's portrait paintings. Both use suggestive, less than literal approaches to representation, and both often adorn their subjects with black hair, hats, cover or dress. They both captured the soul of their subjects, as much as they capture a likeness, although Butler's mood is more about emotional voids or emptiness, even though it is largely unintended.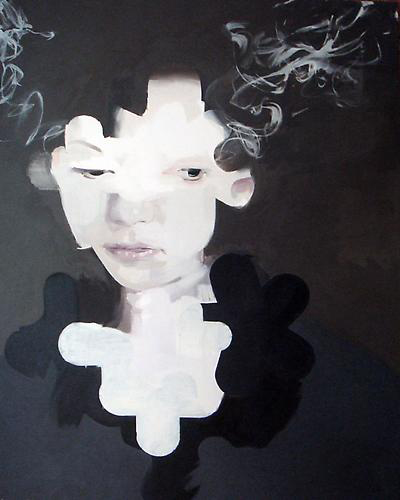 devilsbreath, 2012, oil on canvas, 56 x 44 inches, Courtesy of Freight + Volume
It's sort of like, when you step off a curb and the street is a little further down than you noticed or anticipated, and for that brief moment you are falling. That's the feeling I often experience when I look at Butler's work. I feel as though I am entering a void, a space that is quickly filled with questions and concerns. This is the thoughtful aspect of his work after the initial pause. Then there comes a volley of thoughts, suspicions and mysteries that spiral about and around one's thinking.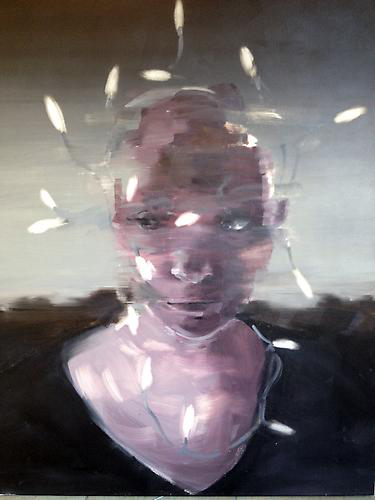 thelastauguriesofjuanitadelacruz, 2013, oil on linen, 40 x 32 inches, Courtesy of Freight + Volume
I believe he is hinting at this, perhaps unconsciously in works such as thelastauguriesofjuanitadelacruz, whenisaidiloveyouilied and devilsbreath, which is a continuation of his Confessional series.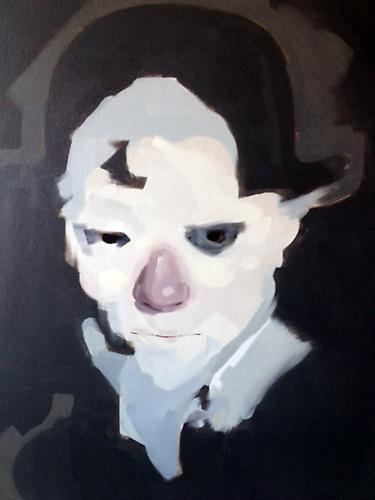 whenisaidiwassorryilied, 2012, oil on canvas, 24 x 20 inches, Courtesy of Freight + Volume
In whenisaidiwassorryilied, noisymouth and awordbetweenthesilences Butler brings in a definite sense of oppression, abuse -- "Bloody noses, black eyes, these are all things that happen to faces, and when you are, I suppose essentially a portraitist, it would seem remiss to leave these things out." I do believe that these elements occur with little or no connection to the actual implications -- it is more about color, composition, impulse -- it's about creating interest for himself as he is painting, and having control over what he does regardless of how it is perceived by others.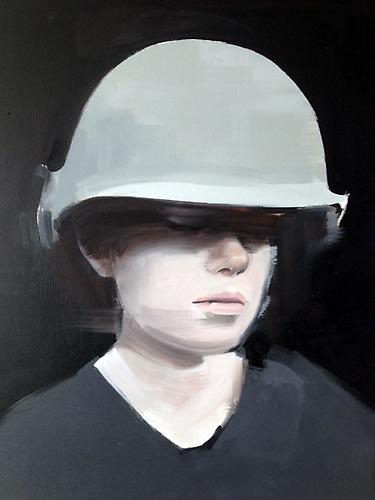 hatfulofrain, 2012, oil on canvas, 24 x 20 inches, Courtesy of Freight + Volume
There is just a hint of political intent in the two paintings that have the same title as the exhibition hatfullofrain and hatfullofrain2. In both, the two young models don oversized helmets that cover or shade their eyes. 'Hat full of rain' may suggest tears, and if so, would refer to sadness and loss due to war. On the other hand, a hat filled with rain that is placed on one's head is more than a bit of physical comedy. As you can see, Butler leaves us quite a bit of room to think and speculate in all of his works. The vagaries have weight, and the substantive painting techniques fill the void.
Richard Butler: ahatfulofrain ends May 25th. The exhibition is at Freight + Volume, which is located at 530 W 24th Street in NYC. Don't miss it.
Related
Popular in the Community