ST. LOUIS -- Ferguson protesters who marched on the office of U.S. Attorney Richard Callahan expecting to be arrested Tuesday were instead welcomed in for an hour-long, face-to-face meeting.
Six demonstrators, including the leader of a St. Louis community group and the Rev. William Barber, head of the North Carolina NAACP, talked with Callahan for an hour about their demands in the Michael Brown shooting case. Among other responses, they seek a Justice Department investigation of civil rights violations by police throughout the St. Louis metro area.
Callahan, the top federal prosecutor for the Eastern District of Missouri, did not make any commitments on these demands, but he did promise to raise them "directly" with U.S. Attorney General Eric Holder, said Montague Simmons, chairman of the local Organization for Black Struggle, who was at the meeting.
The impromptu discussion came after several protesters made a dramatic march up the steps of the St. Louis federal courthouse against the instructions of Department of Homeland Security officers. Simmons said they had anticipated arrests but were instead greeted inside. A St. Louis Metropolitan Police officer brokered the deal to let a handful of them come in.
"He heard us once because we stayed in the streets, which means the only way they're going to continue to take us seriously is for us to stay in the streets," said Simmons.
With the noonday heat hitting 96 degrees, dozens of demonstrators took part in the march from St. Louis City Hall to the courthouse, the first protest since Brown's father called for a day of silence to mark his funeral on Monday.
The Organization for Black Struggle is teaming with ColorOfChange.org on Thursday to deliver a petition to the White House demanding a federal investigation of the Ferguson Police Department, whose officer shot and killed Brown. Simmons said the groups expect to meet with an administration official.
"What you see is a deepening of the movement," said Barber.
Before You Go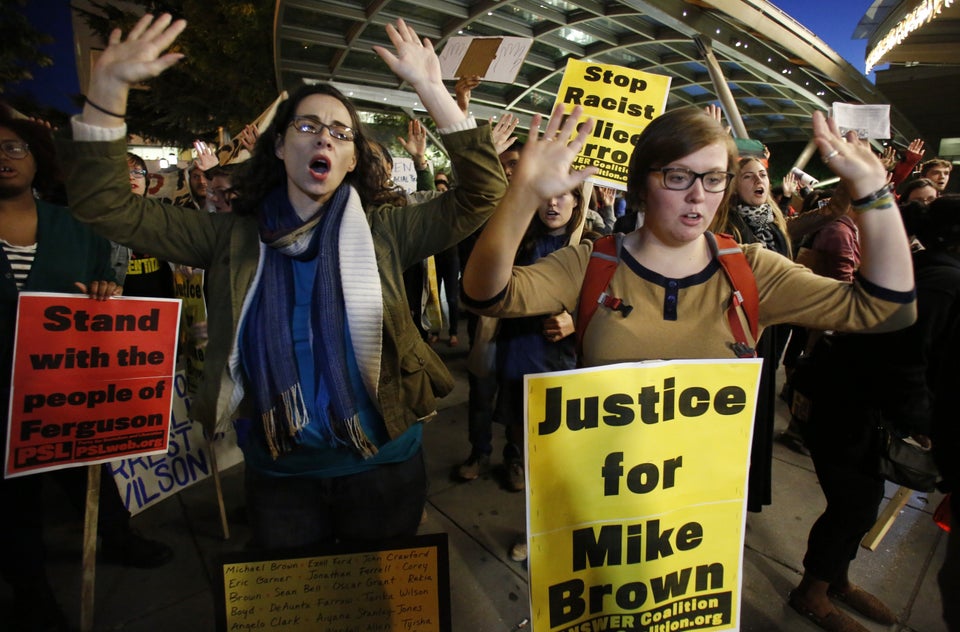 Ferguson
Popular in the Community