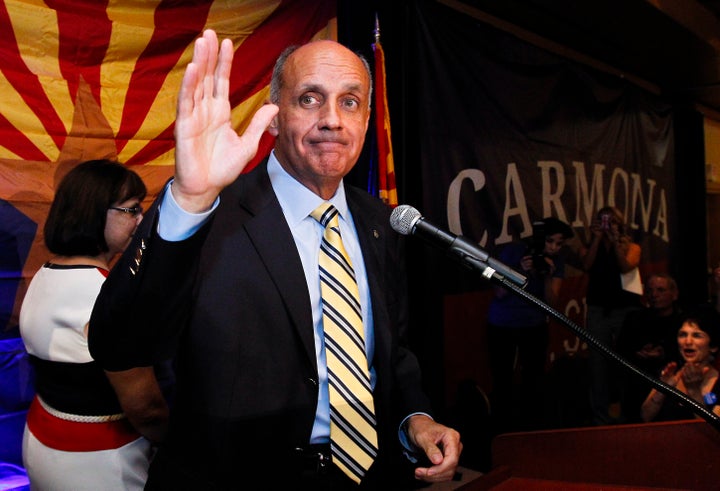 Democratic U.S. Senate candidate Richard Carmona conceded last week to Republican Rep. Jeff Flake, but as activists protest in Arizona over uncounted ballots, Carmona's campaign said Monday it will consider its options if the voting tally tightens.
"We're watching it very closely, and we're going to make sure every vote is counted," Carmona campaign spokesman Andy Barr told TPM's Sahil Kapur.
Arizona has been under fire since last week, when a number of votes went uncounted due to issues at the polls. Voters reported showing up only to be told they were not registered or they had been issued absentee ballots, and were instead given provisional ballots that are now being counted by the state. (The Arizona Republic lays out the possible reasons for votes to go uncounted here.)
As of last Thursday, more than 600,000 ballots had yet to be counted -- out of 3.1 million registered voters -- more than any other recent presidential election, The New York Times reported.
By Saturday, there were 486,405 uncounted ballots, according to the Arizona secretary of state's website. Carmona currently trails Flake by more than 78,000 votes.
Groups in the state focused intently on increasing Latino turnout this year, and did succeed in getting more of those voters to the polls. But advocates said that many Latinos were among those who had voting issues, although they were not the only ones involved in the problem.
"This is not just a matter for Latino voters, this concerns all voters, not just in Arizona but across the country," Promise Arizona executive director Petra Falcon said in a statement last week. "As Americans we need to have trust and faith in the electoral system. This is a disgrace, and every American should be very concerned."
Department of Justice spokeswoman Dena Iverson told The Huffington Post last week that the agency is reviewing voting hotline calls and election-monitoring reports for potential violations. "If in the process of an investigation the department finds a violation occurred, we will take steps, potentially including legal action, to ensure compliance with federal laws," she said in an email.
Senate Majority Leader Harry Reid (D-Nev.) spoke out Saturday on the voting issues in Arizona, calling for them to be counted "promptly, accurately and equally."
"In light of the Supreme Court's decision to hear challenges to the Voting Rights Act, we are reminded that the right to vote is the foundation of our democracy," Reid said. "That right is not secure when some votes are counted while others are suppressed or ignored. I expect state and local officials in Arizona to ensure that every vote is counted promptly, accurately and equally."
CORRECTION: An earlier version of this article stated that Richard Carmona is trailing Jeff Flake by more than 7,800 votes -- Carmona is trailing by more than 78,000 votes.

REAL LIFE. REAL NEWS. REAL VOICES.
Help us tell more of the stories that matter from voices that too often remain unheard.
BEFORE YOU GO
PHOTO GALLERY
Election Night 2012